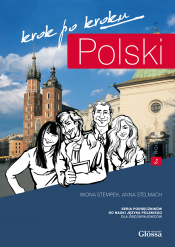 Authors: Iwona Stempek, Anna Stelmach
Type: CD, Coursebook
Target group: adults
Language: general
Level: A2, B1
Skills: listening comprehension, writing, vocabulary practice, speaking, reading, grammar practice, pronunciation practice
Publishing house: polish-courses.com
"Polski krok po kroku 2" is the second part of the series "Polski krok po kroku" and forms a continuation of the previous part in its textual and graphic format. There are 23 units which tell us about a group of foreigners who came to Krakow to learn Polish and get to know the Polish culture, history and interesting places. For that reason, the amount of cultural and historical input is a real asset. The other strengths of the coursebook are: communicative activities, a wide and useful vocabulary range, an interesting audio material and a clear presentation of grammar in the form of charts, tables alongside with exercises in which inductive approach in teaching grammar is used.

The role of the initial lessons is to revise and systematise the material from the first part of the series in order to facilitate a smooth start to the new coursebook. Revision exercises are present in further units of the coursebook which give the students an opportunity to use their already existing knowledge of the language and expand with new materials. As in the first part of the series, authentic and semi-authentic recordings (i.e. resembling real life communication) are dominant.

Being the first e-coursebook on the market, it has a very clear display of the material and is graphically attractive as it offers a lot of new opportunities for both students and teachers. It can be used as a self-study coursebook, given the accompanying material, for example, the translation of instructions, the key to exercises, the commentary of grammar in a few foreign languages and a multimedia dictionary with a special system to memorise vocabulary.

The online version of the coursebook provides every teacher and student with additional exercises and recordings. There are many tests, language games and grammar commentaries in the teacher book of this series.

Zobacz przykładową treść.
Customer opinions

lidka (2012-06-11)
Świetnie, że ukazała się druga część Krok po kroku. Z jedynki uczę od roku i jestem bardzo zadowolona. Moi uczniowie też.

janeq3 (2012-07-02)
Nie miałem jeszcze w rękach tej książki, ale jeśli rzeczywiście jest zbliżona do pierwszej części, łatwo i szybko się zaprzyjaźnimy. Dobrze, że będzie alternatywa dla Hurra 2.

goniadz (2014-10-05)

r293488 (2015-05-07)

kursforum (2015-10-08)

nataly (2015-10-31)

daria.lewicka (2015-12-09)

redluck (2015-12-25)

silvio.toppan (2016-04-01)

19092008vm (2016-04-15)

vvkaiuk1999 (2016-06-28)

boylan (2016-12-30)
Your opinion about the "POLSKI krok po kroku 2" coursebook