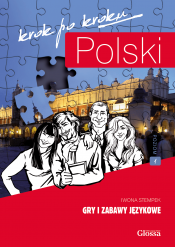 Authors: Iwona Stempek
Type: Coursebook for teachers, Other
Target group: children, adults
Language: general
Level: A1, A2
Skills: writing, vocabulary practice, speaking, grammar practice, pronunciation practice
Publishing house: polish-courses.com
"Gry i zabawy językowe" is a set of 61 various language games and plays which aim to facilitate speaking practice among students as well as to activate and revise new structures and grammar items.

The material contains puzzles, crosswords, board games, dialogue cards, flashcards with pictures, cues and role plays to be used in communicative activities.
Students will certainly enjoy the visual aspect of the material especially the colours and thick paper, whereas teachers will find the accompanying instructions and comments very valuable and advantageous in the classroom.

"Gry i zabawy językowe" is a book closely linked to the coursebook "Polski krok po kroku A1''. There are 2 or 3 additional classroom activities to each unit of the coursebook. Twice as many classroom activities can be found on the internet platform e-polish.eu. All the activities can be used to accompany other coursebooks used by teachers.
"Gry i zabawy językowe" will turn every lesson into a memorable and enjoyable experience. Students will find grammar and vocabulary more accessible which will result in the improvement of their speaking skills.

Zobacz przykładową treść.
Customer opinions

polonistka (2012-06-28)
Bardzo się cieszę! Już mi się opatrzył Teraz polski. Chętnie wypróbuję coś nowego.

zielona (2012-07-03)
Tego typu publikacji nigdy za wiele. Doświadczeni lektorzy mają pewnie swoje sprawdzone pomysły na uatrakcyjnienie lekcji, ale dla początkujących, jak ja, taka ściągawka będzie dużą pomocą. I inspiracją

kosiasta (2012-11-20)

francoisal (2013-09-02)
J'ai utilisé ce livre après avoir utilisé "Hurra !! po polsku 1" et je le trouve personnellement plus agréable et mieux structuré. En particulier les tables de grammaire (déclinaison du nom et de l'adjectif, conjugaison du verbe). Enfin, la possiilité de retrouver les cours et exercices en ligne sont un énorme plus qui font à mon sens la différence.

221141 (2013-11-16)

vladko1120 (2014-07-09)

oakton_langlab (2014-08-14)

ypd02345 (2015-04-22)

mariuso (2016-08-01)

caroldanlynch (2016-11-01)
Your opinion about the "Gry i zabawy językowe 1" coursebook