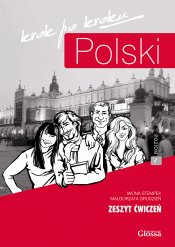 Authors: Iwona Stempek, Małgorzata Grudzień
Type: CD, Exercise book
Target group: adults
Language: general
Level: A1, A2
Skills: listening comprehension, writing, vocabulary practice, speaking, reading, grammar practice, pronunciation practice
Publishing house: polish-courses.com
The workbook "Zeszyt Ćwiczeń 1" supplements the series for the learning Polish as a foreign language Polski, Krok po kroku, being an extremely useful tool for both the teacher and the students. Each of 26 units of the book, includes numerous activities, carefully and thoughtfully selected, and which main purpose is to facilitate communication in Polish language. The comparison between exercises of different levels is also quite useful, giving to the teacher the opportunity to adapt his teaching method to the individual needs of each student. The most ambitious students have at their disposal complementary activities, in order to widen their lexical knowledge; or individual activities of higher level, enabling them to continue to practice and learn the language.

Zobacz przykładową treść.
Customer opinions

pmigotka (2012-12-05)
Nareszcie! Uczę z Krok po kroku już od dwóch lat, ale nie mam łatwego dostępu do Internetu i nieraz brakowało mi ćwiczeń. Teraz będzie łatwiej. Dziękuję.

juliszonek (2012-12-07)
Świetny. Jak cała seria. :-)

akademiapff (2013-02-06)

ellahermann (2016-07-11)

1378ChC (2016-10-13)

dertyp (2017-01-31)

massimiliano (2017-06-11)
Your opinion about the "Zeszyt ćwiczeń 1" coursebook