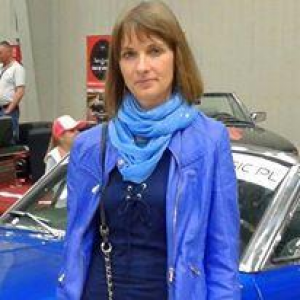 Joanna Ćwierz
Completed online classes:
12
Author of exercises at e-polish.eu:
NO
Issues invoices:
yes
Price:
1 Class — 12 EUR/50 PLN
10 Lessons — 114 EUR/475 PLN
20 Lessons — 216 EUR/900 PLN
30 Lessons — 316 EUR/1320 PLN

About me:
Hello. Thank you for visiting my profile. My name is Joanna. I am from Poland and I am native Polish speaker. I also speak English and Italian
Qualifications and experience:
Learning languages is my passion so I understand what it's like to learn languages. I teach beginners and advanced, only adults.
Methods of teaching
.In my courses I create an atmosphere when student can feel comfortable. I have a lot of patience so don't worry if you are beginner. If you want to learn my native language I will try to do my best to help you. During our lesson we will focus on speaking practise, improving pronunciation and extending your vocabulary. Also I can help you with writing. We will have a conversation in your chosen topic. We can also talk about Polish culture and traditions. I can't wait to see you in the class.
Availability
Teacher is available on the dates listed below. They are already in your time zone which is: .
| | | | | | | | |
| --- | --- | --- | --- | --- | --- | --- | --- |
| | | | | | | | |
| 0:00–0:50 | | | | | | | |
| 1:00–1:50 | | | | | | | |
| 2:00–2:50 | | | | | | | |
| 3:00–3:50 | | | | | | | |
| 4:00–4:50 | | | | | | | |
| 5:00–5:50 | | | | | | | |
| 6:00–6:50 | | | | | | | |
| 7:00–7:50 | | | | | | | |
| 8:00–8:50 | | | | | | | |
| 9:00–9:50 | | | | | | | |
| 10:00–10:50 | | | | | | | |
| 11:00–11:50 | | | | | | | |
| 12:00–12:50 | | | | | | | |
| 13:00–13:50 | | | | | | | |
| 14:00–14:50 | | | | | | | |
| 15:00–15:50 | | | | | | | |
| 16:00–16:50 | | | | | | | |
| 17:00–17:50 | | | | | | | |
| 18:00–18:50 | | | | | | | |
| 19:00–19:50 | | | | | | | |
| 20:00–20:50 | | | | | | | |
| 21:00–21:50 | | | | | | | |
| 22:00–22:50 | | | | | | | |
| 23:00–23:50 | | | | | | | |

Available tutor - on this date you can arrange your class

1 lekcja = 50 minut
blmkkk,

2019-03-31

Absolutely amazing teacher -- keeps things moving, answers all questions, zeros in on weak points and prepares material towards improving these. Joanna is a "keeper"!

5/5