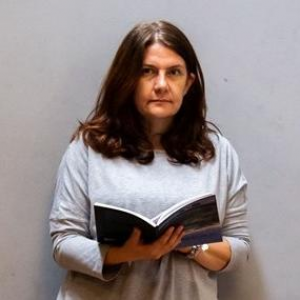 Monika Szymczak
Completed online classes:
38
Author of exercises at e-polish.eu:
NO
Issues invoices:
no
Price:
1 Class — 16 EUR/70 PLN
10 Lessons — 148 EUR/651 PLN
20 Lessons — 288 EUR/1260 PLN
30 Lessons — 417 EUR/1827 PLN

About me:
Polish from A0 to C2.

I adapt classes to the needs of a specific student:
- I am preparing for Polish matura exams,
- I help in learning for the nostrification exam for medical groups,
- educate for Polish language certification exams,
- I teach classes for people from level A0 to C2.
Qualifications and experience:
I graduated from polish language Philology at Pedagogical University in Częstochowa and post - graduate studies " Teaching Polish language as the second one " at POLONICUM the Universitety of Warsaw.
I,ve been teaching Polish for 31 years. A few years ago I started teaching Polish to foreigners.
Methods of teaching
Please provide information about yourself in the first message:
- How long have you been studying and why Polish?
- Where are you from?
-Your name on SKYPE.
-Your e-mail.

For classes I prepare material individually tailored to the client's needs. You can decide what you will learn during the lesson with me.

I also invite my students to join my group

https://www.facebook.com/groups/478120316001698/
Availability
Teacher is available on the dates listed below. They are already in your time zone which is: .
| | | | | | | | |
| --- | --- | --- | --- | --- | --- | --- | --- |
| | | | | | | | |
| 0:00–0:50 | | | | | | | |
| 1:00–1:50 | | | | | | | |
| 2:00–2:50 | | | | | | | |
| 3:00–3:50 | | | | | | | |
| 4:00–4:50 | | | | | | | |
| 5:00–5:50 | | | | | | | |
| 6:00–6:50 | | | | | | | |
| 7:00–7:50 | | | | | | | |
| 8:00–8:50 | | | | | | | |
| 9:00–9:50 | | | | | | | |
| 10:00–10:50 | | | | | | | |
| 11:00–11:50 | | | | | | | |
| 12:00–12:50 | | | | | | | |
| 13:00–13:50 | | | | | | | |
| 14:00–14:50 | | | | | | | |
| 15:00–15:50 | | | | | | | |
| 16:00–16:50 | | | | | | | |
| 17:00–17:50 | | | | | | | |
| 18:00–18:50 | | | | | | | |
| 19:00–19:50 | | | | | | | |
| 20:00–20:50 | | | | | | | |
| 21:00–21:50 | | | | | | | |
| 22:00–22:50 | | | | | | | |
| 23:00–23:50 | | | | | | | |

Available tutor - on this date you can arrange your class

1 lekcja = 50 minut
dominique,

2019-06-17

Très efficace

5/5

dominique,

2019-05-06

dziękuje bardzo !!

5/5

dominique,

2019-05-01

Lekcja bardzo ciekawa, przyjemna i rozszerzona.

5/5

dominique,

2019-04-23

Bardzo mila i interesujaca lekcja

5/5

dominique,

2019-04-16

Bardzo interesujace

5/5

dominique,

2019-04-09

świetnie!!

5/5

dominique,

2019-02-08

Très intéressant mais il m'est encore plus difficile de comprendre un texte lorsqu'il est chanté.

5/5

dominique,

2019-02-01

Très instructif comme toujours

5/5

dominique,

2019-01-14

Nie ma uwagi.
Wszystko jest dobrze.

5/5

dominique,

2018-12-17

Problème technique.
Son très mauvais puis inexistant.

3/5

dominique,

2018-12-10

Identiques aux précédentes remarques

5/5

dominique,

2018-12-03

Cours agréable et instructif.

5/5

dominique,

2018-11-30

Cours bien adapté à mon niveau et on ne perd pas de temps.

5/5

dominique,

2018-11-23

Le cours était globalement très intéressant.
Un seul problème : par moments, madame Szymczak parlait un peu trop vite pour moi et il me devenait impossible de comprendre, d'autant que le son n'était pas toujours de bonne qualité.
Je n'ai jamais tenu de conversation avec des personnes polonaises et j'ai besoin d'habituer mon oreille.
Je pense que dans quelques cours il me sera plus aisé de suivre un discours prononcé à une vitesse normale pour un Polonais.
Le cours était malgré tout très agréable et instructif.

5/5