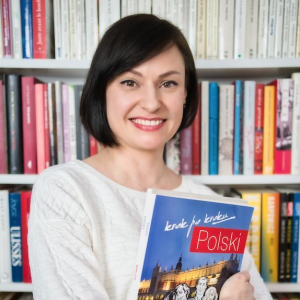 Magdalena Doś
Completed online classes:
1457
Author of exercises at e-polish.eu:
yes (2)
School:
Tomasz Stempek GLOSSA
Issues invoices:
yes
Price:
1 Class — 22 EUR/99 PLN
10 Lessons — 220 EUR/990 PLN
20 Lessons — 440 EUR/1980 PLN
30 Lessons — 660 EUR/2970 PLN

About me:
I've wanted to be a teacher since I was a child but I became a tutor of Polish… by chance :-). After graduating in Polish and theatre studies from the Jagiellonian University I left for Paris to continue my PhD studies. It happened that they were looking for a tutor of Polish at the Sorbonne. I applied and… I was selected! This was the way I started my adventure with teaching Polish which has now continued for 17 years. I adore this job because it gives me independence, satisfaction, constant exchange of energy and a chance to come into contact every day with different cultures.
Qualifications and experience:
Over my 17 year career as a tutor I have gained extensive experience: I worked at prestigious universities in Poland and abroad (The Jagiellonian University, the Sorbonne, the University of Strasbourg), in private language schools, I held courses in companies and individual classes. I taught at all levels from A1 to C2, I gave lessons in business Polish, I taught Polish-French translation, Polish history and literature and… I directed performances in Polish. Now I live in Krakow and I collaborate with GLOSSA School of Foreign Languages where I have group and individual classes with students from different countries, of all ages and at different levels.
Methods of teaching
At work I try to be professional. I like my lessons to be well-prepared. And I like grammar! I think that it's not that difficult to speak a foreign language but the challenge is to speak it correctly. I always teach grammar in a context of communicating so that students can immediately practice use new skills. In my lessons I try to activate different senses, not only eyes and ears, that's why I often use elements taken from theatre to teach a foreign language. I like it when lessons are dynamic. My students say that I'm warm, patient and always smiling (even when I have a bad day!).
Availability
Teacher is available on the dates listed below. They are already in your time zone which is: .
| | | | | | | | |
| --- | --- | --- | --- | --- | --- | --- | --- |
| | | | | | | | |
| 00:00–00:50 | | | | | | | |
| 01:00–01:50 | | | | | | | |
| 02:00–02:50 | | | | | | | |
| 03:00–03:50 | | | | | | | |
| 04:00–04:50 | | | | | | | |
| 05:00–05:50 | | | | | | | |
| 06:00–06:50 | | | | | | | |
| 07:00–07:50 | | | | | | | |
| 08:00–08:50 | | | | | | | |
| 09:00–09:50 | | | | | | | |
| 10:00–10:50 | | | | | | | |
| 11:00–11:50 | | | | | | | |
| 12:00–12:50 | | | | | | | |
| 13:00–13:50 | | | | | | | |
| 14:00–14:50 | | | | | | | |
| 15:00–15:50 | | | | | | | |
| 16:00–16:50 | | | | | | | |
| 17:00–17:50 | | | | | | | |
| 18:00–18:50 | | | | | | | |
| 19:00–19:50 | | | | | | | |
| 20:00–20:50 | | | | | | | |
| 21:00–21:50 | | | | | | | |
| 22:00–22:50 | | | | | | | |
| 23:00–23:50 | | | | | | | |

Available tutor - on this date you can arrange your class

1 lekcja = 50 minut
jasio,

2021-01-04

5/5

jasio,

2020-12-28

5/5

Ozgur,

2020-12-22

5/5

jasio,

2020-12-21

Zdrowych , radosnych i wesolych Swiat Bozego Narodzenia

5/5

RedutaOrdona,

2020-12-21

5/5

Ozgur,

2020-12-11

superb

5/5

jasio,

2020-12-10

5/5

Maqdadzik,

2020-12-08

superowo

5/5

Ozgur,

2020-12-04

Another good lesson

5/5

Maqdadzik,

2020-11-26

5/5

Ozgur,

2020-11-25

Very helpful

5/5

Maqdadzik,

2020-11-24

5/5

Ozgur,

2020-11-20

another great lesson

5/5

Maqdadzik,

2020-11-19

świetnie

5/5

sandra_stockmann,

2020-11-19

5/5

Maqdadzik,

2020-11-16

Świetnie

5/5

Ozgur,

2020-11-13

bardzo dobrze !

5/5

Ozgur,

2020-11-06

good progress

5/5

Ozgur,

2020-10-30

5/5

perfectassistant3,

2020-10-26

5/5

sandra_stockmann,

2020-10-22

5/5

perfectassistant3,

2020-10-21

5/5

perfectassistant3,

2020-10-19

<3

5/5

RedutaOrdona,

2020-10-16

5/5

Ozgur,

2020-10-16

happy with the progress

5/5

Ozgur,

2020-10-09

5/5

Ozgur,

2020-10-02

5/5

RedutaOrdona,

2020-10-01

5/5

Ozgur,

2020-09-25

5/5

RedutaOrdona,

2020-09-24

5/5

Kukina,

2020-09-24

Magda is a very good teacher, precise and clear, I enjoyed the class very much.

5/5

Ozgur,

2020-09-18

5/5

RedutaOrdona,

2020-09-17

5/5

Kukina,

2020-09-17

Very good first class, bardzo dobrze! Dzieki Magda

5/5

jasio,

2020-09-16

5/5

Ozgur,

2020-09-04

5/5

sandra_stockmann,

2020-09-03

5/5

RedutaOrdona,

2020-08-25

5/5

Ozgur,

2020-08-22

5/5

RedutaOrdona,

2020-08-18

5/5

sandra_stockmann,

2020-08-14

5/5

RedutaOrdona,

2020-08-11

5/5

RedutaOrdona,

2020-08-06

5/5

jasio,

2020-08-03

5/5

jasio,

2020-07-31

5/5

jasio,

2020-07-27

5/5

Ozgur,

2020-07-24

5/5

RedutaOrdona,

2020-07-22

5/5

Ozgur,

2020-07-10

5/5

jasio,

2020-07-08

5/5

RedutaOrdona,

2020-07-07

5/5

AMarchetti,

2020-07-06

5/5

jasio,

2020-07-06

5/5

Ozgur,

2020-07-02

Znam kolory

5/5

RedutaOrdona,

2020-07-01

5/5

jasio,

2020-07-01

5/5

jasio,

2020-06-29

5/5

Ozgur,

2020-06-25

5/5

jasio,

2020-06-25

5/5

RedutaOrdona,

2020-06-24

5/5

jasio,

2020-06-22

5/5

sandra_stockmann,

2020-06-19

5/5

Ozgur,

2020-06-18

5/5

RedutaOrdona,

2020-06-17

5/5

jasio,

2020-06-17

5/5

jasio,

2020-06-15

5/5

Ozgur,

2020-06-12

5/5

Ozgur,

2020-06-12

On Ona Ono

5/5

RedutaOrdona,

2020-06-09

5/5

Ozgur,

2020-06-05

5/5

Ozgur,

2020-06-05

great lesson, thanks.

5/5

jasio,

2020-06-03

5/5

RedutaOrdona,

2020-06-02

5/5

jasio,

2020-06-01

5/5

AMarchetti,

2020-05-28

5/5

jasio,

2020-05-28

5/5

RedutaOrdona,

2020-05-26

5/5

jasio,

2020-05-25

5/5

Ozgur,

2020-05-21

Another great lesson with new words...

5/5

jasio,

2020-05-20

5/5

jasio,

2020-05-18

Ce cours m'a passionnée même si le vocabulaire n'est pas facile à mémoriser. Je vous remercie beaucoup car je pense que cela demande beaucoup de travail de préparation.

5/5

Ozgur,

2020-05-14

5/5

jasio,

2020-05-13

5/5

RedutaOrdona,

2020-05-12

5/5

jasio,

2020-05-11

5/5

sandra_stockmann,

2020-05-08

It was very great again. Thank you!

5/5

Ozgur,

2020-05-07

5/5

jasio,

2020-05-06

5/5

RedutaOrdona,

2020-05-05

5/5

AMarchetti,

2020-05-04

5/5

jasio,

2020-05-04

Bardzo szczęsliwa jestem. Kurs jest interesujący . Pani Magdelena jest sympaticzna, mamy ochotę uczyc.

5/5

RedutaOrdona,

2020-04-28

5/5

Ozgur,

2020-04-23

5/5

RedutaOrdona,

2020-04-21

Thank you for another great lesson and very useful conversation.

5/5

Ozgur,

2020-04-16

Great lesson; new useful verbs, thank you.

5/5

RedutaOrdona,

2020-04-14

5/5

Ozgur,

2020-04-02

5/5

RedutaOrdona,

2020-04-02

Thank you so much for another excellent lesson.

5/5

sandra_stockmann,

2020-04-02

I really love the class with Magda. She is a great teacher, I learn a lot every time und I am looking forward to each class.

5/5

sandra_stockmann,

2020-03-27

5/5

Ozgur,

2020-03-26

Another good one, thank you!

5/5

Ozgur,

2020-03-24

5/5

Ozgur,

2020-03-24

5/5

Ozgur,

2020-03-05

Great lesson, thanks.

5/5

Ozgur,

2020-02-27

5/5

RedutaOrdona,

2020-02-18

Dziękuje bardzo! Super lekcja.

5/5

Ozgur,

2020-02-13

Fantastic. A lot of new staff, covered all the past lessons quickly. I really enjoyed the lesson although it was an 1.5 hour session at the end of a very long day. "w porzadku" was my favorite learning :) Thank you!

5/5

Ozgur,

2020-02-13

5/5

RedutaOrdona,

2020-02-11

An excellent and very helpful session. Thank you so much!

5/5

Ozgur,

2020-01-30

5/5

Ozgur,

2020-01-23

5/5

Ozgur,

2020-01-23

5/5

Ozgur,

2020-01-09

5/5

Ozgur,

2019-12-19

5/5

Ozgur,

2019-12-12

5/5

RedutaOrdona,

2019-11-28

Perfectly structured and really, really well placed. Thank you very much for another excellent lesson.

5/5

AMarchetti,

2019-10-28

5/5

RedutaOrdona,

2019-10-02

Thank you for a great lesson. It was so useful to learn so many phrases and words specific to my profession. I also really appreciate the revision of the grammar we covered today.

5/5

RedutaOrdona,

2019-09-24

A really fantastic lesson, which has helped me to udenrstand what I know and what I need to revise further. The best language lessons I've had. Thanks such a lot.

5/5

AMarchetti,

2019-09-23

5/5

AMarchetti,

2019-09-12

5/5

RedutaOrdona,

2019-09-12

It was wonderful to have a lesson with Magda. She's the best teacher I've had – it is such a pleasure to learn with her. She has left me feeling very positive about my knowledge too. Simply the best teacher.

5/5

AMarchetti,

2019-09-05

5/5

AMarchetti,

2019-09-02

5/5

AMarchetti,

2019-08-28

5/5

AMarchetti,

2019-08-07

5/5

AMarchetti,

2019-08-01

5/5

AMarchetti,

2019-07-29

5/5

AMarchetti,

2019-07-22

5/5

AMarchetti,

2019-07-18

5/5

AMarchetti,

2019-07-16

5/5

AMarchetti,

2019-06-27

5/5

AMarchetti,

2019-06-24

5/5

AMarchetti,

2019-06-17

5/5

AMarchetti,

2019-04-15

Very interesting class

5/5