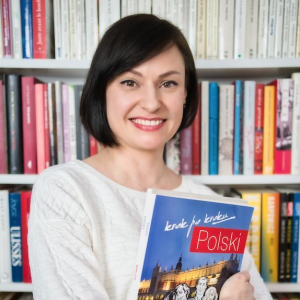 Magdalena Doś
Completed online classes:
3029
Author of exercises at e-polish.eu:
yes (2)
School:
Tomasz Stempek GLOSSA
Issues invoices:
yes
Price:
1 Class — 149 PLN/38 USD/35 EUR

i


10 Lessons — 1415 PLN/361 USD/332 EUR

i


20 Lessons — 2682 PLN/684 USD/630 EUR

i


30 Lessons — 3799 PLN/969 USD/892 EUR

i



About me:
Hello, welcome to my profile!
Would you like to learn Polish, but you are not sure if this method is for you? You also don't know if I am your "dream teacher"? If you have any questions or doubts, please take a free trial lesson! (details below)

Who am I?
My name is Magda and I have been teaching Polish as a foreign language for 20 years. But my teaching adventure began a bit unusual...

Although I wanted to be a teacher since I was a child, I became a Polish tutor … by chance :). After graduating in Polish Studies and Theatre Studies from the Jagiellonian University in Cracow, I left for Paris to continue my PhD studies in the field of theater. It happened that they were looking for a tutor of Polish at the Sorbonne. I applied and... was selected! This is how I started my adventure teaching Polish, which has now continued for 20 years.

Working with people is my passion, therefore - teaching is the best profession. I love sharing my knowledge with my students and seeing their progress. For me, being a tutor of Polish means exchanging positive energy with students from around the world - as well as making new friends everywhere.
Qualifications and experience:
Over my 20 years career as a tutor I have gained extensive experience in this area: I have worked for prestigious universities in France and Poland, as well as for private language schools and companies. I have taught general Polish and professional and business language skills at all levels and to all age groups, I have prepared many students for their state exams in the Polish language. I have also taught Polish history and literature – I have even directed performances in Polish!

At present, I live in Kraków, but thanks to the opportunities offered by online teaching, I conduct individual and group lessons for students from all over the world! I have been using e-polish.eu platform since 2013 and consider it to be a remarkable teaching tool – useful not only during the pandemic :)

For several years I have also been conducting methodological trainings for teachers.

Apart from teaching, I like learning new things and broadening my mind. I always keep raising my qualifications: I attend professional courses to keep me updated with the latest developments in language training and pedagogy. Furthermore, I'm also a personal development trainer with a specialisation in language coaching, which is now my new passion and gives me new tools in my work as a tutor.
Methods of teaching
As a language coach, I am fully aware that there is not one effective method for every learner. I believe it is important to tailor teaching methods to suit each student's individual needs and preferences. For me, ensuring my students are motivated is a very important part of the teaching process and I always consider my students' expectations. We simply work together at a suitable pace with the final goal in mind. I like my lessons to be well prepared with a lot of inspiring teaching materials chosen for students individually. From the very beginning, we will progressively speak, listen, read, write, play games and sing... obviously in Polish! We will also learn Polish grammar – which is not as terrible as you might think :)

If you are looking for a flexible, empathetic, patient and friendly teacher, I invite you to join my lessons!

FREE TRIAL LESSON
To take advantage of a 30min free trial lesson, just click on the 'Free trial lesson' button under my profile picture at the top. You don't need to choose a specific date or time. After activating a trial lesson, I will contact you as soon as possible and we will arrange the date together.

After booking, please fill out your profile on the website. This will help me prepare the first lesson suited to your level!

***
PAYMENT: IMPORTANT NOTICE!

If you decide to order lessons with me, please read the information below:

If you are from Europe and the euro zone or you live in Poland: please choose bank transfer (it's fast and there are no fees!) instead of card / Paypal payment.
I will be grateful for making payments by card / Paypal only for transactions outside the euro zone. Thank you very much :)

- if you want to make a transfer in EURO: select the page settings in English - in the last step you will receive the account number in EURO
- if you want to make a transfer in PLN: select the website settings in Polish - in the last step you will receive the account number in PLN
Availability
Teacher Magdalena Doś is available on the dates listed below. They are already in your time zone which is: GMT.
| | | | | | | | |
| --- | --- | --- | --- | --- | --- | --- | --- |
| | | | | | | | |
| 00:00–00:50 | | | | | | | |
| 01:00–01:50 | | | | | | | |
| 02:00–02:50 | | | | | | | |
| 03:00–03:50 | | | | | | | |
| 04:00–04:50 | | | | | | | |
| 05:00–05:50 | | | | | | | |
| 06:00–06:50 | | | | | | | |
| 07:00–07:50 | | | | | | | |
| 08:00–08:50 | | | | | | | |
| 09:00–09:50 | | | | | | | |
| 10:00–10:50 | | | | | | | |
| 11:00–11:50 | | | | | | | |
| 12:00–12:50 | | | | | | | |
| 13:00–13:50 | | | | | | | |
| 14:00–14:50 | | | | | | | |
| 15:00–15:50 | | | | | | | |
| 16:00–16:50 | | | | | | | |
| 17:00–17:50 | | | | | | | |
| 18:00–18:50 | | | | | | | |
| 19:00–19:50 | | | | | | | |
| 20:00–20:50 | | | | | | | |
| 21:00–21:50 | | | | | | | |
| 22:00–22:50 | | | | | | | |
| 23:00–23:50 | | | | | | | |

Available tutor - on this date you can arrange your class

1 lekcja = 50 minut
Bchittum,

2023-06-13

5/5

oleksandr.kot,

2023-05-29

5/5

Bchittum,

2023-04-18

5/5

Bchittum,

2023-04-13

5/5

Bchittum,

2023-04-04

5/5

Bchittum,

2023-03-28

5/5

Bchittum,

2023-03-21

5/5

Bchittum,

2023-03-14

5/5

oleksandr.kot,

2023-03-13

5/5

Bchittum,

2023-02-14

5/5

Bchittum,

2023-01-25

5/5

jasio,

2022-12-27

5/5

Bchittum,

2022-12-12

5/5

jasio,

2022-11-29

4/5

Bchittum,

2022-11-28

5/5

DianaDuda,

2022-11-24

5/5

Bchittum,

2022-11-23

5/5

rehughes80,

2022-11-18

4/5

Bchittum,

2022-11-15

5/5

Bchittum,

2022-11-09

5/5

Bchittum,

2022-11-03

5/5

DianaDuda,

2022-10-31

5/5

Bchittum,

2022-10-27

5/5

Bchittum,

2022-10-19

5/5

Bchittum,

2022-10-12

5/5

linebraga,

2022-10-10

5/5

jasio,

2022-09-26

5/5

tdavidbourne,

2022-09-23

5/5

Bchittum,

2022-09-20

5/5

Lea_F,

2022-09-13

I enjoyed the lesson. I liked the variety of different exercises (i.e. speaking, reading, writing, listening)

5/5

jasio,

2022-09-13

5/5

annechagire,

2022-09-12

5/5

annechagire,

2022-09-08

5/5

Bchittum,

2022-09-06

5/5

tdavidbourne,

2022-09-02

Excellent lesson with a focus on reviewing important learning material from the previous lesson. Bardzo dziękuję za lekcję.

5/5

Bchittum,

2022-08-30

5/5

tdavidbourne,

2022-08-26

Magda provided an excellent introduction to her teaching approach, including the wonderful online environment provided by e-polish. She was well-prepared, patient, and so enthusiastic!

5/5

Bchittum,

2022-08-23

5/5

svenom,

2022-08-22

Dziękuje za lekcja!

5/5

annechagire,

2022-08-18

5/5

Bchittum,

2022-08-15

5/5

Bchittum,

2022-08-12

5/5

annechagire,

2022-08-11

5/5

Bchittum,

2022-08-10

5/5

annechagire,

2022-08-08

5/5

annechagire,

2022-08-01

5/5

annechagire,

2022-07-21

5/5

Bchittum,

2022-07-19

5/5

jasio,

2022-07-19

5/5

svenom,

2022-07-18

Dziękuję bardzo za lekcja!

5/5

Bchittum,

2022-07-12

5/5

annechagire,

2022-07-12

5/5

matanrein,

2022-07-08

5/5

egork,

2022-07-07

5/5

annechagire,

2022-07-07

5/5

jasio,

2022-07-06

5/5

Bchittum,

2022-07-05

5/5

annechagire,

2022-07-05

5/5

jasio,

2022-06-29

5/5

Bchittum,

2022-06-28

5/5

annechagire,

2022-06-28

5/5

hilarymk,

2022-06-27

Great practice for 'time' phrases.

5/5

annechagire,

2022-06-24

5/5

matanrein,

2022-06-24

5/5

Bchittum,

2022-06-22

5/5

Dyniaky,

2022-06-22

5/5

Bchittum,

2022-06-21

5/5

jasio,

2022-06-21

5/5

PajDavid,

2022-06-20

5/5

hilarymk,

2022-06-20

Great lesson thanks.

5/5

Dyniaky,

2022-06-20

Challenging!

5/5

Kristen9,

2022-06-17

Magda is wonderful. Great at catering the lesson to my needs.

5/5

PajDavid,

2022-06-17

5/5

annechagire,

2022-06-15

5/5

PajDavid,

2022-06-13

5/5

annechagire,

2022-06-13

5/5

PajDavid,

2022-06-09

5/5

annechagire,

2022-06-09

5/5

PajDavid,

2022-06-08

5/5

Dyniaky,

2022-06-08

5/5

Bchittum,

2022-06-07

5/5

jasio,

2022-06-07

5/5

annechagire,

2022-06-06

5/5

Dyniaky,

2022-06-06

5/5

annechagire,

2022-06-02

5/5

Bchittum,

2022-05-31

5/5

jasio,

2022-05-31

5/5

annechagire,

2022-05-30

5/5

Bchittum,

2022-05-25

5/5

annechagire,

2022-05-25

5/5

jasio,

2022-05-24

Lubie duzo porozmawiac bo tutaj w Francji nie mam okazji.

5/5

annechagire,

2022-05-23

5/5

hilarymk,

2022-05-23

Good lesson and practice - thanks!

5/5

PajDavid,

2022-05-20

5/5

annechagire,

2022-05-19

5/5

Bchittum,

2022-05-16

5/5

annechagire,

2022-05-16

5/5

annechagire,

2022-05-13

5/5

PajDavid,

2022-05-13

5/5

Bchittum,

2022-05-11

5/5

jasio,

2022-05-11

C'est une bonne révision

5/5

Bchittum,

2022-05-09

5/5

annechagire,

2022-05-09

5/5

Dyniaky,

2022-05-09

5/5

PajDavid,

2022-05-06

5/5

Dyniaky,

2022-05-05

5/5

annechagire,

2022-05-05

5/5

PajDavid,

2022-04-29

5/5

annechagire,

2022-04-28

5/5

Dyniaky,

2022-04-28

5/5

Bchittum,

2022-04-25

5/5

annechagire,

2022-04-25

5/5

Dyniaky,

2022-04-25

Very interesting lesson with a lot of new vocabulary

5/5

PajDavid,

2022-04-22

5/5

Bchittum,

2022-04-21

5/5

annechagire,

2022-04-21

5/5

dansism115,

2022-04-21

5/5

Dyniaky,

2022-04-20

5/5

annechagire,

2022-04-14

Love my first session with Magdalena !
She was very engaging and uses the online tools amazingly :).

5/5

PajDavid,

2022-04-14

5/5

Bchittum,

2022-04-11

5/5

hilarymk,

2022-04-11

We learnt all about Polish Easter traditions, which I already knew a little about, but didn't know the Polish words, so it was interesting.

5/5

PajDavid,

2022-04-08

5/5

Bchittum,

2022-04-06

5/5

hilarymk,

2022-04-04

This was our first lesson, and although I was nervous, it went well and I was able to relax. Thanks.

5/5

PajDavid,

2022-04-01

5/5

Dyniaky,

2022-03-28

Interesting and challenging lesson. Very helpful

5/5

PajDavid,

2022-03-25

5/5

Bchittum,

2022-03-21

5/5

vera_krupawageneder,

2022-03-18

Jak zawsze bardzo ciekawa lekcja!

5/5

PajDavid,

2022-03-18

5/5

Bchittum,

2022-03-14

5/5

PajDavid,

2022-03-11

5/5

jasio,

2022-03-10

5/5

Bchittum,

2022-03-07

5/5

Dyniaky,

2022-03-07

Very good practice of the word endings!

5/5

PajDavid,

2022-03-04

5/5

Zeppchen,

2022-03-03

5/5

Dyniaky,

2022-03-03

Challenging lesson

5/5

Bchittum,

2022-03-01

5/5

jasio,

2022-03-01

5/5

PajDavid,

2022-02-25

5/5

Bchittum,

2022-02-22

5/5

jasio,

2022-02-22

5/5

PajDavid,

2022-02-21

5/5

Bchittum,

2022-02-16

5/5

PajDavid,

2022-02-14

5/5

Dyniaky,

2022-02-14

5/5

PajDavid,

2022-02-11

5/5

Zeppchen,

2022-02-10

5/5

Bchittum,

2022-02-08

5/5

Dyniaky,

2022-02-07

A lot of useful new vocabulary! and very good practice of biernik and narzednik in singular and plural.

5/5

PajDavid,

2022-02-04

4/5

vera_krupawageneder,

2022-02-04

5/5

PajDavid,

2022-02-03

5/5

sbikun,

2022-02-03

Great first lesson! I'm excited to continue

5/5

Zeppchen,

2022-02-03

5/5

Dyniaky,

2022-02-03

5/5

Dyniaky,

2022-02-02

Challenging lesson but super interesting!

5/5

Bchittum,

2022-02-01

5/5

PajDavid,

2022-01-31

5/5

PajDavid,

2022-01-28

5/5

vera_krupawageneder,

2022-01-28

5/5

Zeppchen,

2022-01-27

5/5

PajDavid,

2022-01-26

5/5

Dyniaky,

2022-01-26

5/5

Bchittum,

2022-01-25

5/5

Dyniaky,

2022-01-24

5/5

Maja1,

2022-01-21

5/5

vera_krupawageneder,

2022-01-21

5/5

Zeppchen,

2022-01-20

5/5

Dyniaky,

2022-01-19

5/5

Bchittum,

2022-01-18

5/5

Dyniaky,

2022-01-17

Excellent revision after the holidays!

5/5

vera_krupawageneder,

2022-01-14

5/5

Bchittum,

2022-01-11

5/5

Bchittum,

2022-01-07

5/5

Bchittum,

2021-12-28

5/5

Bchittum,

2021-12-20

Such a cute lesson about traditional Polish Christmas - Wesołych Świąt!

5/5

Dyniaky,

2021-12-20

5/5

vera_krupawageneder,

2021-12-17

5/5

jasio,

2021-12-16

5/5

Dyniaky,

2021-12-15

5/5

Bchittum,

2021-12-13

5/5

vera_krupawageneder,

2021-12-10

Znowu bardzo atrakcyjna lekcja! Polecam!

5/5

khakurel.nabin,

2021-12-09

5/5

Dyniaky,

2021-12-08

5/5

Zeppchen,

2021-12-08

Die erste Unterrichtsstunde hat mir sehr viel Spaß gemacht und ich würde sehr gerne bei Frau Magdalena Dos weiterlernen.

5/5

Bchittum,

2021-12-07

5/5

jasio,

2021-12-07

5/5

vera_krupawageneder,

2021-12-03

5/5

Dyniaky,

2021-12-02

Super interesting but also challenging because there are a lot of new words and verbs

5/5

Bchittum,

2021-12-01

5/5

Dyniaky,

2021-12-01

5/5

vera_krupawageneder,

2021-11-26

5/5

Dyniaky,

2021-11-25

After doing all the exercises I felt more confident with the new conjugations. A lot to remember but very good class!

5/5

Dyniaky,

2021-11-24

5/5

Bchittum,

2021-11-23

5/5

jasio,

2021-11-23

Ce cours est très intéressant car nous apprenons les expressions polonaises.

5/5

vera_krupawageneder,

2021-11-19

Bardzo profesjonalnie przygotowana lekcja!

5/5

Dyniaky,

2021-11-17

I found the exercises where I had to ask questions after reading the texts super interesting to practice everything we have learnt so far!

5/5

Bchittum,

2021-11-16

No English speaker could study Polish time without a good teacher. Thank goodness I was not studying this chapter alone WOW

5/5

Dyniaky,

2021-11-15

5/5

Polina91,

2021-11-12

5/5

Dyniaky,

2021-11-10

5/5

Bchittum,

2021-11-09

5/5

jasio,

2021-11-09

Bardzo interesujace znac historie Polski .

5/5

Dyniaky,

2021-11-09

5/5

RedutaOrdona,

2021-11-05

5/5

jasio,

2021-11-04

Dziekuje lubie uczyc tradicjyny w Polsce.

5/5

Bchittum,

2021-11-03

5/5

Dyniaky,

2021-11-03

5/5

Dyniaky,

2021-11-02

5/5

RedutaOrdona,

2021-10-29

5/5

vera_krupawageneder,

2021-10-29

Bardzo atrakcyjne i bardzo profesjonale lekcje!

5/5

Bchittum,

2021-10-26

5/5

jasio,

2021-10-26

5/5

jasio,

2021-10-22

J'ai remarqué pour la première fois que je commence à comprendre un texte même si je ne connais pas tout le vocabulaire. Merci

5/5

Bchittum,

2021-10-18

5/5

Dyniaky,

2021-10-18

Great oral practice to complement the written exercises. Learning verb conjugation can be boring but Magda made the lesson super dynamic! That helped me to memorize the new verbs.

5/5

RedutaOrdona,

2021-10-15

5/5

minamicyagi,

2021-10-13

5/5

jasio,

2021-10-12

Ja wiem robic cwiciennie kiedy jestem z nauczycielka ale sama jest trudniejsze.

5/5

Bchittum,

2021-10-11

5/5

Dyniaky,

2021-10-11

It was a fun lesson. I loved the warm up at the beggining of the lesson with an oral revision of our last topic. The teacher introduced the new vocabulary in a fun and engaging way.

5/5

vera_krupawageneder,

2021-10-08

5/5

Dyniaky,

2021-10-06

The teacher explained to me how to use the three genders and ten, ta, so in a very engaging and motivating way. The lesson was very communicative and interesting. I am super satisfied with the lesson and the teacher =)

5/5

jasio,

2021-10-05

5/5

Bchittum,

2021-10-04

5/5

Dyniaky,

2021-10-04

It was a very interactive and communicative lesson. It helped me learn and practice a lot of new vocabulary.

5/5

vera_krupawageneder,

2021-10-01

5/5

jasio,

2021-09-29

5/5

Bchittum,

2021-09-27

5/5

RedutaOrdona,

2021-09-24

5/5

Bchittum,

2021-09-22

5/5

jasio,

2021-09-21

5/5

minamicyagi,

2021-09-21

Die Unterrichtsstunde hat viel Freude gemacht und ich habe schnell Neues dazugelernt.

5/5

vera_krupawageneder,

2021-09-17

5/5

vera_krupawageneder,

2021-09-10

5/5

Bchittum,

2021-09-07

5/5

Bchittum,

2021-08-31

5/5

jasio,

2021-08-30

Kurs byl interesujacy bo porozmawialismy duzo i po wakaxjach myslalam ze rozmawiac po polsku nie moglam. Dziekyje bardzo.

5/5

vera_krupawageneder,

2021-08-27

5/5

Bchittum,

2021-08-25

5/5

vera_krupawageneder,

2021-08-20

5/5

Bchittum,

2021-08-17

5/5

vera_krupawageneder,

2021-08-06

5/5

Bchittum,

2021-08-04

5/5

vera_krupawageneder,

2021-07-30

5/5

Bchittum,

2021-07-29

5/5

vera_krupawageneder,

2021-07-23

5/5

Bchittum,

2021-07-20

5/5

vera_krupawageneder,

2021-07-16

5/5

stv_pytlik,

2021-07-14

Super!

5/5

Bchittum,

2021-06-29

5/5

vera_krupawageneder,

2021-06-25

5/5

jasio,

2021-06-23

5/5

Bchittum,

2021-06-22

5/5

jasio,

2021-06-16

5/5

Bchittum,

2021-06-15

5/5

Maqdadzik,

2021-06-15

5/5

jasio,

2021-06-09

5/5

Bchittum,

2021-06-08

5/5

SurfingChewie,

2021-06-08

5/5

vera_krupawageneder,

2021-06-04

5/5

SurfingChewie,

2021-06-02

5/5

Bchittum,

2021-06-01

5/5

SurfingChewie,

2021-05-28

5/5

vera_krupawageneder,

2021-05-28

5/5

Bchittum,

2021-05-27

5/5

jasio,

2021-05-26

Podoba mi sie to, ze znalaslam sie w sytuacji w Polsce. Dziekuje bardzo.

5/5

SurfingChewie,

2021-05-21

5/5

vera_krupawageneder,

2021-05-21

5/5

jasio,

2021-05-19

5/5

Bchittum,

2021-05-17

5/5

Maqdadzik,

2021-05-17

5/5

vera_krupawageneder,

2021-05-14

5/5

RedutaOrdona,

2021-05-13

5/5

matanrein,

2021-05-12

5/5

jasio,

2021-05-12

5/5

Bchittum,

2021-05-10

5/5

vera_krupawageneder,

2021-05-07

5/5

RedutaOrdona,

2021-05-06

5/5

jasio,

2021-05-06

Kurs jest bardzo interesujacy, myslemy byc w Polsce.
Dziekuje bardzo.

5/5

Bchittum,

2021-05-04

5/5

vera_krupawageneder,

2021-04-30

5/5

jasio,

2021-04-29

Bardzo interesujacy. Uczic i podrozowac przez Polski nie wiemy czas. ziekuje.

5/5

Michael_MUC,

2021-04-28

5/5

Maqdadzik,

2021-04-27

5/5

Bchittum,

2021-04-26

The best first lesson possible

5/5

RedutaOrdona,

2021-04-23

5/5

vera_krupawageneder,

2021-04-23

5/5

jasio,

2021-04-22

kurs byl pasjonujacy.

5/5

RedutaOrdona,

2021-04-15

5/5

vera_krupawageneder,

2021-04-14

5/5

Maqdadzik,

2021-04-12

5/5

RedutaOrdona,

2021-04-08

5/5

vera_krupawageneder,

2021-04-07

5/5

RedutaOrdona,

2021-04-02

5/5

henryragan422,

2021-03-05

Dziękuję!

5/5

Maqdadzik,

2021-03-01

5/5

henryragan422,

2021-02-26

thanks!

4/5

Maqdadzik,

2021-02-22

5/5

RedutaOrdona,

2021-02-19

5/5

henryragan422,

2021-02-19

Dziękuję bardzo, Magda! Dziśai byw zabawa!

5/5

Maqdadzik,

2021-02-18

5/5

jasio,

2021-02-18

5/5

vendrell46,

2021-02-16

5/5

Maqdadzik,

2021-02-15

5/5

RedutaOrdona,

2021-02-12

5/5

henryragan422,

2021-02-12

Dzekuje Bardzo!

5/5

Maqdadzik,

2021-02-11

5/5

jasio,

2021-02-11

5/5

biennois,

2021-02-08

5/5

Maqdadzik,

2021-02-08

świetnie

5/5

RedutaOrdona,

2021-02-05

5/5

Maqdadzik,

2021-02-05

5/5

jasio,

2021-02-04

5/5

biennois,

2021-02-03

5/5

biennois,

2021-02-01

5/5

RedutaOrdona,

2021-01-29

5/5

biennois,

2021-01-27

5/5

jasio,

2021-01-26

5/5

RedutaOrdona,

2021-01-21

5/5

jasio,

2021-01-21

5/5

biennois,

2021-01-20

5/5

jasio,

2021-01-19

5/5

biennois,

2021-01-18

5/5

Maqdadzik,

2021-01-18

Super Lekcja

5/5

jasio,

2021-01-04

5/5

jasio,

2020-12-28

5/5

Ozgur,

2020-12-22

5/5

jasio,

2020-12-21

Zdrowych , radosnych i wesolych Swiat Bozego Narodzenia

5/5

RedutaOrdona,

2020-12-21

5/5

RedutaOrdona,

2020-12-18

5/5

Ozgur,

2020-12-11

superb

5/5

jasio,

2020-12-10

5/5

Maqdadzik,

2020-12-08

superowo

5/5

Ozgur,

2020-12-04

Another good lesson

5/5

Maqdadzik,

2020-11-26

5/5

RedutaOrdona,

2020-11-25

5/5

Ozgur,

2020-11-25

Very helpful

5/5

Maqdadzik,

2020-11-24

5/5

RedutaOrdona,

2020-11-20

5/5

Ozgur,

2020-11-20

another great lesson

5/5

Maqdadzik,

2020-11-19

świetnie

5/5

sandra_stockmann,

2020-11-19

5/5

Maqdadzik,

2020-11-16

Świetnie

5/5

Ozgur,

2020-11-13

bardzo dobrze !

5/5

Ozgur,

2020-11-06

good progress

5/5

Ozgur,

2020-10-30

5/5

perfectassistant3,

2020-10-26

5/5

sandra_stockmann,

2020-10-22

5/5

perfectassistant3,

2020-10-21

5/5

perfectassistant3,

2020-10-19

<3

5/5

RedutaOrdona,

2020-10-16

5/5

Ozgur,

2020-10-16

happy with the progress

5/5

Ozgur,

2020-10-09

5/5

RedutaOrdona,

2020-10-08

5/5

Ozgur,

2020-10-02

5/5

RedutaOrdona,

2020-10-01

5/5

Ozgur,

2020-09-25

5/5

RedutaOrdona,

2020-09-24

5/5

Kukina,

2020-09-24

Magda is a very good teacher, precise and clear, I enjoyed the class very much.

5/5

Ozgur,

2020-09-18

5/5

RedutaOrdona,

2020-09-17

5/5

Kukina,

2020-09-17

Very good first class, bardzo dobrze! Dzieki Magda

5/5

jasio,

2020-09-16

5/5

Ozgur,

2020-09-04

5/5

sandra_stockmann,

2020-09-03

5/5

RedutaOrdona,

2020-08-25

5/5

Ozgur,

2020-08-22

5/5

RedutaOrdona,

2020-08-18

5/5

sandra_stockmann,

2020-08-14

5/5

RedutaOrdona,

2020-08-11

5/5

RedutaOrdona,

2020-08-06

5/5

jasio,

2020-08-03

5/5

jasio,

2020-07-31

5/5

jasio,

2020-07-27

5/5

Ozgur,

2020-07-24

5/5

RedutaOrdona,

2020-07-22

5/5

Ozgur,

2020-07-10

5/5

jasio,

2020-07-08

5/5

RedutaOrdona,

2020-07-07

5/5

AMarchetti,

2020-07-06

5/5

jasio,

2020-07-06

5/5

Ozgur,

2020-07-02

Znam kolory

5/5

RedutaOrdona,

2020-07-01

5/5

jasio,

2020-07-01

5/5

jasio,

2020-06-29

5/5

Ozgur,

2020-06-25

5/5

jasio,

2020-06-25

5/5

RedutaOrdona,

2020-06-24

5/5

jasio,

2020-06-22

5/5

sandra_stockmann,

2020-06-19

5/5

Ozgur,

2020-06-18

5/5

RedutaOrdona,

2020-06-17

5/5

jasio,

2020-06-17

5/5

jasio,

2020-06-15

5/5

Ozgur,

2020-06-12

5/5

Ozgur,

2020-06-12

On Ona Ono

5/5

RedutaOrdona,

2020-06-09

5/5

Ozgur,

2020-06-05

5/5

Ozgur,

2020-06-05

great lesson, thanks.

5/5

jasio,

2020-06-03

5/5

RedutaOrdona,

2020-06-02

5/5

jasio,

2020-06-01

5/5

AMarchetti,

2020-05-28

5/5

jasio,

2020-05-28

5/5

RedutaOrdona,

2020-05-26

5/5

jasio,

2020-05-25

5/5

Ozgur,

2020-05-21

Another great lesson with new words...

5/5

jasio,

2020-05-20

5/5

jasio,

2020-05-18

Ce cours m'a passionnée même si le vocabulaire n'est pas facile à mémoriser. Je vous remercie beaucoup car je pense que cela demande beaucoup de travail de préparation.

5/5

Ozgur,

2020-05-14

5/5

jasio,

2020-05-13

5/5

RedutaOrdona,

2020-05-12

5/5

jasio,

2020-05-11

5/5

sandra_stockmann,

2020-05-08

It was very great again. Thank you!

5/5

Ozgur,

2020-05-07

5/5

jasio,

2020-05-06

5/5

RedutaOrdona,

2020-05-05

5/5

AMarchetti,

2020-05-04

5/5

jasio,

2020-05-04

Bardzo szczęsliwa jestem. Kurs jest interesujący . Pani Magdelena jest sympaticzna, mamy ochotę uczyc.

5/5

RedutaOrdona,

2020-04-28

5/5

Ozgur,

2020-04-23

5/5

RedutaOrdona,

2020-04-21

Thank you for another great lesson and very useful conversation.

5/5

Ozgur,

2020-04-16

Great lesson; new useful verbs, thank you.

5/5

RedutaOrdona,

2020-04-14

5/5

Ozgur,

2020-04-02

5/5

RedutaOrdona,

2020-04-02

Thank you so much for another excellent lesson.

5/5

sandra_stockmann,

2020-04-02

I really love the class with Magda. She is a great teacher, I learn a lot every time und I am looking forward to each class.

5/5

sandra_stockmann,

2020-03-27

5/5

Ozgur,

2020-03-26

Another good one, thank you!

5/5

Ozgur,

2020-03-24

5/5

Ozgur,

2020-03-24

5/5

Ozgur,

2020-03-05

Great lesson, thanks.

5/5

Ozgur,

2020-02-27

5/5

RedutaOrdona,

2020-02-18

Dziękuje bardzo! Super lekcja.

5/5

Ozgur,

2020-02-13

Fantastic. A lot of new staff, covered all the past lessons quickly. I really enjoyed the lesson although it was an 1.5 hour session at the end of a very long day. "w porzadku" was my favorite learning :) Thank you!

5/5

Ozgur,

2020-02-13

5/5

RedutaOrdona,

2020-02-11

An excellent and very helpful session. Thank you so much!

5/5

Ozgur,

2020-01-30

5/5

Ozgur,

2020-01-23

5/5

Ozgur,

2020-01-23

5/5

Ozgur,

2020-01-09

5/5

Ozgur,

2019-12-19

5/5

Ozgur,

2019-12-12

5/5

RedutaOrdona,

2019-11-28

Perfectly structured and really, really well placed. Thank you very much for another excellent lesson.

5/5

AMarchetti,

2019-10-28

5/5

RedutaOrdona,

2019-10-02

Thank you for a great lesson. It was so useful to learn so many phrases and words specific to my profession. I also really appreciate the revision of the grammar we covered today.

5/5

RedutaOrdona,

2019-09-24

A really fantastic lesson, which has helped me to udenrstand what I know and what I need to revise further. The best language lessons I've had. Thanks such a lot.

5/5

AMarchetti,

2019-09-23

5/5

AMarchetti,

2019-09-12

5/5

RedutaOrdona,

2019-09-12

It was wonderful to have a lesson with Magda. She's the best teacher I've had – it is such a pleasure to learn with her. She has left me feeling very positive about my knowledge too. Simply the best teacher.

5/5

AMarchetti,

2019-09-05

5/5

AMarchetti,

2019-09-02

5/5

AMarchetti,

2019-08-28

5/5

AMarchetti,

2019-08-07

5/5

AMarchetti,

2019-08-01

5/5

AMarchetti,

2019-07-29

5/5

AMarchetti,

2019-07-22

5/5

AMarchetti,

2019-07-18

5/5

AMarchetti,

2019-07-16

5/5

AMarchetti,

2019-06-27

5/5

AMarchetti,

2019-06-24

5/5

AMarchetti,

2019-06-17

5/5

AMarchetti,

2019-04-15

Very interesting class

5/5