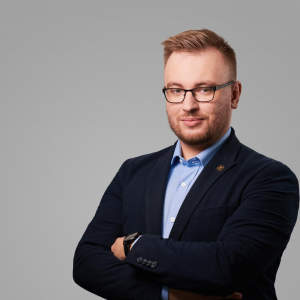 Paweł Polejowski
Completed online classes:
0
Author of exercises at e-polish.eu:
NO
Issues invoices:
yes
Price:
1 Class — 23 AUD/21 CAD/14 EUR/12 GBP/60 PLN/16 USD
10 Lessons — 207 AUD/189 CAD/126 EUR/108 GBP/540 PLN/144 USD
20 Lessons — 404 AUD/369 CAD/246 EUR/211 GBP/1056 PLN/281 USD
30 Lessons — 586 AUD/535 CAD/357 EUR/306 GBP/1530 PLN/408 USD

About me:
I don't like limitations and I'm not afraid of challenges. I teach English and Polish as foreign languages. Beside of this I'm into music. I play guitar and bass. In my free time I create my solo music project. I love reading, lately I read a lot about self-development, business and psychology.
Qualifications and experience:
I have wide and diverse experience in teaching. Also, with teaching without the knowledge of student's native language.

I graduated from University of Nicolaus Copernicus in Torun in English philology. I finished postgraduate course in Teaching Polish as Foreign Language at University of Gdansk.
Methods of teaching
In my teaching work I focus on making learning process a pleasure for my students. I try my best to adjust learning materials to my students' interests. During my classes, I place emphasis on using conversational method.
Availability
Teacher is available on the dates listed below. They are already in your time zone which is: .
| | | | | | | | |
| --- | --- | --- | --- | --- | --- | --- | --- |
| | | | | | | | |
| 0:00–0:50 | | | | | | | |
| 1:00–1:50 | | | | | | | |
| 2:00–2:50 | | | | | | | |
| 3:00–3:50 | | | | | | | |
| 4:00–4:50 | | | | | | | |
| 5:00–5:50 | | | | | | | |
| 6:00–6:50 | | | | | | | |
| 7:00–7:50 | | | | | | | |
| 8:00–8:50 | | | | | | | |
| 9:00–9:50 | | | | | | | |
| 10:00–10:50 | | | | | | | |
| 11:00–11:50 | | | | | | | |
| 12:00–12:50 | | | | | | | |
| 13:00–13:50 | | | | | | | |
| 14:00–14:50 | | | | | | | |
| 15:00–15:50 | | | | | | | |
| 16:00–16:50 | | | | | | | |
| 17:00–17:50 | | | | | | | |
| 18:00–18:50 | | | | | | | |
| 19:00–19:50 | | | | | | | |
| 20:00–20:50 | | | | | | | |
| 21:00–21:50 | | | | | | | |
| 22:00–22:50 | | | | | | | |
| 23:00–23:50 | | | | | | | |

Available tutor - on this date you can arrange your class

1 lekcja = 50 minut