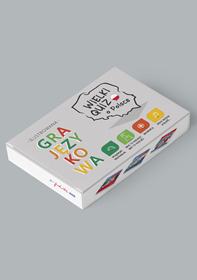 Title:
Wielki quiz o Polsce
Authors:
Stempek Iwona
Type:
other
Target group:
children, adults
Language:
general
Level:
A2, B1
Skills:
listening comprehension, vocabulary practice, speaking
Year of publication:
2019
Publishing house:
polish-courses.com
Price

9.00

 

EUR
This richly illustrated quiz was designed as a linguistic tool to help expand the knowledge of foreigners about Poland. Each of the 60 entries provides selected information about the geography of our country, various regions, important places, cultural elements and traditional dishes. Therefore, it is not important how many questions someone answers, but how much they learn during the game!

Required level of knowledge of Polish language of the participants of the quiz: A2/B1
"The Great Quiz about Poland" presents the names of the most important dishes and vocabulary terms that describe the landscape and tourist attractions. An important element of the quiz is to enrich the players' linguistic skills with a number of adjectives describing places and flavors.

The quiz is also meant to promote Poland and encourage people learning Polish to explore our country and to taste the most popular regional dishes.
Often bought together with: