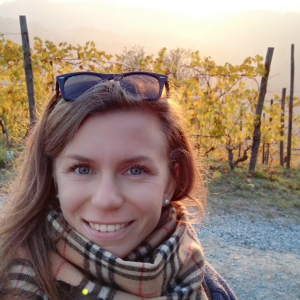 Marta Rauch
Clases llevadas a cabo en línea:
90
Autor de ejercicios en e-polish.eu:
NO
Expedición de facturas:
no
Precio:
1 clase — 105 PLN/23 EUR

i


10 Lessons — 1050 PLN/230 EUR

i


20 Lessons — 2100 PLN/460 EUR

i


30 Lessons — 3150 PLN/690 EUR

i



Acerca de mí
My name is Marta, and since I remember I was passionate with foreign languages. By learning other languages, I was having an opportunity to learn different cultures as well, which gave me the feeling to travel all around the world, without leaving my own home. After my graduation from University of Economics in Cracow, I started to travel and put in practice the knowleadge I've get. I lived in Ireland, France, and since 13 years now I am living in Italy. The joy I get from teaching and from giving hope to all my students, that eventually everyone can learn this difficult language, is someting that brings me huge satisfacion in my life. I could't go on without it any more. It's my passion and will stay with me forever.
Títulos y experiencia
I teach polish language as foreign since many years now. I started as a volunteer, working in an Organization that hosted European Volunteers in Cracow. Later on I moved to Italy, where I continued my voluntary service teaching both English and Polish. Since many years now I am having regular lessons with my italian and english speaking students.
I love the approach "never not learning", so I constantly work on my own competences as polish teacher, participating in many courses, webinars, and sharing my experience with other teachers.

I teach in Polish, English and Italian.

Here are some opinions about me:

"Perfect! The teacher is very well prepared, versatile, and capable to adapt to your way of seeing the things, being your guide in polish language. Able to pass information to you in the simplest, most effective way, but above all with the smile that never misses in her lessons. An hour together flies in an instant.
For me she is irreplaceable! She lit my hope of being able to learn a language as difficult as Polish, which I had completely lost and was blocked! "Matteo

" She is a very nice teacher, she knows how to explain things very well and makes you passionate about the already fascinating Polish language of her own. Highly recommended." Antonietta

"She made me learn and above all understand a really difficult language and the lessons with her are always very stimulating and funny! I highly recommend!" Luca
Métodos de enseñanza
I speak three foreign languages, and I know from my own experience, that it's easier to assimilate new information if it's presented to us in an entertaining way. That's the reason why my lessons are organized in a way that we can conversate a lot, have fun and learn all necessary grammar and vocabulary, to express ourselves in a free way, without judgment.
For me each student is different, has a different story behind, passions, hobbies, interests, or preffered methods of study. I always put a person in front of all the methodological schemes and let our way of studying together to be unique, one of a kind.
Availability
Teacher Marta Rauch is available on the dates listed below. They are already in your time zone which is: GMT.
| | | | | | | | |
| --- | --- | --- | --- | --- | --- | --- | --- |
| | | | | | | | |
| 00:00–00:50 | | | | | | | |
| 01:00–01:50 | | | | | | | |
| 02:00–02:50 | | | | | | | |
| 03:00–03:50 | | | | | | | |
| 04:00–04:50 | | | | | | | |
| 05:00–05:50 | | | | | | | |
| 06:00–06:50 | | | | | | | |
| 07:00–07:50 | | | | | | | |
| 08:00–08:50 | | | | | | | |
| 09:00–09:50 | | | | | | | |
| 10:00–10:50 | | | | | | | |
| 11:00–11:50 | | | | | | | |
| 12:00–12:50 | | | | | | | |
| 13:00–13:50 | | | | | | | |
| 14:00–14:50 | | | | | | | |
| 15:00–15:50 | | | | | | | |
| 16:00–16:50 | | | | | | | |
| 17:00–17:50 | | | | | | | |
| 18:00–18:50 | | | | | | | |
| 19:00–19:50 | | | | | | | |
| 20:00–20:50 | | | | | | | |
| 21:00–21:50 | | | | | | | |
| 22:00–22:50 | | | | | | | |
| 23:00–23:50 | | | | | | | |

Available tutor - on this date you can arrange your class

1 lekcja = 50 minut
Franzi,

2023-09-14

5/5

martin.maennich,

2022-05-06

4/5

Polina91,

2021-11-16

5/5