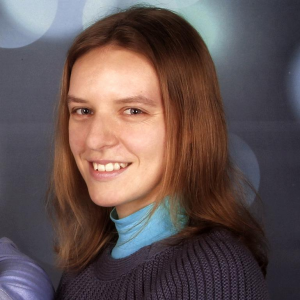 Olga Gaiseniuk
Przeprowadzone lekcje online:
6
Autor ćwiczeń w e-polish.eu:
NIE
Wystawia rachunki:
nie
Prezzo:
1 lekcja — 15 EUR/70 PLN/200 UAH
10 lekcji — 150 EUR/700 PLN/2000 UAH
20 lekcji — 300 EUR/1400 PLN/4000 UAH
30 lekcji — 450 EUR/2100 PLN/6000 UAH

O mnie
Let's learn Polish language with pleasure! I admire my students making progress with their language skills that's why I enjoy preparing my classes and I always aim to inspire my students to study with pleasure as well. You are wellcome. My name is Olga and I am a lecturer of Polish language for foreigners. I teach children and adults at language courses in Poland and give private lessons of Polish and Ukrainian.
Kwalifikacje i doświadczenie
In 2017 I graduated from my doctoral studies defending doctorate at the Department of The History of Polish Language in University of Lodz, Poland. I have academic degree Doctor of Phylosophy. I have been teaching Polish language for five years. At that moment I'm working in Sunday School of Slavic Languages in Lodz. I also provided a course of Polish language for a company working as a delegated lecturer in Academy of Polish Language in Gdansk, Poland. In 2012 – 2015 I was working as a lecturer of Polish language in the School of Foreign Languages in Chernivtsi, Ukraine.
Metody nauczania
On my lessons I use a method of combining a new grammatical aspect with a new lexical block. I teach my students to build correctly their oral and written expressions on this topic in Polish. Also I pay attention to listening and development of communicative skills of my students as well as pronounciation. My major aim is to teach my students to use Polish in their everyday life as quickly as possible. Also together with my students we learn about important moments of Polish culture, traditions and history by reading unique articles, listening songs and watching short videos. On my classes I use the individual approach to every student trying to provide a lesson according to Your expectaitions and needs. The biggest reward of my work are achievements of my students. I'd like to share my knowledge and experience with You to help You to learn Polish with pleasure!
Dyspozycyjność
Lektor dostępny jest w podanych poniżej terminach, które zostały wyświetlone dla Twojej strefy czasowej tj. .
| | | | | | | | |
| --- | --- | --- | --- | --- | --- | --- | --- |
| | | | | | | | |
| 0:00–0:50 | | | | | | | |
| 1:00–1:50 | | | | | | | |
| 2:00–2:50 | | | | | | | |
| 3:00–3:50 | | | | | | | |
| 4:00–4:50 | | | | | | | |
| 5:00–5:50 | | | | | | | |
| 6:00–6:50 | | | | | | | |
| 7:00–7:50 | | | | | | | |
| 8:00–8:50 | | | | | | | |
| 9:00–9:50 | | | | | | | |
| 10:00–10:50 | | | | | | | |
| 11:00–11:50 | | | | | | | |
| 12:00–12:50 | | | | | | | |
| 13:00–13:50 | | | | | | | |
| 14:00–14:50 | | | | | | | |
| 15:00–15:50 | | | | | | | |
| 16:00–16:50 | | | | | | | |
| 17:00–17:50 | | | | | | | |
| 18:00–18:50 | | | | | | | |
| 19:00–19:50 | | | | | | | |
| 20:00–20:50 | | | | | | | |
| 21:00–21:50 | | | | | | | |
| 22:00–22:50 | | | | | | | |
| 23:00–23:50 | | | | | | | |

Lektor dostępny — w tym terminie możesz umówić się na lekcje

1 lekcja = 50 minut