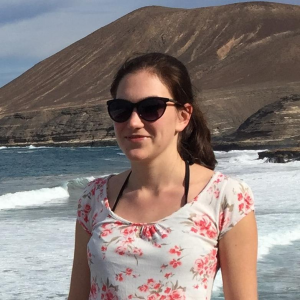 Lucyna Boryczko
проведённые уроки онлайн:
10
Автор упражнений на e-polish.eu:
НЕТ
Выставляет счета:
да
Цена:
1 урок — 20 EUR/80 PLN
10 Уроков — 200 EUR/800 PLN
20 Уроков — 400 EUR/1600 PLN
30 Уроков — 600 EUR/2400 PLN

обо мне
My name is Lucyna, I'm certified Polish language teacher.

I am open and cheerful person. In my free time I like to discover places, meet people, learn about their lifestyles and ways of dealing with reality. And I LOVE my job:)

I would love to teach you Polish on each lever – from beginner to advanced and professional.
квалификация и опыт
I graduated from Jagiellonian University in Cracow. I have got a master's degree in Teaching Polish as a Foreign and Second Language. Since 2015 I've been teaching Polish in leading language schools in Kraków, f.ex. Glossa and Varia, giving classes at the companies (Teacher In-company) and working as Polish Language Lecturer in Atma Jaya University of Indonesia. Currently I live and teach Polish in Wrocław.
Методы обучения
My classes are intensive and creative. I support student in analysing the grammar and practising communication skills.

I believe the self-confident is crucial in the language learning process. So...NEVER be afraid of speaking!

To reach that goal, the classes are created in a way which gives the student lots of opportunities for speaking. Nevertheless we don't forget about developing all the language skills, that's why we work on listening, reading, writing and speaking as well. The purpose is comprehensible and effective interpersonal communication.

The lessons are very dynamic, we never waste time!;)

On every class, we REPEAT what we already know and always finish lesson having NEW SKILLS.

Despite the dynamic pace, there is always time for necessary reflection and the friendly atmosphere is conducive to asking questions:)

I look forward to meeting you on the online classes!
Dyspozycyjność
Lektor dostępny jest w podanych poniżej terminach, które zostały wyświetlone dla Twojej strefy czasowej tj. .
| | | | | | | | |
| --- | --- | --- | --- | --- | --- | --- | --- |
| | | | | | | | |
| 0:00–0:50 | | | | | | | |
| 1:00–1:50 | | | | | | | |
| 2:00–2:50 | | | | | | | |
| 3:00–3:50 | | | | | | | |
| 4:00–4:50 | | | | | | | |
| 5:00–5:50 | | | | | | | |
| 6:00–6:50 | | | | | | | |
| 7:00–7:50 | | | | | | | |
| 8:00–8:50 | | | | | | | |
| 9:00–9:50 | | | | | | | |
| 10:00–10:50 | | | | | | | |
| 11:00–11:50 | | | | | | | |
| 12:00–12:50 | | | | | | | |
| 13:00–13:50 | | | | | | | |
| 14:00–14:50 | | | | | | | |
| 15:00–15:50 | | | | | | | |
| 16:00–16:50 | | | | | | | |
| 17:00–17:50 | | | | | | | |
| 18:00–18:50 | | | | | | | |
| 19:00–19:50 | | | | | | | |
| 20:00–20:50 | | | | | | | |
| 21:00–21:50 | | | | | | | |
| 22:00–22:50 | | | | | | | |
| 23:00–23:50 | | | | | | | |

Преподаватель доступен - Вы можете договориться на этот день

1 lekcja = 50 minut