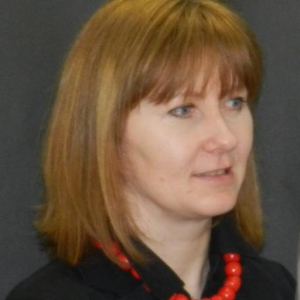 Agnieszka Przychodzka-Dziekońska
Cours réalisés on-line:
0
L'auteur des exercices sur e-polish.eu:
NIE
Facturation possible:
nie
Prix:
1 leçon — 10 EUR/10 GBP/50 PLN
10 lekcji — 95 EUR/95 GBP/475 PLN
20 lekcji — 180 EUR/180 GBP/900 PLN
30 lekcji — 255 EUR/255 GBP/1275 PLN

Je me présente
Teacher, trainer - adult, youth and children teacher. Academic lecturer and teacher at Saturday school. Conducting your own educational activity. Speeches at conferences and scientific publications, a published book about Jerzy Kosiński.
Compétentes et expérience
Doctor of humanities in philosophy, MA in Polish philology, subjective development trainer, animator, and educator. Academic lecturer AHE / WSPiA, teacher of PUW. Teacher in the Polish Culture and Language University. Teacher at Saturday School.
Les méthodes d'enseignement
Work with traditional feeding methods and project work. Work on an educational platform and remote conducting of classes, seminar. Conducting workshops for teachers and other workshop groups. The promoter of master's and bachelor's theses.
Dyspozycyjność
Lektor dostępny jest w podanych poniżej terminach, które zostały wyświetlone dla Twojej strefy czasowej tj. .
| | | | | | | | |
| --- | --- | --- | --- | --- | --- | --- | --- |
| | | | | | | | |
| 0:00–0:50 | | | | | | | |
| 1:00–1:50 | | | | | | | |
| 2:00–2:50 | | | | | | | |
| 3:00–3:50 | | | | | | | |
| 4:00–4:50 | | | | | | | |
| 5:00–5:50 | | | | | | | |
| 6:00–6:50 | | | | | | | |
| 7:00–7:50 | | | | | | | |
| 8:00–8:50 | | | | | | | |
| 9:00–9:50 | | | | | | | |
| 10:00–10:50 | | | | | | | |
| 11:00–11:50 | | | | | | | |
| 12:00–12:50 | | | | | | | |
| 13:00–13:50 | | | | | | | |
| 14:00–14:50 | | | | | | | |
| 15:00–15:50 | | | | | | | |
| 16:00–16:50 | | | | | | | |
| 17:00–17:50 | | | | | | | |
| 18:00–18:50 | | | | | | | |
| 19:00–19:50 | | | | | | | |
| 20:00–20:50 | | | | | | | |
| 21:00–21:50 | | | | | | | |
| 22:00–22:50 | | | | | | | |
| 23:00–23:50 | | | | | | | |

Lektor dostępny — w tym terminie możesz umówić się na lekcje

1 lekcja = 50 minut