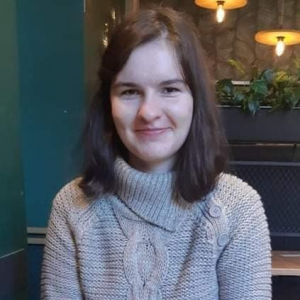 Julia Biedroń
Cours réalisés on-line:
53
L'auteur des exercices sur e-polish.eu:
NO
Facturation possible:
no
Prix:
1 leçon — 55 PLN/12 USD/12 EUR

i


10 Lessons — 550 PLN/120 USD/120 EUR

i


20 Lessons — 1100 PLN/240 USD/240 EUR

i


30 Lessons — 1650 PLN/360 USD/360 EUR

i



Je me présente
Hi, my name is Julia.
I am very happy that you want to explore the Polish language and Polish culture, I will try my best to help you achieve your goals. I have a lot of ideas and I'm full of enthusiasm, so our lessons will definitely not be boring. 😊

As for me, I'm very interested in foreign languages myself - I'm currently polishing my Japanese and have recently been learning Korean. Apart from that, I enjoy reading books, listening to music and cooking.
Compétentes et expérience
I have completed my Bachelor's degree in Anthropological and Cultural Polish Studies, during which I attended lectures on teaching Polish as a foreign and second language. I enjoyed them so much that I have been expanding my knowledge in this field as part of my Master's studies since October 2022.

I intend to use the knowledge from my studies as well as my own experiences in language learning and language exchanges I have participated in.
Les méthodes d'enseignement
My lessons are based on the textbook 'POLSKI Krok po kroku 1' and '2' as well as additional materials selected according to the topic and objectives of the lessons. First of all, I adjust them to the student's needs - we can focus on developing different skills. At the same time, I try to make the lessons varied and interesting in terms of exercises.
We speak mainly Polish during lessons, but I can refer to other languages if necessary.
Availability
Teacher Julia Biedroń is available on the dates listed below. They are already in your time zone which is: GMT.
| | | | | | | | |
| --- | --- | --- | --- | --- | --- | --- | --- |
| | | | | | | | |
| 00:00–00:50 | | | | | | | |
| 01:00–01:50 | | | | | | | |
| 02:00–02:50 | | | | | | | |
| 03:00–03:50 | | | | | | | |
| 04:00–04:50 | | | | | | | |
| 05:00–05:50 | | | | | | | |
| 06:00–06:50 | | | | | | | |
| 07:00–07:50 | | | | | | | |
| 08:00–08:50 | | | | | | | |
| 09:00–09:50 | | | | | | | |
| 10:00–10:50 | | | | | | | |
| 11:00–11:50 | | | | | | | |
| 12:00–12:50 | | | | | | | |
| 13:00–13:50 | | | | | | | |
| 14:00–14:50 | | | | | | | |
| 15:00–15:50 | | | | | | | |
| 16:00–16:50 | | | | | | | |
| 17:00–17:50 | | | | | | | |
| 18:00–18:50 | | | | | | | |
| 19:00–19:50 | | | | | | | |
| 20:00–20:50 | | | | | | | |
| 21:00–21:50 | | | | | | | |
| 22:00–22:50 | | | | | | | |
| 23:00–23:50 | | | | | | | |

Available tutor - on this date you can arrange your class

1 lekcja = 50 minut
ElizmariG,

2023-09-15

5/5

ElizmariG,

2023-09-05

5/5

ElizmariG,

2023-08-30

5/5

ElizmariG,

2023-08-24

5/5

ElizmariG,

2023-08-22

5/5

ElizmariG,

2023-08-19

5/5

ElizmariG,

2023-08-10

5/5

ElizmariG,

2023-07-27

5/5

bagelcamus,

2023-07-27

Great and engaging as always.
Dziękuję, Julia!!

5/5

ElizmariG,

2023-07-19

Great first lesson!!!!!

5/5

bagelcamus,

2023-07-17

5/5

bagelcamus,

2023-07-10

5/5

bagelcamus,

2023-07-04

5/5

bagelcamus,

2023-06-29

5/5

bagelcamus,

2023-06-22

5/5

bagelcamus,

2023-06-15

5/5

bagelcamus,

2023-06-05

Great lesson with Julia! Interesting and productive.

5/5

bagelcamus,

2023-05-29

5/5

bagelcamus,

2023-05-22

5/5

bagelcamus,

2023-05-15

5/5