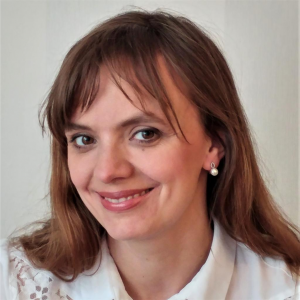 Magdalena Protaziuk
Online realisierte Stunden:
1
Autor der Übungen auf e-polish.eu:
NEIN
Stellt die Rechnungen aus:
ja
Preis:
1 Lektion — 20 EUR/90 PLN
10 lekcji — 200 EUR/900 PLN
20 lekcji — 400 EUR/1800 PLN
30 lekcji — 600 EUR/2700 PLN

Über mich
Hello! I teach Polish as a foreign language for over 13 years! Teaching adults is my passion!
Ausbildung und Erfahrung
Since 2010 I have been conducting regular and intensive Polish language courses at the SWPS University in Warsaw. From 2011 to 2016 I taught Polish as a foreign language at all levels at Warsaw University of Technology. I am also the founder and director of the RYM I RYTM Education Center dealing with the organization of additional classes and educational and entertainment events for children, including those popularizing Polish culture and tradition among foreigners.
Lehrmethoden
I invite you to study together!
Dyspozycyjność
Lektor dostępny jest w podanych poniżej terminach, które zostały wyświetlone dla Twojej strefy czasowej tj. .
| | | | | | | | |
| --- | --- | --- | --- | --- | --- | --- | --- |
| | | | | | | | |
| 0:00–0:50 | | | | | | | |
| 1:00–1:50 | | | | | | | |
| 2:00–2:50 | | | | | | | |
| 3:00–3:50 | | | | | | | |
| 4:00–4:50 | | | | | | | |
| 5:00–5:50 | | | | | | | |
| 6:00–6:50 | | | | | | | |
| 7:00–7:50 | | | | | | | |
| 8:00–8:50 | | | | | | | |
| 9:00–9:50 | | | | | | | |
| 10:00–10:50 | | | | | | | |
| 11:00–11:50 | | | | | | | |
| 12:00–12:50 | | | | | | | |
| 13:00–13:50 | | | | | | | |
| 14:00–14:50 | | | | | | | |
| 15:00–15:50 | | | | | | | |
| 16:00–16:50 | | | | | | | |
| 17:00–17:50 | | | | | | | |
| 18:00–18:50 | | | | | | | |
| 19:00–19:50 | | | | | | | |
| 20:00–20:50 | | | | | | | |
| 21:00–21:50 | | | | | | | |
| 22:00–22:50 | | | | | | | |
| 23:00–23:50 | | | | | | | |

Lektor dostępny — w tym terminie możesz umówić się na lekcje

1 lekcja = 50 minut