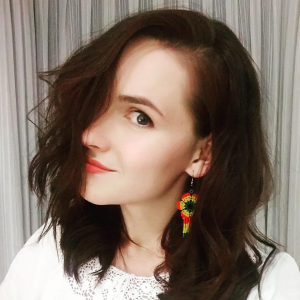 Marta Kozieradzka
Online realisierte Stunden:
19
Autor der Übungen auf e-polish.eu:
NEIN
Stellt die Rechnungen aus:
nein
Preis:
1 Lektion — 15 EUR/70 PLN
10 lekcji — 135 EUR/630 PLN
20 lekcji — 270 EUR/1260 PLN
30 lekcji — 405 EUR/1890 PLN

Über mich
Hej! I'm Marta, a philologist specializing in teaching Polish to foreigners. I've been teaching for years in both Poland and abroad.
I offer classes at all levels (A1-C2), I prepare you for the official exams of Polish language, for your studies, ERASMUS exchange in Poland or just for a trip :)
Ausbildung und Erfahrung
Polish Philology
Postgraduate Studies - Teaching Polish Language as a Foreign Language
I worked in public schools in Poland, Latvia and Spain.
This year I am moving to Moldova.
Lehrmethoden
I am enthusiastic about modern, interactive techniques and communicative approach.
My students speak from the first lesson.
Dyspozycyjność
Lektor dostępny jest w podanych poniżej terminach, które zostały wyświetlone dla Twojej strefy czasowej tj. .
| | | | | | | | |
| --- | --- | --- | --- | --- | --- | --- | --- |
| | | | | | | | |
| 0:00–0:50 | | | | | | | |
| 1:00–1:50 | | | | | | | |
| 2:00–2:50 | | | | | | | |
| 3:00–3:50 | | | | | | | |
| 4:00–4:50 | | | | | | | |
| 5:00–5:50 | | | | | | | |
| 6:00–6:50 | | | | | | | |
| 7:00–7:50 | | | | | | | |
| 8:00–8:50 | | | | | | | |
| 9:00–9:50 | | | | | | | |
| 10:00–10:50 | | | | | | | |
| 11:00–11:50 | | | | | | | |
| 12:00–12:50 | | | | | | | |
| 13:00–13:50 | | | | | | | |
| 14:00–14:50 | | | | | | | |
| 15:00–15:50 | | | | | | | |
| 16:00–16:50 | | | | | | | |
| 17:00–17:50 | | | | | | | |
| 18:00–18:50 | | | | | | | |
| 19:00–19:50 | | | | | | | |
| 20:00–20:50 | | | | | | | |
| 21:00–21:50 | | | | | | | |
| 22:00–22:50 | | | | | | | |
| 23:00–23:50 | | | | | | | |

Lektor dostępny — w tym terminie możesz umówić się na lekcje

1 lekcja = 50 minut
yikunch,

2019-01-14

Really sweet and helpful teacher, I enjoyed the lesson

5/5