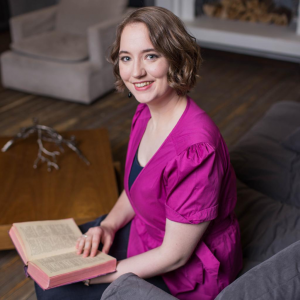 Mariola Okhotnikova
Przeprowadzone lekcje online:
162
Autor ćwiczeń w e-polish.eu:
NIE
Wystawia rachunki:
tak
Ціна:
1 lekcja — 20 EUR/92 PLN
10 lekcji — 190 EUR/874 PLN
20 lekcji — 376 EUR/1729 PLN
30 lekcji — 558 EUR/2566 PLN

O mnie
Languages have always been my passion. I grew up in a bilingual Polish-Russian family, and for thirty-one years of my life I've enjoyed five countries and eight cities. Polish and Russian are my mother tongues, except for them I know French and English on native level. Currently I'm studying German and intend to study Spanish.
In the end of last year I published my first manual on Polish grammar, which I'm happy to offer to all my students.
I am a creative person, I like challenging tasks. I believe that teaching process should be, above all, pleasant and friendly and it depends a lot on relationship between a teacher and a student. All my students tell me that after my classes they feel a spiritual lift and a burst of energy. I am sure that you will feel it too! Should you have any problems with handling the platform, please feel free to contact me (mariolaokhotnikova@gmail.com), I'll be glad to help you and guide you through all the registration and payment process as well as through your first steps in your account.
Kwalifikacje i doświadczenie
2011 — I graduated from Silesian University in Katowice, Poland, department of Language studies
since 2012 I've been having private lessons on Skype for students from Poland, Russia, Ukraine and Great Britain
2016-2017 — a teacher of Polish language in a school of foreign languages "Master Class" in Moscow.
since 2018 I've been working as a teacher of Polish and English in a school of foreign languages Lingvo Expert and as a teacher of English language in IQ Consultancy school in Saint-Petersburg.
Metody nauczania
I strongly believe that learning a language doesn't necessarily mean dull learning by heart grammatical rules. Knowing four languages on a native level and learning now the fifth one, I know perfectly well, how to do it effectively. I also believe that learning Polish with all it's unexpected and sometimes strange exceptions can be a great adventure for both student and teacher.
From my personal experience I know also that the main purpose of a language is communication. That's why I try to organize my classes in a way which will allow students to talk as much as possible, because a dialogue is the best opportunity to remember vocabulary and grammar constructions. I obviously explain grammar and do exercises, but I use also a lot of language games and role plays.

Besides, knowing your mother tongue, I know perfectly what confuses you in Polish and why it is difficult to understand for you, so I can effectively explain to you all the rules, even the most difficult ones.
On the other hand, for those who prefer for different reasons to study written language rather than spoken one, I have good news: I have students like that as well, and I work with them very easily, because I can adapt myself to any expectations and demands. I prepare my classes proceeding not from a strict plan, but from my students' requirements.
I have an experience of preparing people to different kinds of state language exams.
Dyspozycyjność
Lektor dostępny jest w podanych poniżej terminach, które zostały wyświetlone dla Twojej strefy czasowej tj. .
| | | | | | | | |
| --- | --- | --- | --- | --- | --- | --- | --- |
| | | | | | | | |
| 0:00–0:50 | | | | | | | |
| 1:00–1:50 | | | | | | | |
| 2:00–2:50 | | | | | | | |
| 3:00–3:50 | | | | | | | |
| 4:00–4:50 | | | | | | | |
| 5:00–5:50 | | | | | | | |
| 6:00–6:50 | | | | | | | |
| 7:00–7:50 | | | | | | | |
| 8:00–8:50 | | | | | | | |
| 9:00–9:50 | | | | | | | |
| 10:00–10:50 | | | | | | | |
| 11:00–11:50 | | | | | | | |
| 12:00–12:50 | | | | | | | |
| 13:00–13:50 | | | | | | | |
| 14:00–14:50 | | | | | | | |
| 15:00–15:50 | | | | | | | |
| 16:00–16:50 | | | | | | | |
| 17:00–17:50 | | | | | | | |
| 18:00–18:50 | | | | | | | |
| 19:00–19:50 | | | | | | | |
| 20:00–20:50 | | | | | | | |
| 21:00–21:50 | | | | | | | |
| 22:00–22:50 | | | | | | | |
| 23:00–23:50 | | | | | | | |

Lektor dostępny — w tym terminie możesz umówić się na lekcje

1 lekcja = 50 minut
tochioage,

2020-06-05

A great class!

5/5

victoria.gomez,

2020-06-04

Amazing class! We covered so many topics!

5/5

tochioage,

2020-06-03

Great class. She has profound knowledge about language and gives me nice tips for remembering words and grammar and it really works.

5/5

victoria.gomez,

2020-05-06

Amazing class! We cover so many contents!

5/5

victoria.gomez,

2020-04-23

A very interesting class! As always very happy with the teacher!

5/5

victoria.gomez,

2020-04-22

An amazing class!!!

5/5

MariettaJu,

2020-04-20

Still a great lesson, I am impressed to see how far I have progressed since I have began

5/5

victoria.gomez,

2020-04-15

Amazing class with an amazing teacher! Classes are so interesting and we cover so much material!!

5/5

victoria.gomez,

2020-04-13

Again a 5 star class! So much material covered, amazing class!

5/5

victoria.gomez,

2020-04-09

Again a 5 star class! So much content covered!

5/5

victoria.gomez,

2020-04-08

Great class! I feel i can learn so much with the help of Mariola, amazing teacher!

5/5

abaxrog,

2020-04-07

Highly recommend! Mariola is a very unusual teacher. Her English is perfect. She knows many languages very deeply. Therefore she can easily find parallels (both vocabulary and grammar) with the languages I know. The lesson was just perfect.

5/5

MariettaJu,

2020-04-06

As always, extremely interesting lesson.

5/5

victoria.gomez,

2020-04-06

The class was fantastic! We cover lot of content, very happy with the teacher.

5/5

MariettaJu,

2020-04-01

Cours très intéressant, qui permet d'évoluer à son rythme en gagnant petit à petit confiance dans la maîtrise de la langue

5/5

MariettaJu,

2020-03-31

Great class for begginers. Thanks to Mariola, I learn step by step how to speak Polish.
I really enjoy it

5/5

lviviez,

2019-05-20

Excellent lesson

5/5

lviviez,

2019-05-08

Great time allocated to talking

5/5

lviviez,

2019-05-07

Deep dive on grammar topic I did not understand which was very helpful

5/5