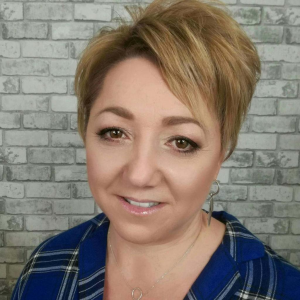 Agnieszka Grochocka
Completed online classes:
1
Author of exercises at e-polish.eu:
NO
Issues invoices:
no
Price:
1 Class — 12 EUR/50 PLN
10 Lessons — 114 EUR/475 PLN
20 Lessons — 216 EUR/900 PLN
30 Lessons — 306 EUR/1275 PLN

About me:
I am a native speaker of the Polish language and teaching a foreign language is my great passion, which I like to infect my students. I am an educator who easily makes contacts and engages in the didactic process. I provide interesting lessons with a large dose of smile and lots of patience!
Qualifications and experience:
M.A. in Polish with teaching specialty and many years of experience! For three years I've have been teaching foreigners and I've decided to formalize my passion by completing post-graduate studies in didactics of Polish as a foreign language. I also completed a course of CLIL (Content and Language Integrated Learning) in the UK.
I work as a Polish language teacher at one of the colleges in Bydgoszcz, I also conduct individual lessons.
I have completed studies in psychology and human resource management. My big asset is knowing the specificity of a multicultural environment through the 10 years of work experience for an international IT company.
I speak English fluently.
Methods of teaching
I know how to translate knowledge and experience into teaching skills. I adapt teaching methods to each student individually.
Availability
Teacher is available on the dates listed below. They are already in your time zone which is: .
| | | | | | | | |
| --- | --- | --- | --- | --- | --- | --- | --- |
| | | | | | | | |
| 0:00–0:50 | | | | | | | |
| 1:00–1:50 | | | | | | | |
| 2:00–2:50 | | | | | | | |
| 3:00–3:50 | | | | | | | |
| 4:00–4:50 | | | | | | | |
| 5:00–5:50 | | | | | | | |
| 6:00–6:50 | | | | | | | |
| 7:00–7:50 | | | | | | | |
| 8:00–8:50 | | | | | | | |
| 9:00–9:50 | | | | | | | |
| 10:00–10:50 | | | | | | | |
| 11:00–11:50 | | | | | | | |
| 12:00–12:50 | | | | | | | |
| 13:00–13:50 | | | | | | | |
| 14:00–14:50 | | | | | | | |
| 15:00–15:50 | | | | | | | |
| 16:00–16:50 | | | | | | | |
| 17:00–17:50 | | | | | | | |
| 18:00–18:50 | | | | | | | |
| 19:00–19:50 | | | | | | | |
| 20:00–20:50 | | | | | | | |
| 21:00–21:50 | | | | | | | |
| 22:00–22:50 | | | | | | | |
| 23:00–23:50 | | | | | | | |

Available tutor - on this date you can arrange your class

1 lekcja = 50 minut