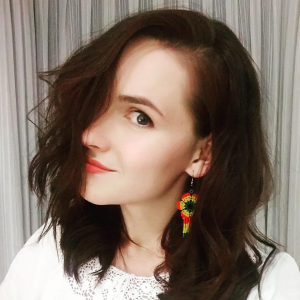 Marta Kozieradzka
Completed online classes:
20
Author of exercises at e-polish.eu:
NO
Issues invoices:
no
Price:
1 Class — 15 EUR/70 PLN
10 Lessons — 135 EUR/630 PLN
20 Lessons — 270 EUR/1260 PLN
30 Lessons — 405 EUR/1890 PLN

About me:
Hej! I'm Marta, a philologist specializing in teaching Polish to foreigners. I've been teaching for years in both Poland and abroad.
I offer classes at all levels (A1-C2), I prepare you for the official exams of Polish language, for your studies, ERASMUS exchange in Poland or just for a trip :)
Qualifications and experience:
Polish Philology
Postgraduate Studies - Teaching Polish Language as a Foreign Language
I worked in public schools in Poland, Latvia and Spain.
This year I am moving to Moldova.
Methods of teaching
I am enthusiastic about modern, interactive techniques and communicative approach.
My students speak from the first lesson.
Availability
Teacher is available on the dates listed below. They are already in your time zone which is: .
| | | | | | | | |
| --- | --- | --- | --- | --- | --- | --- | --- |
| | | | | | | | |
| 0:00–0:50 | | | | | | | |
| 1:00–1:50 | | | | | | | |
| 2:00–2:50 | | | | | | | |
| 3:00–3:50 | | | | | | | |
| 4:00–4:50 | | | | | | | |
| 5:00–5:50 | | | | | | | |
| 6:00–6:50 | | | | | | | |
| 7:00–7:50 | | | | | | | |
| 8:00–8:50 | | | | | | | |
| 9:00–9:50 | | | | | | | |
| 10:00–10:50 | | | | | | | |
| 11:00–11:50 | | | | | | | |
| 12:00–12:50 | | | | | | | |
| 13:00–13:50 | | | | | | | |
| 14:00–14:50 | | | | | | | |
| 15:00–15:50 | | | | | | | |
| 16:00–16:50 | | | | | | | |
| 17:00–17:50 | | | | | | | |
| 18:00–18:50 | | | | | | | |
| 19:00–19:50 | | | | | | | |
| 20:00–20:50 | | | | | | | |
| 21:00–21:50 | | | | | | | |
| 22:00–22:50 | | | | | | | |
| 23:00–23:50 | | | | | | | |

Available tutor - on this date you can arrange your class

1 lekcja = 50 minut
yikunch,

2019-01-14

Really sweet and helpful teacher, I enjoyed the lesson

5/5