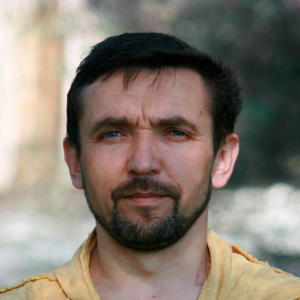 Kostiantyn Kuvalin
Clases llevadas a cabo en línea:
32
Autor de ejercicios en e-polish.eu:
NO
Expedición de facturas:
no
Precio:
1 clase — 54 PLN/12 EUR/486 UAH

i


10 Lessons — 491 PLN/109 EUR/4422 UAH

i


20 Lessons — 950 PLN/211 EUR/8553 UAH

i


30 Lessons — 1377 PLN/306 EUR/12393 UAH

i



Acerca de mí
Hello and welcome! You see? In the beginning is the word, and the word is with everyone who speaks. Do we respect what we say? What are others saying? Do we consider ourselves experts in everything in the world? Sure not. Every sane person, first in his language, is not sure of complete knowledge. So this could be one more reason to learn foreign languages. Each new language - it's a new birthday of yourself. A new first step. New first cry - "a-a-a!". You already know the first Polish letter. do we continue? I invite you to my lessons. It will be difficult and incomprehensible at times, easy and boring from clarity, but it will certainly be surprising and effective in teaching Polish.
Títulos y experiencia
Do papers teach people? People learn from what is written in them. If they can how? Polish pronunciation is a wonderful fruit among Slavic languages: a combination of lower and upper pronunciations, nasal vowels, the beginning of the logic "from the end of the train" (compared to the logic of the inhabitants of Ukraine), the same words, but different translations, usage - these are really interesting things.

More than a quarter of a thousand Ukrainians study and work in Poland, with which I learned to be patient, understanding, wise and stupid. Then, from all this chaos, make something that has been useful, useful and will be useful to my students in the future from all this knowledge.
Métodos de enseñanza
My main method is not to turn a man into something unknown, although we fill the missing knowledge of students for sure. We recreate their essence in Polish with the students. We learn to rule in two (and many) language worlds and derive satisfaction and inspiration from it.
Availability
Teacher Kostiantyn Kuvalin is available on the dates listed below. They are already in your time zone which is: GMT.
| | | | | | | | |
| --- | --- | --- | --- | --- | --- | --- | --- |
| | | | | | | | |
| 00:00–00:50 | | | | | | | |
| 01:00–01:50 | | | | | | | |
| 02:00–02:50 | | | | | | | |
| 03:00–03:50 | | | | | | | |
| 04:00–04:50 | | | | | | | |
| 05:00–05:50 | | | | | | | |
| 06:00–06:50 | | | | | | | |
| 07:00–07:50 | | | | | | | |
| 08:00–08:50 | | | | | | | |
| 09:00–09:50 | | | | | | | |
| 10:00–10:50 | | | | | | | |
| 11:00–11:50 | | | | | | | |
| 12:00–12:50 | | | | | | | |
| 13:00–13:50 | | | | | | | |
| 14:00–14:50 | | | | | | | |
| 15:00–15:50 | | | | | | | |
| 16:00–16:50 | | | | | | | |
| 17:00–17:50 | | | | | | | |
| 18:00–18:50 | | | | | | | |
| 19:00–19:50 | | | | | | | |
| 20:00–20:50 | | | | | | | |
| 21:00–21:50 | | | | | | | |
| 22:00–22:50 | | | | | | | |
| 23:00–23:50 | | | | | | | |

Available tutor - on this date you can arrange your class

1 lekcja = 50 minut