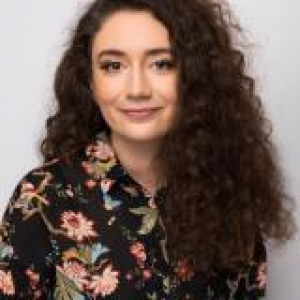 Marta Zaguła
Clases llevadas a cabo en línea:
1
Autor de ejercicios en e-polish.eu:
NO
Expedición de facturas:
no
Precio:
1 clase — 75 PLN/18 EUR

i


10 Lessons — 675 PLN/162 EUR

i


20 Lessons — 1350 PLN/324 EUR

i


30 Lessons — 1912 PLN/459 EUR

i



Acerca de mí
I graduated in Polish literature and linguistics at the University of Warsaw and obtained the State Diploma in Teaching Polish as a Foreign Language in 2015.

I'm passionate about foreign languages, I speak French, Italian, English, I have some knowledge of Czech, and I am learning German and Russian. I'm using these experiences in the role of a student to improve my methods. I also take part in training courses offered by Polish schools to learn new approaches.
Títulos y experiencia
My first experience, teaching Polish to high school students from immigrant families in Warsaw, gave me a taste for the teaching profession. Since then, I have worked for several language schools in Warsaw (my clients included private clients as well as companies such as Protecter & Gamble, Electren). In Paris, I have worked with Nova Polska, Westmill International, Transfer.
Métodos de enseñanza
I use a variety of materials during the lessons: contemporary textbooks, modern adapted texts, authentic video materials (commercials, cartoons, Polish series and films), songs, games, with the main aim of making the sessions an enjoyable experience!

Each course is well structured and designed to allow you to develop all the skills as you go along, according to your wishes and needs. I focus in particular on communication in everyday situations. No improvisation, the exercises are always thought out so that you can develop more and more elaborate oral expression.
Availability
Teacher Marta Zaguła is available on the dates listed below. They are already in your time zone which is: GMT.
| | | | | | | | |
| --- | --- | --- | --- | --- | --- | --- | --- |
| | | | | | | | |
| 00:00–00:50 | | | | | | | |
| 01:00–01:50 | | | | | | | |
| 02:00–02:50 | | | | | | | |
| 03:00–03:50 | | | | | | | |
| 04:00–04:50 | | | | | | | |
| 05:00–05:50 | | | | | | | |
| 06:00–06:50 | | | | | | | |
| 07:00–07:50 | | | | | | | |
| 08:00–08:50 | | | | | | | |
| 09:00–09:50 | | | | | | | |
| 10:00–10:50 | | | | | | | |
| 11:00–11:50 | | | | | | | |
| 12:00–12:50 | | | | | | | |
| 13:00–13:50 | | | | | | | |
| 14:00–14:50 | | | | | | | |
| 15:00–15:50 | | | | | | | |
| 16:00–16:50 | | | | | | | |
| 17:00–17:50 | | | | | | | |
| 18:00–18:50 | | | | | | | |
| 19:00–19:50 | | | | | | | |
| 20:00–20:50 | | | | | | | |
| 21:00–21:50 | | | | | | | |
| 22:00–22:50 | | | | | | | |
| 23:00–23:50 | | | | | | | |

Available tutor - on this date you can arrange your class

1 lekcja = 50 minut