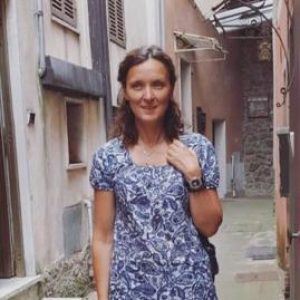 Agnieszka Iłowska -Rączka
Cours réalisés on-line:
1
L'auteur des exercices sur e-polish.eu:
NIE
Facturation possible:
nie
Prix:
1 leçon — 16 EUR/70 PLN
10 lekcji — 155 EUR/679 PLN
20 lekcji — 304 EUR/1330 PLN
30 lekcji — 456 EUR/1995 PLN

Je me présente
I like Polish language a lot. Hearing that someone wants to learn it, I feel like a host welcoming his guests; honored, happy and ready to receive them as best he can!
Feel invited to my online lessons, all of you who want or need to speak Polish.
Compétentes et expérience
I've been working as Polish teacher for years, I graduated the Jagiellonian University in Cracow and I'm a certified Polish language teacher for foreigners. I also have the diploma of University of Warsaw in Polish Philology, with specialization in Didactic of Polish Language as a foreign language. Since 2012 I've been teaching foreigners.
Les méthodes d'enseignement
I use different methods while teaching, always remembering to develop well student's basic language capabilities: the listening, speaking, reading and writing.
Dyspozycyjność
Lektor dostępny jest w podanych poniżej terminach, które zostały wyświetlone dla Twojej strefy czasowej tj. .
| | | | | | | | |
| --- | --- | --- | --- | --- | --- | --- | --- |
| | | | | | | | |
| 0:00–0:50 | | | | | | | |
| 1:00–1:50 | | | | | | | |
| 2:00–2:50 | | | | | | | |
| 3:00–3:50 | | | | | | | |
| 4:00–4:50 | | | | | | | |
| 5:00–5:50 | | | | | | | |
| 6:00–6:50 | | | | | | | |
| 7:00–7:50 | | | | | | | |
| 8:00–8:50 | | | | | | | |
| 9:00–9:50 | | | | | | | |
| 10:00–10:50 | | | | | | | |
| 11:00–11:50 | | | | | | | |
| 12:00–12:50 | | | | | | | |
| 13:00–13:50 | | | | | | | |
| 14:00–14:50 | | | | | | | |
| 15:00–15:50 | | | | | | | |
| 16:00–16:50 | | | | | | | |
| 17:00–17:50 | | | | | | | |
| 18:00–18:50 | | | | | | | |
| 19:00–19:50 | | | | | | | |
| 20:00–20:50 | | | | | | | |
| 21:00–21:50 | | | | | | | |
| 22:00–22:50 | | | | | | | |
| 23:00–23:50 | | | | | | | |

Lektor dostępny — w tym terminie możesz umówić się na lekcje

1 lekcja = 50 minut
Samu2109,

2019-10-01

Best teacher ever!!!!!!!!!!!!!! highly recommended

5/5