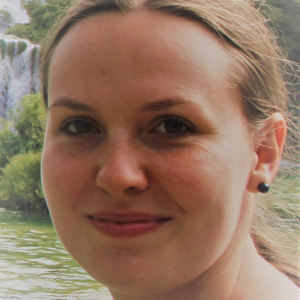 Natalia Kaśków
Online realisierte Stunden:
0
Autor der Übungen auf e-polish.eu:
NEIN
Stellt die Rechnungen aus:
ja
Preis:
1 Lektion — 18 EUR/65 PLN
10 lekcji — 180 EUR/650 PLN
20 lekcji — 324 EUR/1170 PLN
30 lekcji — 459 EUR/1657 PLN

Über mich
My name is Natalia. I have Phd of Polish philology, I'm a Polish teacher and editor. I live in w Opole, but I studied in Wrocława. I like to have contact with people and I'm passionate about Polish language.
Ausbildung und Erfahrung
I have been teaching Polish as a foreign language for four and a half year.
I graduated in Polish philology at the University of Wrocław and postgraduate studies in Polish Language for Foreigners at the University of Warsaw. I worked as a teacher at two universities in Wrocław: The International School of Logistics and Transport and the School of Management "Education". I also work with private schools: ABC Language Centre and Between Language School. I teach groups and individual students from many countries, for instance: Ukraine, Russia, Italy, Hungary, Greece, Turkey, England, Brazil and Uzbekistan. I took part in several trainings at the School of Foreign Languages "Glossa". I prepare students for language certificate examination.
Lehrmethoden
From the very first lessons I talk to students in Polish to show them how much they can quickly understand and say. But when the situation requires it, I doavoud using English, because the most important for me is to make student feel comfortable and to make sure that he or she will get as much as possible from my lessons. I focus on comunication and real language. I train all skills - listening, speaking, reading, writing, I pay special attention to pronunciation. I use various scientific aids, audiovisual texts and self-prepared materials.
Dyspozycyjność
Lektor dostępny jest w podanych poniżej terminach, które zostały wyświetlone dla Twojej strefy czasowej tj. .
| | | | | | | | |
| --- | --- | --- | --- | --- | --- | --- | --- |
| | | | | | | | |
| 0:00–0:50 | | | | | | | |
| 1:00–1:50 | | | | | | | |
| 2:00–2:50 | | | | | | | |
| 3:00–3:50 | | | | | | | |
| 4:00–4:50 | | | | | | | |
| 5:00–5:50 | | | | | | | |
| 6:00–6:50 | | | | | | | |
| 7:00–7:50 | | | | | | | |
| 8:00–8:50 | | | | | | | |
| 9:00–9:50 | | | | | | | |
| 10:00–10:50 | | | | | | | |
| 11:00–11:50 | | | | | | | |
| 12:00–12:50 | | | | | | | |
| 13:00–13:50 | | | | | | | |
| 14:00–14:50 | | | | | | | |
| 15:00–15:50 | | | | | | | |
| 16:00–16:50 | | | | | | | |
| 17:00–17:50 | | | | | | | |
| 18:00–18:50 | | | | | | | |
| 19:00–19:50 | | | | | | | |
| 20:00–20:50 | | | | | | | |
| 21:00–21:50 | | | | | | | |
| 22:00–22:50 | | | | | | | |
| 23:00–23:50 | | | | | | | |

Lektor dostępny — w tym terminie możesz umówić się na lekcje

1 lekcja = 50 minut