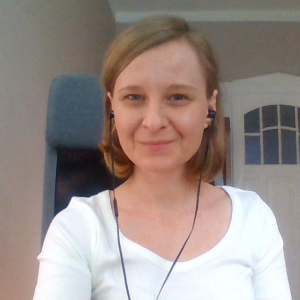 Karolina Bednarz
Cours réalisés on-line:
16
L'auteur des exercices sur e-polish.eu:
NO
Facturation possible:
yes
Prix:
1 leçon — 90 PLN/22 USD/30 CAD/20 EUR/17 GBP/3200 JPY

i


10 Lessons — 855 PLN/209 USD/285 CAD/190 EUR/161 GBP/30400 JPY

i


20 Lessons — 1620 PLN/396 USD/540 CAD/360 EUR/306 GBP/57600 JPY

i


30 Lessons — 2430 PLN/594 USD/810 CAD/540 EUR/459 GBP/86400 JPY

i



Je me présente
Cześć, my name is Karolina. I am from Poland and I currently live and teach Polish language and culture in Taipei, Taiwan.
I have been teaching Polish to foreigners from different parts of the world for 15 years. I work with students at all language levels, from A0 to C2, and have experience working with young people, Polish Studies students, but also employees of large corporations and European officials.

I really enjoy travelling, discovering new places, tastes, smells, meeting new people and - of course - teaching them Polish ;)

I speak English and Russian.
If you are interested in a lesson with me, but you are interested in a date that is not available in my schedule - write to me. I will try to adjust my schedule to your needs.
Compétentes et expérience
Education:
University of Silesia in Katowice, Polish Studies (Polish language and literature)

Experience:
National Chengchi University; Taipei, Taiwan (2022 - still)
Cambridge School of English; Warsaw, Poland (2020 – 2022)
University of Presov; Presov, Slovakia (2018 - 2019)
University of Novi Sad; Novi Sad, Serbia (2014 - 2018)
Krasnoyarsk State Pedagogical University; Krasnoyarsk, Russia (2012 - 2014)
Les méthodes d'enseignement
I adapt my teaching methods to your needs and abilities.
I invite you to a trial lesson!
Availability
Teacher Karolina Bednarz is available on the dates listed below. They are already in your time zone which is: GMT.
| | | | | | | | |
| --- | --- | --- | --- | --- | --- | --- | --- |
| | | | | | | | |
| 00:00–00:50 | | | | | | | |
| 01:00–01:50 | | | | | | | |
| 02:00–02:50 | | | | | | | |
| 03:00–03:50 | | | | | | | |
| 04:00–04:50 | | | | | | | |
| 05:00–05:50 | | | | | | | |
| 06:00–06:50 | | | | | | | |
| 07:00–07:50 | | | | | | | |
| 08:00–08:50 | | | | | | | |
| 09:00–09:50 | | | | | | | |
| 10:00–10:50 | | | | | | | |
| 11:00–11:50 | | | | | | | |
| 12:00–12:50 | | | | | | | |
| 13:00–13:50 | | | | | | | |
| 14:00–14:50 | | | | | | | |
| 15:00–15:50 | | | | | | | |
| 16:00–16:50 | | | | | | | |
| 17:00–17:50 | | | | | | | |
| 18:00–18:50 | | | | | | | |
| 19:00–19:50 | | | | | | | |
| 20:00–20:50 | | | | | | | |
| 21:00–21:50 | | | | | | | |
| 22:00–22:50 | | | | | | | |
| 23:00–23:50 | | | | | | | |

Available tutor - on this date you can arrange your class

1 lekcja = 50 minut
hsiangmeihsu,

2023-07-18

5/5