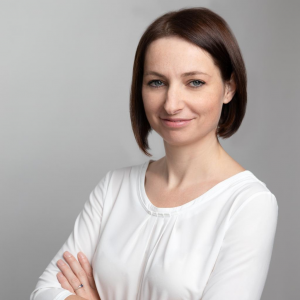 Joanna Stanek
Completed online classes:
335
Author of exercises at e-polish.eu:
yes (508)
School:
Tomasz Stempek GLOSSA
Issues invoices:
no
السعر::
1 الدرس — 90 PLN/20 EUR

i


10 Lessons — 855 PLN/190 EUR

i


20 Lessons — 1620 PLN/360 EUR

i


30 Lessons — 2430 PLN/540 EUR

i



About me:
I'm optimistic. I like to be surrounded by people who emit positive energy and at the same time I try to share my joy with them. What I appreciate most in being a teacher is the contact with other people. I adore travelling and discovering new places, sometimes with a guidebook in hand or more often by absorbing their special atmosphere with all my senses. I'm passionate about theatre, I collect masks, I love South-American literature, small cinemas, bicycle and mountain trips, picnics behind the walls of old castles and long sessions of charades or board games with my friends. I get lots of joy and satisfaction when playing with children.
Qualifications and experience:
I graduated from the Jagiellonian University in Polish Philology with specialisation in theatre. My adventure with teaching foreigners started in 2007 when I went to Moldavia to teach children, the young and adults and to animate Polish cultural life in the Polish House in Bălți. After this one year adventure, rich in experience, I came back to Krakow, I completed a post-graduate course in teaching Polish as a foreign language and since then I have been teaching mainly in GLOSSA School of Foreign Languages. I give individual and group lessons at all levels. I got involved with the e-polish.eu website and I participate as a coach in courses for trainee teachers organised regularly by Glossa.
Methods of teaching
In the lesson I focus on communication. I speak English, a bit of French and Russian but in the lesson – in order to make my students dive into the Polish language – I only use gestures and facial expression. With a variety of games and authentic situations role-plays I motivate my students to speak Polish, even if they still have limited vocabulary. I try to make them feel as if they were in a real Polish restaurant, a shop or a post office. I know how important it is to extend and memorise vocabulary so I don't forget about revisions. But above all I'm sensitive about individual needs of my students and I'm willing to adapt teaching materials as well as the way I manage each lesson to their interests and expectations.
Availability
Teacher Joanna Stanek is available on the dates listed below. They are already in your time zone which is: GMT.
| | | | | | | | |
| --- | --- | --- | --- | --- | --- | --- | --- |
| | | | | | | | |
| 00:00–00:50 | | | | | | | |
| 01:00–01:50 | | | | | | | |
| 02:00–02:50 | | | | | | | |
| 03:00–03:50 | | | | | | | |
| 04:00–04:50 | | | | | | | |
| 05:00–05:50 | | | | | | | |
| 06:00–06:50 | | | | | | | |
| 07:00–07:50 | | | | | | | |
| 08:00–08:50 | | | | | | | |
| 09:00–09:50 | | | | | | | |
| 10:00–10:50 | | | | | | | |
| 11:00–11:50 | | | | | | | |
| 12:00–12:50 | | | | | | | |
| 13:00–13:50 | | | | | | | |
| 14:00–14:50 | | | | | | | |
| 15:00–15:50 | | | | | | | |
| 16:00–16:50 | | | | | | | |
| 17:00–17:50 | | | | | | | |
| 18:00–18:50 | | | | | | | |
| 19:00–19:50 | | | | | | | |
| 20:00–20:50 | | | | | | | |
| 21:00–21:50 | | | | | | | |
| 22:00–22:50 | | | | | | | |
| 23:00–23:50 | | | | | | | |

Available tutor - on this date you can arrange your class

1 lekcja = 50 minut
WMickiewicz,

2023-12-04

Super Mega

5/5

WMickiewicz,

2023-09-13

5/5

aprusse,

2023-08-18

5/5

aprusse,

2023-08-04

5/5

aprusse,

2023-07-21

5/5

aprusse,

2023-07-20

5/5

aprusse,

2023-06-16

5/5

aprusse,

2023-05-12

5/5

aprusse,

2023-04-29

5/5

aprusse,

2023-04-21

5/5

aprusse,

2023-04-14

5/5

Dashka_Mars,

2023-04-07

5/5

Dashka_Mars,

2023-03-30

5/5

Dashka_Mars,

2023-03-24

5/5

Dashka_Mars,

2023-03-17

5/5

aprusse,

2023-03-17

5/5

aprusse,

2023-03-16

5/5

Dashka_Mars,

2023-02-24

5/5

aprusse,

2023-02-24

5/5

Dashka_Mars,

2023-02-22

5/5

aprusse,

2023-02-17

5/5

aprusse,

2023-02-10

5/5

Dashka_Mars,

2023-01-27

5/5

Dashka_Mars,

2023-01-25

5/5

Dashka_Mars,

2023-01-20

5/5

Dashka_Mars,

2023-01-13

5/5

aprusse,

2023-01-13

5/5

Dashka_Mars,

2023-01-12

5/5

Dashka_Mars,

2023-01-06

5/5

Dashka_Mars,

2023-01-04

5/5

Dashka_Mars,

2022-12-30

5/5

Dashka_Mars,

2022-12-28

5/5

Dashka_Mars,

2022-12-19

5/5

paolo.bertin,

2022-05-16

5/5

gitbernd,

2022-05-06

5/5

gitbernd,

2022-04-22

5/5

gitbernd,

2022-04-19

5/5

paolo.bertin,

2022-04-14

5/5

gitbernd,

2022-04-12

5/5

gitbernd,

2022-04-08

5/5

gitbernd,

2022-04-05

5/5

paolo.bertin,

2022-04-04

5/5

gitbernd,

2022-03-25

5/5

gitbernd,

2022-03-22

5/5

gitbernd,

2022-03-11

5/5

gitbernd,

2022-03-08

5/5

gitbernd,

2022-03-04

5/5

gitbernd,

2022-03-01

5/5

gitbernd,

2022-02-25

5/5

gitbernd,

2022-02-22

5/5

gitbernd,

2022-02-18

5/5

gitbernd,

2022-02-15

5/5

gitbernd,

2022-02-11

5/5

gitbernd,

2022-02-08

5/5

gitbernd,

2022-02-04

5/5

gitbernd,

2022-02-01

5/5

gitbernd,

2022-01-28

5/5

gitbernd,

2022-01-25

5/5

gitbernd,

2022-01-21

5/5

gitbernd,

2022-01-18

5/5

gitbernd,

2022-01-14

5/5

gitbernd,

2022-01-11

5/5

gitbernd,

2022-01-07

5/5

gitbernd,

2021-12-29

5/5

gitbernd,

2021-12-22

5/5

gitbernd,

2021-12-17

5/5

gitbernd,

2021-12-14

5/5

gitbernd,

2021-12-10

5/5

gitbernd,

2021-12-03

5/5

gitbernd,

2021-11-30

5/5

gitbernd,

2021-11-26

5/5

gitbernd,

2021-11-23

5/5

gitbernd,

2021-11-16

5/5

gitbernd,

2021-11-12

5/5

gitbernd,

2021-11-05

5/5

gitbernd,

2021-11-02

5/5

gitbernd,

2021-10-29

5/5

gitbernd,

2021-10-26

5/5

gitbernd,

2021-10-22

5/5

gitbernd,

2021-10-15

5/5

gitbernd,

2021-10-05

5/5

gitbernd,

2021-10-01

5/5

gitbernd,

2021-09-28

5/5

gitbernd,

2021-09-24

5/5

gitbernd,

2021-09-21

5/5

gitbernd,

2021-09-17

5/5

gitbernd,

2021-09-14

5/5

gitbernd,

2021-09-09

5/5

gitbernd,

2021-09-02

5/5

gitbernd,

2021-08-27

5/5

gitbernd,

2021-08-24

5/5

gitbernd,

2021-08-20

5/5

gitbernd,

2021-08-17

5/5

gitbernd,

2021-07-21

5/5

gitbernd,

2021-07-20

5/5

gitbernd,

2021-07-09

5/5

gitbernd,

2021-07-06

5/5

gitbernd,

2021-07-02

5/5

gitbernd,

2021-06-29

5/5

gitbernd,

2021-06-15

5/5

gitbernd,

2021-06-11

5/5

gitbernd,

2021-06-08

5/5

gitbernd,

2021-06-01

5/5

gitbernd,

2021-05-28

5/5

gitbernd,

2021-05-21

5/5

gitbernd,

2021-05-18

5/5

gitbernd,

2021-05-11

5/5

gitbernd,

2021-05-10

5/5

gitbernd,

2021-05-04

5/5

gitbernd,

2021-04-27

5/5

gitbernd,

2021-04-23

5/5

gitbernd,

2021-04-20

5/5

gitbernd,

2021-04-16

5/5

gitbernd,

2021-04-13

5/5

gitbernd,

2021-04-09

5/5

gitbernd,

2021-04-06

5/5

gitbernd,

2021-04-02

5/5

gitbernd,

2021-03-26

5/5

gitbernd,

2021-03-23

5/5

gitbernd,

2021-03-19

5/5

gitbernd,

2021-03-16

5/5

gitbernd,

2021-03-12

5/5

gitbernd,

2021-03-09

5/5

gitbernd,

2021-03-05

5/5

gitbernd,

2021-03-02

5/5

gitbernd,

2021-02-26

5/5

gitbernd,

2021-02-23

5/5

gitbernd,

2021-02-19

5/5

gitbernd,

2021-02-16

5/5

gitbernd,

2021-02-09

5/5

gitbernd,

2021-02-05

5/5

gitbernd,

2021-02-02

5/5

gitbernd,

2021-01-29

5/5

gitbernd,

2021-01-26

5/5

gitbernd,

2021-01-22

5/5

gitbernd,

2021-01-19

5/5

gitbernd,

2021-01-15

5/5

gitbernd,

2021-01-12

5/5

gitbernd,

2021-01-08

5/5

gitbernd,

2021-01-05

5/5

gitbernd,

2020-12-28

5/5

gitbernd,

2020-12-23

5/5

gitbernd,

2020-12-18

5/5

gitbernd,

2020-12-15

5/5

gitbernd,

2020-12-11

5/5

gitbernd,

2020-12-08

5/5

gitbernd,

2020-12-04

5/5

gitbernd,

2020-12-01

5/5

yuran,

2020-11-28

5/5

Adarka,

2020-11-28

5/5

Akaliada,

2020-11-28

5/5

gitbernd,

2020-11-24

5/5

Akaliada,

2020-11-20

5/5

yuran,

2020-11-20

5/5

gitbernd,

2020-11-20

5/5

yuran,

2020-11-18

5/5

Akaliada,

2020-11-18

5/5

Adarka,

2020-11-18

5/5

_bliss_wind_,

2020-11-18

5/5

gitbernd,

2020-11-17

5/5

Akaliada,

2020-11-14

5/5

yuran,

2020-11-14

5/5

_bliss_wind_,

2020-11-14

5/5

alex.lazarew,

2020-11-13

5/5

_bliss_wind_,

2020-11-13

5/5

Akaliada,

2020-11-13

5/5

yuran,

2020-11-13

5/5

gitbernd,

2020-11-13

5/5

mikita.drozd,

2020-11-11

5/5

_bliss_wind_,

2020-11-11

5/5

Adarka,

2020-11-11

5/5

yuran,

2020-11-11

5/5

Akaliada,

2020-11-11

5/5

gitbernd,

2020-11-10

5/5

yuran,

2020-11-06

5/5

Adarka,

2020-11-06

5/5

_bliss_wind_,

2020-11-06

5/5

Akaliada,

2020-11-06

5/5

gitbernd,

2020-11-06

5/5

Akaliada,

2020-11-04

5/5

Adarka,

2020-11-04

5/5

yuran,

2020-11-04

5/5

_bliss_wind_,

2020-11-04

5/5

gitbernd,

2020-11-03

5/5

alex.lazarew,

2020-10-30

5/5

DzmitryChemel,

2020-10-30

5/5

Alexandr350,

2020-10-30

5/5

Mirrowel,

2020-10-30

Internet problems in the end :(

5/5

Arsenij00,

2020-10-30

For most of the time it was quite nice and intercative, I appreciate how easy it was. However quality of internet session at the end was not as smooth as it should be, with sound errors that can really confuse users about the task.

5/5

vk81092,

2020-10-30

5/5

Polina91,

2020-10-30

5/5

nastya_parmon,

2020-10-30

5/5

Kuzmina_mariya,

2020-10-30

5/5

Viyaleta_Drahun,

2020-10-30

5/5

Olga_Kitel,

2020-10-30

:D

5/5

nastyakolyshko,

2020-10-30

5/5

OlyaLeskovets,

2020-10-30

5/5

Adarka,

2020-10-30

5/5

val.mart,

2020-10-30

4/5

_bliss_wind_,

2020-10-30

5/5

gitbernd,

2020-10-30

5/5

gitbernd,

2020-10-23

5/5

gitbernd,

2020-10-21

5/5

gitbernd,

2020-10-16

5/5

gitbernd,

2020-10-13

5/5

gitbernd,

2020-10-09

5/5

gitbernd,

2020-10-06

5/5

gitbernd,

2020-10-02

5/5

gitbernd,

2020-09-29

5/5

gitbernd,

2020-09-25

Wszystko super, relaksujące lekcje

5/5

gitbernd,

2020-09-22

Wszystko super, relaksujące lekcje.

5/5

gitbernd,

2020-09-18

5/5

akesari,

2020-09-09

5/5

6449054,

2020-09-04

4/5

akesari,

2020-09-04

5/5

tlaszowski,

2020-09-02

5/5

paulinahelena,

2020-09-02

5/5

mks1150,

2020-09-02

5/5

6449054,

2020-09-02

4/5

paulinahelena,

2020-08-26

5/5

tlaszowski,

2020-08-26

5/5

mks1150,

2020-08-26

5/5

6449054,

2020-08-26

3/5

ju.laureau,

2020-08-26

5/5

akesari,

2020-08-26

5/5

paulinahelena,

2020-08-19

5/5

tlaszowski,

2020-08-19

5/5

mks1150,

2020-08-19

4/5

AlexandraN,

2020-08-19

4/5

akesari,

2020-08-19

5/5

6449054,

2020-08-19

4/5

paulinahelena,

2020-08-12

5/5

tlaszowski,

2020-08-12

5/5

mks1150,

2020-08-12

5/5

AlexandraN,

2020-08-12

4/5

Ahmed.mohammed,

2020-08-12

5/5

6449054,

2020-08-12

3/5

akesari,

2020-08-12

5/5

sarsga,

2020-08-05

5/5

paulinahelena,

2020-08-05

5/5

Solomon27,

2020-08-05

Interesting

5/5

tlaszowski,

2020-08-05

5/5

mks1150,

2020-08-05

5/5

akesari,

2020-08-05

Everything was good.

5/5

6449054,

2020-08-05

3/5

paulinahelena,

2020-07-29

Very nice teacher!

5/5

judvalenciari,

2020-07-29

The teacher is to nice and pacient.

5/5

tlaszowski,

2020-07-29

5/5

Solomon27,

2020-07-29

Perfect

5/5

mks1150,

2020-07-29

5/5

MaksimKo,

2020-07-08

5/5

MaksimKo,

2020-07-01

5/5

MaksimKo,

2020-06-26

5/5

MaksimKo,

2020-06-24

5/5

MaksimKo,

2020-06-19

5/5

MaksimKo,

2020-06-10

5/5

MaksimKo,

2020-06-05

5/5

MaksimKo,

2020-06-03

5/5

MaksimKo,

2020-05-29

5/5

MaksimKo,

2020-05-27

5/5

MaksimKo,

2020-05-22

5/5

MaksimKo,

2020-05-20

5/5

MaksimKo,

2020-05-15

5/5

MaksimKo,

2020-05-08

5/5

MaksimKo,

2020-05-05

5/5

MaksimKo,

2020-05-01

5/5

MaksimKo,

2020-04-29

5/5

MaksimKo,

2020-04-24

5/5

MaksimKo,

2020-04-21

5/5

MaksimKo,

2020-04-17

5/5