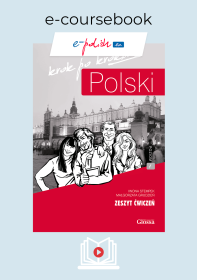 Title:
Zeszyt ćwiczeń 1
Autori:
Iwona Stempek, Małgorzata Grudzień
Type:
e-coursebook
Target group:
adults
Language:
general
Livello:
A1
Skills:
listening comprehension, writing, vocabulary practice, speaking, reading, grammar practice, pronunciation practice
Year of publication:
2012
Publishing house:
polish-courses.com
Prezzo

15.00

 

EUR
350 exercises, including new dialogues and texts with recordings, are a perfect textbook supplement. The teacher will find here a number of supplementary (vocabulary and grammar) exercises which develop individual skills. The learner will have the opportunity to check and consolidate their knowledge.
This collection includes both simple automating exercises and exercises making it easier to understand the content of the textbook as well as more difficult ones for more advanced students. This diversity gives one the opportunity to adjust the mode of learning to the individual needs of the student. More ambitious learners can expand their vocabulary or perfect their language skills. Less advanced students will be happy to find an alternative, often simplified versions of exercises to recordings or texts from the textbook.
The exercises have an attractive layout. Many of them are based on illustrations, whereas some have the form of diagrams, crosswords, puzzles or text messages.

An exceptionally useful tool in the hands of a teacher and a student!

The accompanying CD includes over 70 minutest of recordings in the mp3 format. It is worth mentioning that the language on the CD is natural and contemporary as used by native speakers of Polish. The recordings could be an inspiring resource for any teacher of Polish as a foreign language who could design their own materials on the basis of the CD.

For students the purchase of workbook guarantees the access to the Internet platform e-polish.eu containing 350 online exercises. Teachers will appreciate a six-month access to the platform and its impressive plethora of exercises (over 7000) and tasks plus audio materials, teacher's book with practical tips, language games, grammar commentary and many tests.