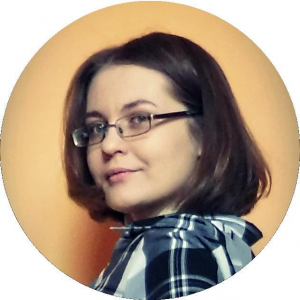 Agnieszka Futera
Przeprowadzone lekcje online:
412
Autor ćwiczeń w e-polish.eu:
NIE
Wystawia rachunki:
nie
Prezzo:
1 lekcja — 17 EUR/75 PLN
10 lekcji — 170 EUR/750 PLN
20 lekcji — 340 EUR/1500 PLN
30 lekcji — 510 EUR/2250 PLN

O mnie
Two of my passions are my language and board games. They have much more in common than it seems. In fact, I see language as a sort of a game of cooperation - the better the players know the rules, the better is the mutual understanding they win. My friends say I'm good at expaining rules. Maybe that's because of my everyday experiance of explaining grammar?

You can also visit my website: http://agnieszkafutera.pl or https://www.facebook.com/polishmoreinfo/ where I am an admin.
Kwalifikacje i doświadczenie
I have an M.A. in Polish Philology (Literature and Language) with two years specialisation course in teaching Polish as a foreign language. I am a teacher since 2012 - currently I work for several language schools in Warsaw. I provide courses on all levels for individual learners and companies. I specialise in 1 to 1 classes. I speak English and know some basic French, but... (see below).
Metody nauczania
I use mostly direct method - when I do, it means that from the very beginning I talk almost exclusively in Polish and I encourage you to do the same. Sounds extreme? Please, have no fear - with a little help of illustrations, gestures, international words, sometimes a dictionary and, above all, context we'll manage to communicate effectively.

But, if you're sure that's really outside your comfort zone and you don't mind slower progress, we can also use more English.

I always try to find a balance between drill exercises and more creative ones that let my students really speak their mind.
Dyspozycyjność
Lektor dostępny jest w podanych poniżej terminach, które zostały wyświetlone dla Twojej strefy czasowej tj. .
| | | | | | | | |
| --- | --- | --- | --- | --- | --- | --- | --- |
| | | | | | | | |
| 0:00–0:50 | | | | | | | |
| 1:00–1:50 | | | | | | | |
| 2:00–2:50 | | | | | | | |
| 3:00–3:50 | | | | | | | |
| 4:00–4:50 | | | | | | | |
| 5:00–5:50 | | | | | | | |
| 6:00–6:50 | | | | | | | |
| 7:00–7:50 | | | | | | | |
| 8:00–8:50 | | | | | | | |
| 9:00–9:50 | | | | | | | |
| 10:00–10:50 | | | | | | | |
| 11:00–11:50 | | | | | | | |
| 12:00–12:50 | | | | | | | |
| 13:00–13:50 | | | | | | | |
| 14:00–14:50 | | | | | | | |
| 15:00–15:50 | | | | | | | |
| 16:00–16:50 | | | | | | | |
| 17:00–17:50 | | | | | | | |
| 18:00–18:50 | | | | | | | |
| 19:00–19:50 | | | | | | | |
| 20:00–20:50 | | | | | | | |
| 21:00–21:50 | | | | | | | |
| 22:00–22:50 | | | | | | | |
| 23:00–23:50 | | | | | | | |

Lektor dostępny — w tym terminie możesz umówić się na lekcje

1 lekcja = 50 minut
josephtailor,

2020-03-12

ciekawa lekcja

5/5

josephtailor,

2020-03-10

ciekawa lekcja

5/5

josephtailor,

2020-03-05

to była ciekawa lekcja

5/5

josephtailor,

2020-03-03

ciekawa lekcja

5/5

josephtailor,

2020-02-27

ciekawa lekcja

5/5

josephtailor,

2020-02-26

ciekawa lekcja

5/5

josephtailor,

2020-02-20

miła i interesująca lekcja

5/5

josephtailor,

2020-02-18

miła i interesująca lekcja

5/5

josephtailor,

2020-02-13

ciekawa lekcja

5/5

josephtailor,

2020-02-11

ciekawa lekcja

5/5

josephtailor,

2020-02-04

bardzo fajnie

5/5

josephtailor,

2020-01-30

ciekawa lekcja

5/5

josephtailor,

2020-01-28

dobra lekcja

5/5

josephtailor,

2020-01-23

intensywna lekcja

5/5

josephtailor,

2020-01-21

ciekawa lekcja

5/5

josephtailor,

2020-01-16

dobra lekcja

5/5

josephtailor,

2020-01-14

Dobra lekcja

5/5

josephtailor,

2020-01-09

miło lekcja

5/5

josephtailor,

2020-01-07

kolejna interesująca lekcja

5/5

josephtailor,

2020-01-02

ciekawa lekcja

5/5

josephtailor,

2019-12-19

ciekawa lekcja

5/5

josephtailor,

2019-12-10

ciekawa lekcja

5/5

josephtailor,

2019-12-05

ciekawa lekcja

5/5

josephtailor,

2019-12-03

to była miła lekcja

5/5

josephtailor,

2019-11-28

dobra lekcja

5/5

josephtailor,

2019-11-26

dobra lekcja

5/5

josephtailor,

2019-11-21

ciekawa lekcja

5/5

josephtailor,

2019-11-19

ciekawa lekcja

5/5

josephtailor,

2019-11-14

ciekawa lekcja

5/5

josephtailor,

2019-11-12

ciekawa lekcja

5/5

josephtailor,

2019-11-07

kolejna interesująca lekcja

5/5

josephtailor,

2019-08-08

interesujące

5/5

josephtailor,

2019-08-01

miła lekcja

5/5

josephtailor,

2019-07-30

miła lekcja

5/5

josephtailor,

2019-07-23

intensywna lekcja

5/5

josephtailor,

2019-07-18

intensywna lekcja

5/5

josephtailor,

2019-07-16

miła lekcja

5/5

josephtailor,

2019-07-10

kolejna miła lekcja

5/5

josephtailor,

2019-07-09

ciekawa lekcja

5/5

josephtailor,

2019-07-05

ciekawa lekcja

5/5

danfdomnica,

2019-07-04

fajna lekcja

5/5

danfdomnica,

2019-07-02

fajna lekcja

5/5

danfdomnica,

2019-06-27

fajna lekcja 10/10

5/5

josephtailor,

2019-06-27

miła lekcja dzisiaj

5/5

danfdomnica,

2019-06-25

fajna lekcja

5/5

josephtailor,

2019-06-25

dobra lekcja

5/5

danfdomnica,

2019-06-20

fajna lekcja

5/5

josephtailor,

2019-06-20

bardzo ciekawa lekcja

5/5

danfdomnica,

2019-06-18

Bardzo intensywna lekcja.

5/5

josephtailor,

2019-06-18

czas przyszły

5/5

danfdomnica,

2019-06-13

Bardzo intensywna lekcja.

5/5

danfdomnica,

2019-06-11

Bardzo intensywna lekcja!

5/5

danfdomnica,

2019-06-06

Bardzo intensywna lekcja!

5/5

josephtailor,

2019-06-06

miła lekcja

5/5

danfdomnica,

2019-06-04

Bardzo intensywna lekcja!

5/5

josephtailor,

2019-06-04

miła lekcja

5/5

danfdomnica,

2019-05-30

Bardzo intensywna lekcja!

5/5

josephtailor,

2019-05-30

miła lekcja

5/5

danfdomnica,

2019-05-28

Bardzo intensywna lekcja!

5/5

josephtailor,

2019-05-28

ciekawa lekcja

5/5

danfdomnica,

2019-05-23

Bardzo intensywna lekcja!

5/5

josephtailor,

2019-05-23

dobra lekcja

5/5

danfdomnica,

2019-05-21

Bardzo intensywna lekcja!

5/5

josephtailor,

2019-05-21

dobra lekcja

5/5

danfdomnica,

2019-05-16

Bardzo intensywna lekcja!

5/5

josephtailor,

2019-05-16

lekcja o pogodzie

5/5

danfdomnica,

2019-05-14

Bardzo intensywna lekcja!

5/5

josephtailor,

2019-05-14

dobra lekcja dzisiaj

5/5

danfdomnica,

2019-05-09

Bardzo intensywna lekcja!

5/5

danfdomnica,

2019-05-07

Bardzo intensywna lekcja!

5/5

josephtailor,

2019-05-02

dobra lekcja

5/5

danfdomnica,

2019-04-25

Bardzo intensywna lekcja!

5/5

josephtailor,

2019-04-25

lekcja o pogodzie

5/5

danfdomnica,

2019-04-23

Bardzo intensywna lekcja!

5/5

josephtailor,

2019-04-23

dobra lekcja

5/5

danfdomnica,

2019-04-18

Bardzo intensywna lekcja!

5/5

josephtailor,

2019-04-18

bardzo dobra lekcja

5/5

danfdomnica,

2019-04-16

Bardzo intensywna lekcja!

5/5

josephtailor,

2019-04-16

miła lekcja

5/5

danfdomnica,

2019-04-11

Bardzo intensywna lekcja!

5/5

josephtailor,

2019-04-11

miła lekcja

5/5

danfdomnica,

2019-04-09

Bardzo intensywna lekcja!

5/5

josephtailor,

2019-04-09

ciekawa lekcja

5/5

danfdomnica,

2019-04-04

Bardzo intensywna lekcja!

5/5

danfdomnica,

2019-04-02

Bardzo intensywna lekcja!

5/5

josephtailor,

2019-04-02

bardzo ciekawa lekcja

5/5

danfdomnica,

2019-03-28

It was a great and intensive lesson.

5/5

josephtailor,

2019-03-28

miła lekcja

5/5

josephtailor,

2019-03-26

bardzo intensywny

5/5

josephtailor,

2019-03-21

nowy temat, post.

5/5

josephtailor,

2019-03-19

e-polish was not available

5/5

josephtailor,

2019-03-14

bardzo dobrze

5/5

josephtailor,

2019-03-12

miła lekcja

5/5

danfdomnica,

2019-03-07

A great start. Me being a complete novice in polish is the only hindrance. Can't wait for the next lessons!

5/5

josephtailor,

2019-03-07

Wiele się znowu nauczyłem

5/5

josephtailor,

2019-03-06

bardzo interesująca lekcja

5/5

josephtailor,

2019-02-26

interesująca lekcja dzisiaj

5/5

josephtailor,

2019-02-21

dzięki za tę interesującą lekcję

5/5

josephtailor,

2019-02-19

intensywna lekcja

5/5

josephtailor,

2019-02-14

rozmawialiśmy dzisiaj o pakowaniu

5/5

josephtailor,

2019-02-12

dziękuję za tę lekcję

5/5

josephtailor,

2019-02-07

Wiele się znowu nauczyłem

5/5

josephtailor,

2019-02-05

nie nudziłem się, bardzo interesujące

5/5

josephtailor,

2019-01-31

bardzo interesujące

5/5

josephtailor,

2019-01-29

bardzo interesujące

5/5

josephtailor,

2019-01-24

poszedłem na zakupy

5/5

josephtailor,

2019-01-17

fajna lekcja

5/5

josephtailor,

2019-01-15

bardzo interesująca lekcja

5/5

josephtailor,

2019-01-10

dobra lekcja z powtórzeniami

5/5

josephtailor,

2019-01-08

miła lekcja

5/5

josephtailor,

2019-01-03

fajna lekcja

5/5

josephtailor,

2018-12-27

to była miła lekcja

5/5

josephtailor,

2018-12-11

interesująca lekcja dzisiaj

5/5

josephtailor,

2018-12-04

lekcja była interesująca

5/5

josephtailor,

2018-11-29

Uczę się w lewo i w prawo, na górze i na dole itp

5/5

josephtailor,

2018-11-27

zawsze uczę się nowych słów.

5/5

josephtailor,

2018-11-22

bardzo interesujące

5/5

josephtailor,

2018-11-20

podróż przez Kraków, bardzo ciekawa

5/5

josephtailor,

2018-11-15

fascynująca lekcja

5/5

josephtailor,

2018-11-13

spacerując po Amsterdamie

5/5

josephtailor,

2018-11-08

ciekawe, z zagadkami i mapami google

5/5

josephtailor,

2018-11-07

dobra i interesująca lekcja

5/5

josephtailor,

2018-10-23

ta lekcja była bardzo interesująca

5/5

josephtailor,

2018-10-18

lekcja była bardzo interesująca

5/5

josephtailor,

2018-10-16

lekcja poszła szybko i była bardzo interesująca

5/5