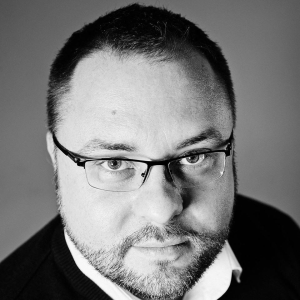 Mateusz Wysocki
Online realisierte Stunden:
296
Autor der Übungen auf e-polish.eu:
NEIN
Stellt die Rechnungen aus:
ja
Preis:
1 Lektion — 85 PLN/20 EUR

i


10 Lessons — 833 PLN/196 EUR

i


20 Lessons — 1666 PLN/392 EUR

i


30 Lessons — 2499 PLN/588 EUR

i



Über mich
Hi,

thank you for visiting my profile. My name is Mateusz and I teach foreigners Polish language. I was born and I live in Poland, which means that by participating in lessons with me, you will have contact with the real language and its various forms – including official and colloquial speech.

I am a graduate of the Jagiellonian University in Cracow, where I graduated in humanities - journalism and social communication. Today, my main occupation is preparation, editing and proofreading of texts, as well as teaching Polish focused on people who want to learn efficient communication in this language. I invite you all - regardless of your level of advancement. I run classes in which the main emphasis is put on speaking Polish.
Ausbildung und Erfahrung
I have an extensive experience in conducting trainings, courses and lectures. Humanities studies, strictly related to the Polish language, gave me the theoretical basis for teaching, while everyday practice with the language ensures that I am able to teach it effectively - to foreigners.
Lehrmethoden
Classes are tailored to your needs. I create materials myself, using many forms of multimedia. During classes, I practice communication in Polish only, which improves your ability to speak and understand this language.

I conduct conversation classes - facilitating efficient communication in Polish, as well as beginner classes. You will receive all materials from me before each lesson, which will greatly facilitate our work :) If you want to try your adventure with the Polish language - join my classes! See you soon!
Availability
Teacher is available on the dates listed below. They are already in your time zone which is: .
| | | | | | | | |
| --- | --- | --- | --- | --- | --- | --- | --- |
| | | | | | | | |
| 00:00–00:50 | | | | | | | |
| 01:00–01:50 | | | | | | | |
| 02:00–02:50 | | | | | | | |
| 03:00–03:50 | | | | | | | |
| 04:00–04:50 | | | | | | | |
| 05:00–05:50 | | | | | | | |
| 06:00–06:50 | | | | | | | |
| 07:00–07:50 | | | | | | | |
| 08:00–08:50 | | | | | | | |
| 09:00–09:50 | | | | | | | |
| 10:00–10:50 | | | | | | | |
| 11:00–11:50 | | | | | | | |
| 12:00–12:50 | | | | | | | |
| 13:00–13:50 | | | | | | | |
| 14:00–14:50 | | | | | | | |
| 15:00–15:50 | | | | | | | |
| 16:00–16:50 | | | | | | | |
| 17:00–17:50 | | | | | | | |
| 18:00–18:50 | | | | | | | |
| 19:00–19:50 | | | | | | | |
| 20:00–20:50 | | | | | | | |
| 21:00–21:50 | | | | | | | |
| 22:00–22:50 | | | | | | | |
| 23:00–23:50 | | | | | | | |

Available tutor - on this date you can arrange your class

1 lekcja = 50 minut
cristina.peco,

2022-09-15

5/5

giuseppe_favaro,

2022-01-27

5/5

giuseppe_favaro,

2022-01-20

5/5

rabek,

2022-01-18

5/5

rabek,

2022-01-10

5/5

giuseppe_favaro,

2022-01-06

5/5

giuseppe_favaro,

2021-12-31

5/5

rabek,

2021-12-13

5/5

giuseppe_favaro,

2021-12-09

5/5

rabek,

2021-12-07

5/5

giuseppe_favaro,

2021-12-02

5/5

rabek,

2021-11-29

5/5

giuseppe_favaro,

2021-11-26

5/5

rabek,

2021-11-22

5/5

giuseppe_favaro,

2021-11-18

5/5

rabek,

2021-11-08

5/5

giuseppe_favaro,

2021-11-04

5/5

amymarshall1986,

2021-11-04

5/5

amymarshall1986,

2021-11-02

5/5

giuseppe_favaro,

2021-10-28

5/5

amymarshall1986,

2021-10-28

5/5

amymarshall1986,

2021-10-27

5/5

amymarshall1986,

2021-10-26

5/5

rabek,

2021-10-25

5/5

amymarshall1986,

2021-10-25

5/5

amymarshall1986,

2021-10-21

5/5

amymarshall1986,

2021-10-19

5/5

amymarshall1986,

2021-10-18

5/5

giuseppe_favaro,

2021-10-14

5/5

amymarshall1986,

2021-10-14

5/5

amymarshall1986,

2021-10-13

5/5

amymarshall1986,

2021-10-12

5/5

rabek,

2021-10-11

5/5

amymarshall1986,

2021-10-11

5/5

giuseppe_favaro,

2021-10-07

5/5

amymarshall1986,

2021-10-07

5/5

amymarshall1986,

2021-10-05

5/5

rabek,

2021-10-04

5/5

amymarshall1986,

2021-10-04

5/5

giuseppe_favaro,

2021-09-30

5/5

amymarshall1986,

2021-09-30

5/5

amymarshall1986,

2021-09-29

5/5

amymarshall1986,

2021-09-28

5/5

rabek,

2021-09-27

5/5

amymarshall1986,

2021-09-27

5/5

amymarshall1986,

2021-09-24

5/5

giuseppe_favaro,

2021-09-23

5/5

amymarshall1986,

2021-09-22

5/5

amymarshall1986,

2021-09-21

5/5

rabek,

2021-09-20

5/5

giuseppe_favaro,

2021-09-16

5/5

rabek,

2021-09-13

5/5

amymarshall1986,

2021-09-09

5/5

amymarshall1986,

2021-09-08

5/5

amymarshall1986,

2021-09-07

5/5

rabek,

2021-09-06

5/5

amymarshall1986,

2021-09-06

5/5

amymarshall1986,

2021-09-03

5/5

h.krasnahir,

2021-09-03

5/5

giuseppe_favaro,

2021-09-02

5/5

h.krasnahir,

2021-09-02

5/5

amymarshall1986,

2021-09-01

5/5

h.krasnahir,

2021-09-01

5/5

amymarshall1986,

2021-08-31

5/5

h.krasnahir,

2021-08-31

5/5

amymarshall1986,

2021-08-30

5/5

h.krasnahir,

2021-08-30

5/5

h.krasnahir,

2021-08-20

5/5

h.krasnahir,

2021-08-19

5/5

h.krasnahir,

2021-08-18

5/5

h.krasnahir,

2021-08-17

5/5

h.krasnahir,

2021-08-16

5/5

h.krasnahir,

2021-08-13

5/5

h.krasnahir,

2021-08-12

5/5

h.krasnahir,

2021-08-11

5/5

h.krasnahir,

2021-08-10

5/5

rabek,

2021-08-09

5/5

h.krasnahir,

2021-08-09

5/5

h.krasnahir,

2021-08-06

5/5

giuseppe_favaro,

2021-08-05

5/5

h.krasnahir,

2021-08-05

5/5

h.krasnahir,

2021-08-04

5/5

evbalut,

2021-08-04

5/5

h.krasnahir,

2021-08-03

5/5

rabek,

2021-08-02

5/5

h.krasnahir,

2021-08-02

5/5

evbalut,

2021-07-30

5/5

evbalut,

2021-07-29

5/5

evbalut,

2021-07-28

5/5

evbalut,

2021-07-27

5/5

rabek,

2021-07-26

5/5

evbalut,

2021-07-23

5/5

giuseppe_favaro,

2021-07-22

5/5

evbalut,

2021-07-22

5/5

evbalut,

2021-07-21

5/5

evbalut,

2021-07-20

5/5

rabek,

2021-07-19

5/5

evbalut,

2021-07-19

5/5

h.krasnahir,

2021-07-16

5/5

giuseppe_favaro,

2021-07-15

5/5

h.krasnahir,

2021-07-15

5/5

h.krasnahir,

2021-07-14

5/5

rabek,

2021-07-12

5/5

h.krasnahir,

2021-07-12

Brak uwag, bardzo zadowolona z zajęcia

5/5

giuseppe_favaro,

2021-07-08

5/5

rabek,

2021-07-05

5/5

giuseppe_favaro,

2021-07-01

5/5

giuseppe_favaro,

2021-06-24

5/5

rabek,

2021-06-21

5/5

rabek,

2021-06-16

5/5

Kevin29,

2021-06-16

5/5

giuseppe_favaro,

2021-06-10

5/5

Kevin29,

2021-06-09

5/5

rabek,

2021-06-07

5/5

giuseppe_favaro,

2021-06-03

5/5

Kevin29,

2021-06-02

5/5

rabek,

2021-05-31

5/5

Kevin29,

2021-05-31

5/5

Polina91,

2021-05-28

5/5

giuseppe_favaro,

2021-05-27

5/5

Kevin29,

2021-05-24

5/5

rabek,

2021-05-24

5/5

giuseppe_favaro,

2021-05-20

5/5

Kevin29,

2021-05-19

5/5

rabek,

2021-05-17

5/5

Kevin29,

2021-05-17

5/5

Kevin29,

2021-05-12

5/5

rabek,

2021-05-10

5/5

giuseppe_favaro,

2021-05-06

5/5

Kevin29,

2021-04-29

5/5

giuseppe_favaro,

2021-04-29

5/5

rabek,

2021-04-26

5/5

giuseppe_favaro,

2021-04-22

5/5

rabek,

2021-04-19

5/5

giuseppe_favaro,

2021-04-15

5/5

rabek,

2021-04-14

5/5

rabek,

2021-04-07

5/5

giuseppe_favaro,

2021-04-01

5/5

giuseppe_favaro,

2021-03-25

5/5

giuseppe_favaro,

2021-03-18

5/5

giuseppe_favaro,

2021-03-11

5/5

giuseppe_favaro,

2021-03-04

5/5

giuseppe_favaro,

2021-02-25

5/5

giuseppe_favaro,

2021-02-11

5/5

giuseppe_favaro,

2021-02-04

5/5

giuseppe_favaro,

2021-01-28

5/5

giuseppe_favaro,

2021-01-21

5/5

giuseppe_favaro,

2021-01-15

5/5

pauldaly,

2020-11-10

5/5

hlalisa,

2020-09-10

5/5

hlalisa,

2020-08-13

5/5

hlalisa,

2020-08-11

5/5

hlalisa,

2020-08-07

5/5

pauldaly,

2020-08-01

5/5

pauldaly,

2020-07-25

5/5

pauldaly,

2020-07-18

5/5

pauldaly,

2020-06-14

5/5