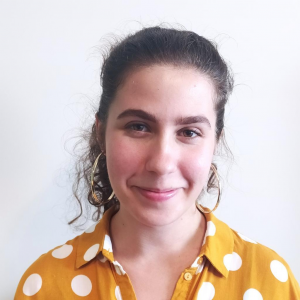 Julia Stempek
Przeprowadzone lekcje online:
5
Autor ćwiczeń w e-polish.eu:
tak (19)
Wystawia rachunki:
nie
Prezzo:
1 lekcja — 15 EUR/60 PLN
10 lekcji — 127 EUR/510 PLN
20 lekcji — 240 EUR/960 PLN
30 lekcji — 450 EUR/1800 PLN

O mnie
Although I'm not a Polish language teacher by profession, I have grown surrounded by "POLSKI krok po kroku" books. When younger, I just watched them being written, after I tried to participate by testing the first versions of the exercises. While the "Junior" book was written, I helped as a teen slang expert. Apart from studying neuropsychology, a year ago I began to prepare for teaching Polish. Since that time, I regularly run after class workshops for foreigners, I conducted my first classes, both in class and online. And what's most important, I have a lot of enthusiasm and energy 😊
Kwalifikacje i doświadczenie
I'm a neuropsychology student who is passionate about teaching Polish. Although I chose a different path of education, I still want to progress my teaching skills. I try to get my own experience by observing other teachers, running after class workshops and conducting individual lessons. I use the knowledge and experience of others, to find my path and create my private database of language materials. So far, I have taught classes at the "beginner", A1 and A2 levels, but I would also like to undertake higher level conversations.
Metody nauczania
Although I speak English and Spanish, I teach only in Polish, as this method was taught to me by the introductory teachers. I am a believer in the communication method. Grammar has to comply with the real situations of everyday life. I care about the variety of materials - apart from textbooks, I use songs, film fragments, various language games, and my own materials.
Dyspozycyjność
Lektor dostępny jest w podanych poniżej terminach, które zostały wyświetlone dla Twojej strefy czasowej tj. .
| | | | | | | | |
| --- | --- | --- | --- | --- | --- | --- | --- |
| | | | | | | | |
| 0:00–0:50 | | | | | | | |
| 1:00–1:50 | | | | | | | |
| 2:00–2:50 | | | | | | | |
| 3:00–3:50 | | | | | | | |
| 4:00–4:50 | | | | | | | |
| 5:00–5:50 | | | | | | | |
| 6:00–6:50 | | | | | | | |
| 7:00–7:50 | | | | | | | |
| 8:00–8:50 | | | | | | | |
| 9:00–9:50 | | | | | | | |
| 10:00–10:50 | | | | | | | |
| 11:00–11:50 | | | | | | | |
| 12:00–12:50 | | | | | | | |
| 13:00–13:50 | | | | | | | |
| 14:00–14:50 | | | | | | | |
| 15:00–15:50 | | | | | | | |
| 16:00–16:50 | | | | | | | |
| 17:00–17:50 | | | | | | | |
| 18:00–18:50 | | | | | | | |
| 19:00–19:50 | | | | | | | |
| 20:00–20:50 | | | | | | | |
| 21:00–21:50 | | | | | | | |
| 22:00–22:50 | | | | | | | |
| 23:00–23:50 | | | | | | | |

Lektor dostępny — w tym terminie możesz umówić się na lekcje

1 lekcja = 50 minut
jk.andrew,

2020-05-26

Thank you for another great lesson!

5/5

steven73,

2020-05-26

very inspiring Polish lesson thanks

5/5