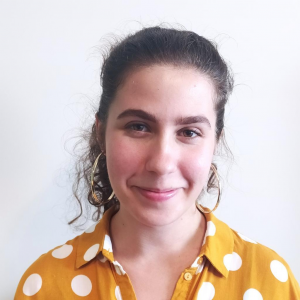 Julia Stempek
Przeprowadzone lekcje online:
1258
Autor ćwiczeń w e-polish.eu:
tak (19)
Wystawia rachunki:
nie
Cena:
1 lekcja — 60 PLN/14 EUR

i


10 lekcji — 582 PLN/135 EUR

i


20 lekcji — 1140 PLN/266 EUR

i


30 lekcji — 1620 PLN/378 EUR

i



O mnie
Mogę szczerze powiedzieć, że nauczanie polskiego to dla mnie nie tylko praca, ale przede wszystkim moje hobby. Od dziecka dorastałam w świecie książek "POLSKI krok po kroku". Czytałam je wieczorami, testowałam pierwsze wersje ćwiczeń, w Juniorze pomagałam jako ekspertka od młodzieżowego języka. Polskiego uczę od trzech lat - nie tylko online, ale również na żywo, w szkole językowej GLOSSA . Uwielbiam prowadzić lekcje i warsztaty - kontakty ze studentami sprawiają mi ogromną satysfakcję. Oprócz nauczania polskiego studiuję Neuropsychologię i Neurokognitywistykę na Uniwersytecie Jagiellońskim, a w wolnym czasie czytam literaturę klasyczną, oglądam filmy i dużo gotuję.
Kwalifikacje i doświadczenie
Jestem studentką neuropsychologii i pasjonatką uczenia polskiego. Choć wybrałam inny kierunek kształcenia, to przez obserwację zajęć innych lektorów, prowadzenie warsztatów i lekcji zebrałam własne doświadczenia. Od 3 lat aktywnie uczę - prowadzę lekcje online i w klasie, indywidualne i grupowe. Wciąż się też dokształcam - poszukuję nowych sposobów na urozmaicenie lekcji, szukam materiałów, czytam blogi poświęcone nauczaniu i oczywiście chętnie słucham innych lektorów.
Metody nauczania
Choć znam angielski i hiszpański z założenia prowadzę lekcje TYLKO po polsku, gdyż takiej metody nauczyli mnie doświadczeni lektorzy. Jestem zwolenniczką metody komunikacyjnej. Gramatyka musi być podporządkowana realnym sytuacjom z życia codziennego. Dbam o różnorodność materiałów – prócz podręczników wykorzystuję piosenki, fragmenty filmów, przeróżne gry językowe i własne materiały.
Dyspozycyjność
Lektor Julia Stempek dostępny jest w podanych poniżej terminach, które zostały wyświetlone dla Twojej strefy czasowej tj. GMT.
| | | | | | | | |
| --- | --- | --- | --- | --- | --- | --- | --- |
| | | | | | | | |
| 00:00–00:50 | | | | | | | |
| 01:00–01:50 | | | | | | | |
| 02:00–02:50 | | | | | | | |
| 03:00–03:50 | | | | | | | |
| 04:00–04:50 | | | | | | | |
| 05:00–05:50 | | | | | | | |
| 06:00–06:50 | | | | | | | |
| 07:00–07:50 | | | | | | | |
| 08:00–08:50 | | | | | | | |
| 09:00–09:50 | | | | | | | |
| 10:00–10:50 | | | | | | | |
| 11:00–11:50 | | | | | | | |
| 12:00–12:50 | | | | | | | |
| 13:00–13:50 | | | | | | | |
| 14:00–14:50 | | | | | | | |
| 15:00–15:50 | | | | | | | |
| 16:00–16:50 | | | | | | | |
| 17:00–17:50 | | | | | | | |
| 18:00–18:50 | | | | | | | |
| 19:00–19:50 | | | | | | | |
| 20:00–20:50 | | | | | | | |
| 21:00–21:50 | | | | | | | |
| 22:00–22:50 | | | | | | | |
| 23:00–23:50 | | | | | | | |

Lektor dostępny — w tym terminie możesz umówić się na lekcje

1 lekcja = 50 minut
Gabriele88,

2023-09-22

5/5

Gabriele88,

2023-09-13

5/5

Gabriele88,

2023-07-26

5/5

Gabriele88,

2023-07-05

5/5

Danielpolsk,

2023-07-03

5/5

Danielpolsk,

2023-06-29

5/5

Gabriele88,

2023-06-28

5/5

Danielpolsk,

2023-06-27

5/5

Gabriele88,

2023-06-21

5/5

angela.teojiajia2508,

2023-06-17

5/5

Danielpolsk,

2023-06-15

5/5

Gabriele88,

2023-06-14

5/5

Danielpolsk,

2023-06-12

5/5

angela.teojiajia2508,

2023-06-10

5/5

Danielpolsk,

2023-06-09

5/5

Gabriele88,

2023-06-07

5/5

Danielpolsk,

2023-06-07

5/5

jeremyjoshw,

2023-05-25

Thank you, Julia for a wonderful course! I'll be purchasing another package of lessons in future, but for now I will be taking a break. Life right now is very full and I am struggling to put in the work that my Polish deserves and needs, so for now I'll consolidate. Thank you for all your patience and engaging lessons!
Jeremy

5/5

Danielpolsk,

2023-05-23

5/5

angela.teojiajia2508,

2023-05-20

5/5

jeremyjoshw,

2023-05-18

It was fun! Than you, Julia!

5/5

Gabriele88,

2023-05-17

5/5

Danielpolsk,

2023-05-17

5/5

Danielpolsk,

2023-05-15

5/5

Gabriele88,

2023-05-10

5/5

Danielpolsk,

2023-05-09

5/5

Danielpolsk,

2023-04-28

5/5

jeremyjoshw,

2023-04-27

Really great! Thanks, Julia!

5/5

Gabriele88,

2023-04-25

5/5

angela.teojiajia2508,

2023-04-25

Today's class was very fun!

5/5

Danielpolsk,

2023-04-25

5/5

Danielpolsk,

2023-04-21

5/5

jeremyjoshw,

2023-04-20

Thanks for another great lesson Julia!

5/5

angela.teojiajia2508,

2023-04-18

5/5

Danielpolsk,

2023-04-18

5/5

jeremyjoshw,

2023-04-13

Thanks for a great lesson, Julia

5/5

Gabriele88,

2023-04-12

5/5

angela.teojiajia2508,

2023-04-11

5/5

Danielpolsk,

2023-04-06

5/5

jeremyjoshw,

2023-04-06

Wow, challenging but interesting and useful new words and phrases. Thank you, Julia

5/5

Gabriele88,

2023-04-05

5/5

angela.teojiajia2508,

2023-04-03

I have improved so much since the first lesson.

5/5

Gabriele88,

2023-03-29

5/5

angela.teojiajia2508,

2023-03-29

The lesson was so fun and I learnt so many new things I never understood before.

5/5

Danielpolsk,

2023-03-28

5/5

Danielpolsk,

2023-03-25

5/5

Danielpolsk,

2023-03-23

5/5

jeremyjoshw,

2023-03-23

Thanks for a great lesson, Julia!

5/5

Gabriele88,

2023-03-22

5/5

angela.teojiajia2508,

2023-03-21

She taught me a lot of new words and explained well to me the usage of different grammar.

5/5

Danielpolsk,

2023-03-20

5/5

Danielpolsk,

2023-03-18

5/5

Danielpolsk,

2023-03-16

5/5

jeremyjoshw,

2023-03-16

Challenging fun! Thanks, Julia :)

5/5

Gabriele88,

2023-03-15

5/5

Danielpolsk,

2023-03-13

5/5

angela.teojiajia2508,

2023-03-11

The lesson today really taught me a lot! Thank you!

5/5

jeremyjoshw,

2023-03-09

I had a lot of fun! Many thanks, Julia. :)

5/5

Gabriele88,

2023-03-07

5/5

angela.teojiajia2508,

2023-03-02

It was an amazing lesson. She was definitely very experienced and I know I will learn a lot from her.

5/5

Gabriele88,

2023-03-01

5/5

gonczar,

2023-03-01

5/5

wajiha4,

2023-02-28

Amazing first class. I really liked the instructor. She is very helpful! Would love to learn more from her.

5/5

Danielpolsk,

2023-02-28

5/5

jeremyjoshw,

2023-02-23

Bardzo dziękuje, Julia!

5/5

Danielpolsk,

2023-02-21

5/5

jeremyjoshw,

2023-02-16

Thanks for a great lesson, Julia :)

5/5

Gabriele88,

2023-02-15

5/5

Danielpolsk,

2023-02-14

5/5

Danielpolsk,

2023-02-09

5/5

jeremyjoshw,

2023-02-09

Good to get back to Polish. Thanks for being gentle! :)

5/5

Danielpolsk,

2023-02-06

5/5

Gabriele88,

2023-02-01

5/5

Valentinaj,

2023-01-30

5/5

Danielpolsk,

2023-01-26

5/5

Gabriele88,

2023-01-25

5/5

Danielpolsk,

2023-01-24

5/5

Danielpolsk,

2023-01-16

5/5

Danielpolsk,

2023-01-12

5/5

Gabriele88,

2023-01-11

5/5

Danielpolsk,

2023-01-10

5/5

Danielpolsk,

2023-01-05

5/5

Gabriele88,

2023-01-04

5/5

Danielpolsk,

2023-01-02

5/5

Danielpolsk,

2022-12-27

5/5

Gabriele88,

2022-12-21

5/5

Danielpolsk,

2022-12-21

5/5

Danielpolsk,

2022-12-20

5/5

jeremyjoshw,

2022-12-19

Great!

5/5

Gabriele88,

2022-12-16

5/5

Danielpolsk,

2022-12-13

5/5

jeremyjoshw,

2022-12-12

Great to be back :)

5/5

Danielpolsk,

2022-12-09

5/5

Valentinaj,

2022-12-06

5/5

Danielpolsk,

2022-12-06

5/5

Gabriele88,

2022-11-30

5/5

sgrabberg,

2022-11-29

Dziękuję za lekcje. Julia jest fajną nauczycielką!

5/5

Gabriele88,

2022-11-23

5/5

Valentinaj,

2022-11-22

5/5

sgrabberg,

2022-11-22

Nauka z Julią to świetna zabawa!

5/5

sgrabberg,

2022-11-15

Nauka z Julią to świetna zabawa!

5/5

Gabriele88,

2022-11-09

5/5

sgrabberg,

2022-11-08

Julia jest wspaniałą nauczycielką. Bardzo lubię zajęcia z nią.

5/5

Danielpolsk,

2022-11-02

5/5

Danielpolsk,

2022-10-29

5/5

sgrabberg,

2022-10-25

Julia jest wspaniałą nauczycielką. Bardzo lubię zajęcia z nią.

5/5

sgrabberg,

2022-10-11

Z przyjemnością!

5/5

RedPoppy,

2022-10-11

5/5

silke.mueller8,

2022-10-08

after this lesson I am fully prepared for my trip to poland. Thank you very much.

5/5

Danielpolsk,

2022-10-07

5/5

Valentinaj,

2022-10-06

5/5

Gabriele88,

2022-10-05

5/5

sgrabberg,

2022-10-04

Wspaniała lekcja!

5/5

Danielpolsk,

2022-09-30

5/5

Valentinaj,

2022-09-20

5/5

sgrabberg,

2022-09-20

Bardzo lubię uczyć się z Julią.

5/5

jeremyjoshw,

2022-09-15

Really enjoyed the lesson. Very happy to take it nice and slow :)
Have a great holiday, Julia!
Jeremy

5/5

Valentinaj,

2022-09-13

5/5

sgrabberg,

2022-09-13

I really enjoy learning with Julia!

5/5

Danielpolsk,

2022-09-13

5/5

cristina.peco,

2022-09-12

Julia Stempek is just fantastic! I had a lot of fun and I practiced a lot!
Very well done :)

5/5

Danielpolsk,

2022-09-12

5/5

Danielpolsk,

2022-09-08

5/5

jeremyjoshw,

2022-09-08

Thank you for a challenging lesson, Julia! Have a great weekend.
Jeremy

5/5

Valentinaj,

2022-09-06

5/5

sgrabberg,

2022-09-06

Julia makes me feel very comfortable during our lesson. There are no worries!

5/5

Danielpolsk,

2022-09-05

5/5

Valentinaj,

2022-08-30

5/5

sgrabberg,

2022-08-29

It is so great to be learning with Julia again. She is a great teacher!

5/5

Danielpolsk,

2022-08-27

5/5

Danielpolsk,

2022-08-24

5/5

Valentinaj,

2022-08-23

5/5

arklirs68,

2022-08-23

The instructor is very knowledgeable. I felt a bit overwhelmed, though, with all the shifting from topic to topic and different cases in the short period of time.

5/5

Danielpolsk,

2022-08-22

5/5

jeremyjoshw,

2022-08-22

A fun lesson! Many thanks Julia!

5/5

whitneyacravens,

2022-08-19

Julia is excellent and patient. super!

5/5

Danielpolsk,

2022-08-19

5/5

Valentinaj,

2022-08-18

5/5

jeremyjoshw,

2022-08-18

Thanks for a very enjoyable lesson, Julia!

5/5

jtrules99,

2022-08-17

5/5

whitneyacravens,

2022-08-17

Julia is always patient, encouraging, prepared, and helpful!

5/5

whitneyacravens,

2022-08-12

Julia is excellent, very talented at teaching in Polish, and is really comfortable to learn with!

5/5

jtrules99,

2022-08-09

5/5

Valentinaj,

2022-08-09

5/5

jeremyjoshw,

2022-08-08

Uff, challenging but very good! I will practice these constructions :)
Thank you for a great lesson, Julia!

5/5

jtrules99,

2022-08-03

5/5

Valentinaj,

2022-08-02

5/5

jeremyjoshw,

2022-08-01

Thanks for a great lesson, Julia!

5/5

linebraga,

2022-07-29

5/5

Danielpolsk,

2022-07-25

5/5

Danielpolsk,

2022-07-22

5/5

jtrules99,

2022-07-20

5/5

Danielpolsk,

2022-07-20

5/5

Danielpolsk,

2022-07-15

5/5

Valentinaj,

2022-07-14

5/5

jtrules99,

2022-07-13

5/5

Danielpolsk,

2022-07-01

5/5

whitneyacravens,

2022-07-01

Julia was very talented and patient, and was able to quickly adjusted to my level and make the lesson interactive and engaging. Just super!

5/5

jeremyjoshw,

2022-06-30

Some great new words and constructions!

5/5

jtrules99,

2022-06-29

5/5

jeremyjoshw,

2022-06-27

Sorry - I was particularly rusty today :)

5/5

jtrules99,

2022-06-22

5/5

Danielpolsk,

2022-06-22

5/5

Danielpolsk,

2022-06-17

5/5

jtrules99,

2022-06-15

5/5

Danielpolsk,

2022-06-15

5/5

jeremyjoshw,

2022-06-09

Great fun! Thank you, Julia :)

5/5

Valentinaj,

2022-06-07

5/5

xixchen1993,

2022-06-02

super lekcja

5/5

jtrules99,

2022-06-01

5/5

Danielpolsk,

2022-06-01

5/5

jeremyjoshw,

2022-05-30

Really good and challenging!

5/5

Gabriele88,

2022-05-27

5/5

Danielpolsk,

2022-05-26

5/5

jeremyjoshw,

2022-05-26

A great lesson! Thank you, Julia :)

5/5

jtrules99,

2022-05-25

5/5

Gabriele88,

2022-05-20

5/5

Danielpolsk,

2022-05-20

5/5

jeremyjoshw,

2022-05-19

Tough, but that's what new cases are :)
A good lesson, thanks Julia

5/5

maggie2,

2022-05-18

5/5

jtrules99,

2022-05-18

5/5

Danielpolsk,

2022-05-18

5/5

Valentinaj,

2022-05-17

5/5

jeremyjoshw,

2022-05-16

Wow, a tough lesson but good :)
Thanks, Julia!

5/5

Gabriele88,

2022-05-13

5/5

Valentinaj,

2022-05-13

It was hard but good!!!!

5/5

maggie2,

2022-05-12

jestem chory w covid,
i will be better next week,
thank zou very much , i enjoy the lesson

5/5

jtrules99,

2022-05-12

5/5

Danielpolsk,

2022-05-12

5/5

jeremyjoshw,

2022-05-12

Challenging but very enjoyable!

5/5

jtrules99,

2022-05-05

Julia is an excellent teacher. She is very patient but also very encouraging.

5/5

Gabriele88,

2022-04-29

5/5

Danielpolsk,

2022-04-29

5/5

jeremyjoshw,

2022-04-28

Challenging and fun. I'll continue practicing instrumental case :)
All the best, Julia :)

5/5

Gabriele88,

2022-04-27

5/5

jtrules99,

2022-04-25

We really enjoyed our lesson with Julia.

5/5

Danielpolsk,

2022-04-25

5/5

jeremyjoshw,

2022-04-25

Working hard on instrumental case

5/5

xixchen1993,

2022-04-23

5/5

Gabriele88,

2022-04-20

5/5

Danielpolsk,

2022-04-20

5/5

jeremyjoshw,

2022-04-14

Challenging but enjoyable (instrumental case)

5/5

Valentinaj,

2022-04-13

5/5

Danielpolsk,

2022-04-13

5/5

Danielpolsk,

2022-04-08

5/5

jeremyjoshw,

2022-04-07

A great lesson! Thank you, Julia :)

5/5

Valentinaj,

2022-04-05

5/5

Danielpolsk,

2022-04-05

5/5

jeremyjoshw,

2022-04-04

Some new constructions to practice :)

5/5

Danielpolsk,

2022-04-02

5/5

jeremyjoshw,

2022-03-31

A great session!

5/5

Gabriele88,

2022-03-30

5/5

vnothegger86,

2022-03-28

5/5

Danielpolsk,

2022-03-23

5/5

RedPoppy,

2022-03-22

5/5

Danielpolsk,

2022-03-21

5/5

jeremyjoshw,

2022-03-21

Some great vocabulary, esp. adjectives, which will be very useful. Now I just need to remember them :)

5/5

sunny_sky,

2022-03-19

5/5

Valentinaj,

2022-03-18

5/5

jeremyjoshw,

2022-03-17

Quite challenging. I'll be continuing to work on my vocabulary and noun and adjective forms.

5/5

Danielpolsk,

2022-03-16

5/5

Danielpolsk,

2022-03-14

5/5

jeremyjoshw,

2022-03-14

I'm navigating the exercises better (I'm not so lost) but my vocab is letting me down, so will concentrate on this and practice categorising words into masculine, feminine, and neuter.

Thanks for a great lesson, Julia!
~ Jeremy

5/5

jeremyjoshw,

2022-03-10

Excellent - I'll be working on vocabulary and gender of nouns

5/5

Valentinaj,

2022-03-09

5/5

jeremyjoshw,

2022-03-07

The perfect level of difficulty. I was certainly challenged, but not overwhelmed and Julia helped me pick myself up when I 'fell down'.
Many thanks :)

5/5

Danielpolsk,

2022-03-05

5/5

Valentinaj,

2022-03-03

5/5

xixchen1993,

2022-03-02

5/5

Danielpolsk,

2022-02-28

5/5

Danielpolsk,

2022-02-25

5/5

tonton_lenin,

2022-02-24

Teacher explained me the expressions I wanted to understand.

5/5

Valentinaj,

2022-02-23

I like when I have to create full sentences and force myself to speak and communicate instead of just completing words. Today was a good mix of both :)

5/5

RedPoppy,

2022-02-22

5/5

sunny_sky,

2022-02-15

5/5

Melusine,

2022-02-11

5/5

Danielpolsk,

2022-02-10

5/5

Danielpolsk,

2022-02-08

5/5

Valentinaj,

2022-02-02

I like having to make the phrases with the two words

5/5

sunny_sky,

2022-01-31

5/5

Danielpolsk,

2022-01-31

5/5

xixchen1993,

2022-01-29

5/5

hermann,

2022-01-28

5/5

tibor_bodnar,

2022-01-28

Thank you for the lesston. It was great to go through what I have learned in the online course so far and practice that with you.

5/5

Danielpolsk,

2022-01-27

5/5

Valentinaj,

2022-01-26

5/5

Danielpolsk,

2022-01-25

5/5

Valentinaj,

2022-01-19

5/5

Danielpolsk,

2022-01-19

5/5

hermann,

2022-01-18

5/5

sunny_sky,

2022-01-15

5/5

xixchen1993,

2022-01-12

5/5

Valentinaj,

2022-01-05

5/5

sunny_sky,

2022-01-03

5/5

sunny_sky,

2021-12-29

5/5

sgrabberg,

2021-12-22

Wspaniale spędzony czas z nową przyjaciółką przez ostatni rok! Dziękuję Julio!

5/5

tomwoj,

2021-12-21

Dziękuje bardzo :)

5/5

sunny_sky,

2021-12-20

5/5

sgrabberg,

2021-12-15

Fantastyczna lekcja Dziękuję Julii!

5/5

sunny_sky,

2021-12-13

5/5

sgrabberg,

2021-12-09

Very good lesson!

5/5

sgrabberg,

2021-12-08

Julia jest bardzo dobrą korepetytorką. Jest miła, cierpliwa i pomocna w nauczaniu.

5/5

sunny_sky,

2021-12-01

5/5

sgrabberg,

2021-11-24

Bardzo dobrze lekcja! Dziękuję!

5/5

sunny_sky,

2021-11-22

5/5

sgrabberg,

2021-11-17

Jeden z najlepszych! Dziękuję Ci!

5/5

Valentinaj,

2021-11-17

Great lesson. I felt like I am actually making progress :)

5/5

sunny_sky,

2021-11-15

5/5

xixchen1993,

2021-11-13

5/5

Valentinaj,

2021-11-10

5/5

soniauribe,

2021-11-05

Bardzo dobra pierwsza klasa.

5/5

sunny_sky,

2021-11-04

5/5

sgrabberg,

2021-11-03

Świetna lekcja!

5/5

Polina91,

2021-11-02

5/5

sgrabberg,

2021-10-27

Dzięki za wspaniałą lekcje.

5/5

xixchen1993,

2021-10-23

5/5

Valentinaj,

2021-10-22

5/5

sgrabberg,

2021-10-20

Bardzo dobrze lekcja!

5/5

Danielpolsk,

2021-10-20

5/5

Danielpolsk,

2021-10-18

5/5

Danielpolsk,

2021-10-14

5/5

sgrabberg,

2021-10-13

Świetnie!

5/5

Valentinaj,

2021-10-13

5/5

RedPoppy,

2021-10-12

5/5

Danielpolsk,

2021-10-11

5/5

Danielpolsk,

2021-10-08

5/5

Valentinaj,

2021-10-06

5/5

Danielpolsk,

2021-10-06

5/5

Danielpolsk,

2021-10-04

5/5

Valentinaj,

2021-09-29

5/5

xixchen1993,

2021-09-25

Bravo super lekcja

5/5

Valentinaj,

2021-09-22

5/5

Danielpolsk,

2021-09-20

5/5

Danielpolsk,

2021-09-16

5/5

sgrabberg,

2021-09-15

Zabawa!

5/5

Valentinaj,

2021-09-15

5/5

Danielpolsk,

2021-09-14

5/5

sgrabberg,

2021-09-13

Dziękuję za wspaniała lekcje.

5/5

Danielpolsk,

2021-09-13

5/5

xixchen1993,

2021-09-11

Super lekcja

5/5

Urszulka_Swiest,

2021-09-10

Excellent lesson!

5/5

sgrabberg,

2021-09-09

Fajne lekcje!

5/5

Valentinaj,

2021-09-08

5/5

Danielpolsk,

2021-09-08

5/5

Danielpolsk,

2021-09-06

5/5

xixchen1993,

2021-09-04

Ssuper lekcja

5/5

sgrabberg,

2021-09-03

Good revision.

5/5

Danielpolsk,

2021-09-03

5/5

sgrabberg,

2021-09-02

Good revision!

5/5

sgrabberg,

2021-07-29

Świetna lekcja

5/5

Danielpolsk,

2021-07-28

5/5

sgrabberg,

2021-07-27

Bardzo dobra lekcja.

5/5

Danielpolsk,

2021-07-26

5/5

Danielpolsk,

2021-07-24

5/5

xixchen1993,

2021-07-24

Super!

5/5

sgrabberg,

2021-07-22

Dobra lekcja!

5/5

Danielpolsk,

2021-07-22

5/5

sgrabberg,

2021-07-20

Good lekcja.

5/5

sgrabberg,

2021-07-15

Very good lesson.

5/5

RedPoppy,

2021-07-13

Excellent class despite the internet problems we were having.

4/5

Danielpolsk,

2021-07-03

5/5

sgrabberg,

2021-07-01

Difficult lesson.

5/5

RedPoppy,

2021-07-01

5/5

Urszulka_Swiest,

2021-07-01

Super!! Very good class, Julia is a great teacher :)

5/5

sgrabberg,

2021-06-29

Bardzo dobra lekcja.

5/5

sgrabberg,

2021-06-24

Very good lesson!

5/5

sgrabberg,

2021-06-22

Julia is a patient and thorough nauczycielka.

5/5

RedPoppy,

2021-06-22

5/5

sgrabberg,

2021-06-17

Bardzo dobrze lekcja! Dziękuję!

5/5

MikeDewis,

2021-06-16

Brilliant!

5/5

sgrabberg,

2021-06-15

Bardzo dobrze lekcja! Dziękuję!

5/5

RedPoppy,

2021-06-15

5/5

Valentinaj,

2021-06-11

5/5

sgrabberg,

2021-06-10

Bardzo dobrze lekcja! Dziękuję!

5/5

sgrabberg,

2021-06-08

Bardzo dobrze lekcja! Dziękuję!

5/5

RedPoppy,

2021-06-08

5/5

sgrabberg,

2021-06-04

Julia is a patient and thoughtful tutor. I enjoy my lessons very much!

5/5

Valentinaj,

2021-06-02

5/5

MikeDewis,

2021-06-02

Brilliant!

5/5

sgrabberg,

2021-06-01

Bardzo dobrze lekcja! Dziękuję!

5/5

sgrabberg,

2021-05-28

Rozdział Osiem to jedzenie i zabawa!

5/5

sgrabberg,

2021-05-25

Julia jest bardzo dobrą nauczycielką.

5/5

sgrabberg,

2021-05-21

Great lesson! Dziękuję!

5/5

Valentinaj,

2021-05-21

5/5

sgrabberg,

2021-05-18

A very good lesson! I am looking forward to having more lessons with Julia. I am enjoying learning Polish with Julia.

5/5

Valentinaj,

2021-05-12

Iść, chodzić, jechać, jeździć sa trudne. Lets practice more :)

5/5

sgrabberg,

2021-05-11

Bardzo dobra lekcja! Dziękuję!

5/5

sgrabberg,

2021-05-07

I enjoyed the lesson and I always learn from Julia.

5/5

sgrabberg,

2021-05-04

Julia is a very patient tutor. I learn alot during our lessons.

5/5

sgrabberg,

2021-04-30

I am very pleased with Julia's tutoring. It is very valuable.

5/5

Valentinaj,

2021-04-28

It was a hard lesson but I liked it. I feel that I understand a lot more although it still takes me time to think what I want to say.

5/5

sgrabberg,

2021-04-27

A very good lesson.

5/5

sgrabberg,

2021-04-23

Great lesson. Dziękuję

5/5

Danielpolsk,

2021-04-23

5/5

Valentinaj,

2021-04-21

Good lesson :)

5/5

Danielpolsk,

2021-04-20

5/5

sgrabberg,

2021-04-16

good, thorough lesson.
Dzieńkuję

5/5

sgrabberg,

2021-04-13

Very insteresting lesson.

5/5

dmitrolazeb,

2021-04-08

5/5

Danielpolsk,

2021-03-31

5/5

Valentinaj,

2021-03-24

Good class!

5/5

Danielpolsk,

2021-03-23

5/5

Valentinaj,

2021-03-19

5/5

Danielpolsk,

2021-03-16

5/5

Danielpolsk,

2021-03-11

5/5

Valentinaj,

2021-03-10

Julia is amazing and I think I have learned a lot. However, I am kind of tired of food..... I know I still get things wrong but I am wondering if we can change food for something else for a while....

4/5

Valentinaj,

2021-03-03

5/5

Danielpolsk,

2021-03-03

5/5

Danielpolsk,

2021-02-26

5/5

Danielpolsk,

2021-02-18

5/5

Danielpolsk,

2021-02-16

5/5

Danielpolsk,

2021-02-04

5/5

Valentinaj,

2021-02-03

Very good reminder of mianownik, narzędnik and biernik.
Thank you!

5/5

Danielpolsk,

2021-02-02

5/5

Danielpolsk,

2021-01-30

5/5

Danielpolsk,

2021-01-26

5/5

Danielpolsk,

2021-01-22

5/5

Valentinaj,

2021-01-20

I liked the lesson. Very engaging. It was good to remember all the basis.

5/5

Danielpolsk,

2021-01-20

5/5

Danielpolsk,

2021-01-15

5/5

Danielpolsk,

2021-01-13

5/5

Danielpolsk,

2021-01-11

5/5

liriam,

2020-12-08

4/5

rudy.van.westrop,

2020-12-04

Droga Julio,

Bardzo dziękuję za cierpliwość i zrozumienie.

Z poważaniem,
Rudy

5/5

rudy.van.westrop,

2020-12-03

Śniadania i kolacje po polsku to nie problem, bo często jem w hotelu czy restauracji w Polsce.

Kiedy mieszkałem w Katowicach, robiłem zakupy w supermarkecie lub w Żabce i płaciłem telefonem ;-)

5/5

rudy.van.westrop,

2020-12-02

Jestem "głuchy" na polskie numery ... i płacę za wszystko moją komórkę ;-)
Nie wiem co to jest, ale zapominam o polskich numerach i polskich nazwach dni i miesięcy.

5/5

rudy.van.westrop,

2020-12-01

5/5

solatium,

2020-11-30

I recommend it, very prepared and friendly lessons!

5/5

Uladzimir_T,

2020-11-30

5/5

rudy.van.westrop,

2020-11-30

5/5

nstddkn,

2020-11-27

5/5

KarinaSkvarnik,

2020-11-27

5/5

rudy.van.westrop,

2020-11-26

5/5

nstddkn,

2020-11-25

5/5

aptixe,

2020-11-25

5/5

rudy.van.westrop,

2020-11-25

Your teacher hasn't assigned you any homework.

5/5

rudy.van.westrop,

2020-11-24

"Your teacher hasn't assigned you any homework."

5/5

rudy.van.westrop,

2020-11-23

5/5

maisiegreen,

2020-11-21

Thank you very much!

5/5

nstddkn,

2020-11-20

5/5

KarinaSkvarnik,

2020-11-20

5/5

aptixe,

2020-11-20

5/5

nstddkn,

2020-11-18

5/5

KarinaSkvarnik,

2020-11-18

5/5

aptixe,

2020-11-18

5/5

rafael.tsulaya,

2020-11-13

5/5

nstddkn,

2020-11-13

5/5

aptixe,

2020-11-13

5/5

elizaveta.koste,

2020-11-13

5/5

alex.lazarew,

2020-11-13

5/5

_bliss_wind_,

2020-11-13

5/5

Mirrowel,

2020-11-13

5/5

Polina91,

2020-11-13

5/5

Akaliada,

2020-11-13

5/5

vk81092,

2020-11-13

5/5

Kuzmina_mariya,

2020-11-13

5/5

Nata_Kostina_1,

2020-11-12

Nice lesson with a nice teacher :)

5/5

Mirrowel,

2020-11-06

5/5

Kuzmina_mariya,

2020-11-06

5/5

Polina91,

2020-11-06

5/5

vk81092,

2020-11-06

5/5

_bliss_wind_,

2020-11-06

5/5

Akaliada,

2020-11-06

5/5

nayazhdan,

2020-11-05

5/5

Kosmolow,

2020-11-05

5/5

nayazhdan,

2020-11-02

5/5

AlexXT,

2020-09-08

5/5

Kirush4,

2020-09-08

5/5

AlexXT,

2020-09-03

5/5

AlexXT,

2020-09-01

5/5

alinamulik,

2020-08-27

5/5

AlexXT,

2020-08-27

5/5

alinamulik,

2020-08-25

5/5

AlexXT,

2020-08-25

5/5

solatium,

2020-08-21

5/5

yves_sempoux,

2020-08-21

5/5

oleksandratul,

2020-08-21

5/5

chmoritz,

2020-08-21

4/5

deltaskull1997,

2020-08-21

We learned a lot of new vocabulary but it's a bit too hard for beginners. Anyway, we get a lot of knowledge from this class.

4/5

paulinahelena,

2020-08-21

5/5

nuraininovianty,

2020-08-21

Excellent :))

5/5

kathryncassidy,

2020-08-21

5/5

6449054,

2020-08-21

4/5

akesari,

2020-08-21

5/5

rudy.van.westrop,

2020-08-21

5/5

jk.andrew,

2020-05-26

Thank you for another great lesson!

5/5

steven73,

2020-05-26

very inspiring Polish lesson thanks

5/5