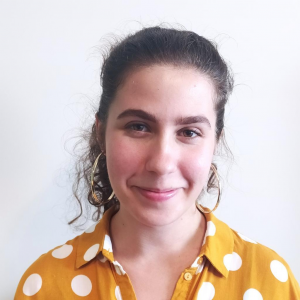 Julia Stempek
Completed online classes:
889
Author of exercises at e-polish.eu:
yes (19)
Issues invoices:
no
Price:
1 Class — 60 PLN/14 EUR

i


10 Lessons — 582 PLN/135 EUR

i


20 Lessons — 1140 PLN/266 EUR

i


30 Lessons — 1620 PLN/378 EUR

i



About me:
I can honestly say that teaching Polish is not only my job, but primarily it is my hobby. I have grown up surrounded by "POLSKI krok po kroku" books. When younger, I just watched them being written, then I tried to participate by testing the first versions of the exercises. While the "Junior" book was written, I helped as a teen slang expert.

I have been teaching Polish for three years - both online and in-class at the GLOSSA language school. I love teaching and running workshops - contacts with students give me great satisfaction. Apart from teaching Polish, I study Neuropsychology and Neurocognitive Science at the Jagiellonian University, and in my spare time, I read classical literature, watch movies and bake delicious cakes :)
Qualifications and experience:
Although I chose a different path of education, I still focus on progressing my teaching skills. I got my own experience by observing other teachers, running after-class workshops, and conducting lessons. I have been teaching actively for three years - I teach both online and in-class, individually and in groups. Despite that experience, I am still learning - I constantly look for new ways to diversify my lessons, I create new materials, I read teaching blogs, and of course, I listen to other teachers.
Methods of teaching
Although I speak English and Spanish, I teach only in Polish, as this method was taught to me by the introductory teachers. I am a believer in the communication method. Grammar has to comply with the real situations of everyday life. I care about the variety of materials - apart from textbooks, I use songs, film fragments, various language games, and my own materials.
Availability
Teacher is available on the dates listed below. They are already in your time zone which is: .
| | | | | | | | |
| --- | --- | --- | --- | --- | --- | --- | --- |
| | | | | | | | |
| 00:00–00:50 | | | | | | | |
| 01:00–01:50 | | | | | | | |
| 02:00–02:50 | | | | | | | |
| 03:00–03:50 | | | | | | | |
| 04:00–04:50 | | | | | | | |
| 05:00–05:50 | | | | | | | |
| 06:00–06:50 | | | | | | | |
| 07:00–07:50 | | | | | | | |
| 08:00–08:50 | | | | | | | |
| 09:00–09:50 | | | | | | | |
| 10:00–10:50 | | | | | | | |
| 11:00–11:50 | | | | | | | |
| 12:00–12:50 | | | | | | | |
| 13:00–13:50 | | | | | | | |
| 14:00–14:50 | | | | | | | |
| 15:00–15:50 | | | | | | | |
| 16:00–16:50 | | | | | | | |
| 17:00–17:50 | | | | | | | |
| 18:00–18:50 | | | | | | | |
| 19:00–19:50 | | | | | | | |
| 20:00–20:50 | | | | | | | |
| 21:00–21:50 | | | | | | | |
| 22:00–22:50 | | | | | | | |
| 23:00–23:50 | | | | | | | |

Available tutor - on this date you can arrange your class

1 lekcja = 50 minut
jtrules99,

2022-08-09

5/5

Valentinaj,

2022-08-09

5/5

jeremyjoshw,

2022-08-08

Uff, challenging but very good! I will practice these constructions :)
Thank you for a great lesson, Julia!

5/5

jtrules99,

2022-08-03

5/5

Valentinaj,

2022-08-02

5/5

jeremyjoshw,

2022-08-01

Thanks for a great lesson, Julia!

5/5

linebraga,

2022-07-29

5/5

Danielpolsk,

2022-07-22

5/5

jtrules99,

2022-07-20

5/5

Danielpolsk,

2022-07-20

5/5

Danielpolsk,

2022-07-15

5/5

Valentinaj,

2022-07-14

5/5

jtrules99,

2022-07-13

5/5

Danielpolsk,

2022-07-01

5/5

whitneyacravens,

2022-07-01

Julia was very talented and patient, and was able to quickly adjusted to my level and make the lesson interactive and engaging. Just super!

5/5

jeremyjoshw,

2022-06-30

Some great new words and constructions!

5/5

jtrules99,

2022-06-29

5/5

jeremyjoshw,

2022-06-27

Sorry - I was particularly rusty today :)

5/5

jtrules99,

2022-06-22

5/5

Danielpolsk,

2022-06-22

5/5

Danielpolsk,

2022-06-17

5/5

jtrules99,

2022-06-15

5/5

Danielpolsk,

2022-06-15

5/5

jeremyjoshw,

2022-06-09

Great fun! Thank you, Julia :)

5/5

Valentinaj,

2022-06-07

5/5

xixchen1993,

2022-06-02

super lekcja

5/5

jtrules99,

2022-06-01

5/5

Danielpolsk,

2022-06-01

5/5

jeremyjoshw,

2022-05-30

Really good and challenging!

5/5

Danielpolsk,

2022-05-26

5/5

jeremyjoshw,

2022-05-26

A great lesson! Thank you, Julia :)

5/5

jtrules99,

2022-05-25

5/5

Gabriele88,

2022-05-20

5/5

Danielpolsk,

2022-05-20

5/5

jeremyjoshw,

2022-05-19

Tough, but that's what new cases are :)
A good lesson, thanks Julia

5/5

maggie2,

2022-05-18

5/5

jtrules99,

2022-05-18

5/5

Danielpolsk,

2022-05-18

5/5

Valentinaj,

2022-05-17

5/5

jeremyjoshw,

2022-05-16

Wow, a tough lesson but good :)
Thanks, Julia!

5/5

Gabriele88,

2022-05-13

5/5

Valentinaj,

2022-05-13

It was hard but good!!!!

5/5

maggie2,

2022-05-12

jestem chory w covid,
i will be better next week,
thank zou very much , i enjoy the lesson

5/5

jtrules99,

2022-05-12

5/5

Danielpolsk,

2022-05-12

5/5

jeremyjoshw,

2022-05-12

Challenging but very enjoyable!

5/5

jtrules99,

2022-05-05

Julia is an excellent teacher. She is very patient but also very encouraging.

5/5

Gabriele88,

2022-04-29

5/5

Danielpolsk,

2022-04-29

5/5

jeremyjoshw,

2022-04-28

Challenging and fun. I'll continue practicing instrumental case :)
All the best, Julia :)

5/5

Gabriele88,

2022-04-27

5/5

jtrules99,

2022-04-25

We really enjoyed our lesson with Julia.

5/5

Danielpolsk,

2022-04-25

5/5

jeremyjoshw,

2022-04-25

Working hard on instrumental case

5/5

xixchen1993,

2022-04-23

5/5

Gabriele88,

2022-04-20

5/5

Danielpolsk,

2022-04-20

5/5

jeremyjoshw,

2022-04-14

Challenging but enjoyable (instrumental case)

5/5

Valentinaj,

2022-04-13

5/5

Danielpolsk,

2022-04-13

5/5

Danielpolsk,

2022-04-08

5/5

jeremyjoshw,

2022-04-07

A great lesson! Thank you, Julia :)

5/5

Valentinaj,

2022-04-05

5/5

Danielpolsk,

2022-04-05

5/5

jeremyjoshw,

2022-04-04

Some new constructions to practice :)

5/5

Danielpolsk,

2022-04-02

5/5

jeremyjoshw,

2022-03-31

A great session!

5/5

Gabriele88,

2022-03-30

5/5

vnothegger86,

2022-03-28

5/5

Danielpolsk,

2022-03-23

5/5

RedPoppy,

2022-03-22

5/5

Danielpolsk,

2022-03-21

5/5

jeremyjoshw,

2022-03-21

Some great vocabulary, esp. adjectives, which will be very useful. Now I just need to remember them :)

5/5

sunny_sky,

2022-03-19

5/5

Valentinaj,

2022-03-18

5/5

jeremyjoshw,

2022-03-17

Quite challenging. I'll be continuing to work on my vocabulary and noun and adjective forms.

5/5

Danielpolsk,

2022-03-16

5/5

Danielpolsk,

2022-03-14

5/5

jeremyjoshw,

2022-03-14

I'm navigating the exercises better (I'm not so lost) but my vocab is letting me down, so will concentrate on this and practice categorising words into masculine, feminine, and neuter.

Thanks for a great lesson, Julia!
~ Jeremy

5/5

jeremyjoshw,

2022-03-10

Excellent - I'll be working on vocabulary and gender of nouns

5/5

Valentinaj,

2022-03-09

5/5

jeremyjoshw,

2022-03-07

The perfect level of difficulty. I was certainly challenged, but not overwhelmed and Julia helped me pick myself up when I 'fell down'.
Many thanks :)

5/5

Danielpolsk,

2022-03-05

5/5

Valentinaj,

2022-03-03

5/5

xixchen1993,

2022-03-02

5/5

Danielpolsk,

2022-02-28

5/5

Danielpolsk,

2022-02-25

5/5

tonton_lenin,

2022-02-24

Teacher explained me the expressions I wanted to understand.

5/5

Valentinaj,

2022-02-23

I like when I have to create full sentences and force myself to speak and communicate instead of just completing words. Today was a good mix of both :)

5/5

RedPoppy,

2022-02-22

5/5

sunny_sky,

2022-02-15

5/5

Melusine,

2022-02-11

5/5

Danielpolsk,

2022-02-10

5/5

Danielpolsk,

2022-02-08

5/5

Valentinaj,

2022-02-02

I like having to make the phrases with the two words

5/5

sunny_sky,

2022-01-31

5/5

Danielpolsk,

2022-01-31

5/5

xixchen1993,

2022-01-29

5/5

hermann,

2022-01-28

5/5

tibor_bodnar,

2022-01-28

Thank you for the lesston. It was great to go through what I have learned in the online course so far and practice that with you.

5/5

Danielpolsk,

2022-01-27

5/5

Valentinaj,

2022-01-26

5/5

Danielpolsk,

2022-01-25

5/5

Valentinaj,

2022-01-19

5/5

Danielpolsk,

2022-01-19

5/5

hermann,

2022-01-18

5/5

sunny_sky,

2022-01-15

5/5

xixchen1993,

2022-01-12

5/5

Valentinaj,

2022-01-05

5/5

sunny_sky,

2022-01-03

5/5

sunny_sky,

2021-12-29

5/5

sgrabberg,

2021-12-22

Wspaniale spędzony czas z nową przyjaciółką przez ostatni rok! Dziękuję Julio!

5/5

tomwoj,

2021-12-21

Dziękuje bardzo :)

5/5

sunny_sky,

2021-12-20

5/5

sgrabberg,

2021-12-15

Fantastyczna lekcja Dziękuję Julii!

5/5

sunny_sky,

2021-12-13

5/5

sgrabberg,

2021-12-09

Very good lesson!

5/5

sgrabberg,

2021-12-08

Julia jest bardzo dobrą korepetytorką. Jest miła, cierpliwa i pomocna w nauczaniu.

5/5

sunny_sky,

2021-12-01

5/5

sgrabberg,

2021-11-24

Bardzo dobrze lekcja! Dziękuję!

5/5

sunny_sky,

2021-11-22

5/5

sgrabberg,

2021-11-17

Jeden z najlepszych! Dziękuję Ci!

5/5

Valentinaj,

2021-11-17

Great lesson. I felt like I am actually making progress :)

5/5

sunny_sky,

2021-11-15

5/5

xixchen1993,

2021-11-13

5/5

Valentinaj,

2021-11-10

5/5

soniauribe,

2021-11-05

Bardzo dobra pierwsza klasa.

5/5

sunny_sky,

2021-11-04

5/5

sgrabberg,

2021-11-03

Świetna lekcja!

5/5

Polina91,

2021-11-02

5/5

sgrabberg,

2021-10-27

Dzięki za wspaniałą lekcje.

5/5

xixchen1993,

2021-10-23

5/5

Valentinaj,

2021-10-22

5/5

sgrabberg,

2021-10-20

Bardzo dobrze lekcja!

5/5

Danielpolsk,

2021-10-20

5/5

Danielpolsk,

2021-10-18

5/5

Danielpolsk,

2021-10-14

5/5

sgrabberg,

2021-10-13

Świetnie!

5/5

Valentinaj,

2021-10-13

5/5

RedPoppy,

2021-10-12

5/5

Danielpolsk,

2021-10-11

5/5

Danielpolsk,

2021-10-08

5/5

Valentinaj,

2021-10-06

5/5

Danielpolsk,

2021-10-06

5/5

Danielpolsk,

2021-10-04

5/5

Valentinaj,

2021-09-29

5/5

xixchen1993,

2021-09-25

Bravo super lekcja

5/5

Valentinaj,

2021-09-22

5/5

Danielpolsk,

2021-09-20

5/5

Danielpolsk,

2021-09-16

5/5

sgrabberg,

2021-09-15

Zabawa!

5/5

Valentinaj,

2021-09-15

5/5

Danielpolsk,

2021-09-14

5/5

sgrabberg,

2021-09-13

Dziękuję za wspaniała lekcje.

5/5

Danielpolsk,

2021-09-13

5/5

xixchen1993,

2021-09-11

Super lekcja

5/5

Urszulka_Swiest,

2021-09-10

Excellent lesson!

5/5

sgrabberg,

2021-09-09

Fajne lekcje!

5/5

Valentinaj,

2021-09-08

5/5

Danielpolsk,

2021-09-08

5/5

Danielpolsk,

2021-09-06

5/5

xixchen1993,

2021-09-04

Ssuper lekcja

5/5

sgrabberg,

2021-09-03

Good revision.

5/5

Danielpolsk,

2021-09-03

5/5

sgrabberg,

2021-09-02

Good revision!

5/5

sgrabberg,

2021-07-29

Świetna lekcja

5/5

Danielpolsk,

2021-07-28

5/5

sgrabberg,

2021-07-27

Bardzo dobra lekcja.

5/5

Danielpolsk,

2021-07-26

5/5

Danielpolsk,

2021-07-24

5/5

xixchen1993,

2021-07-24

Super!

5/5

sgrabberg,

2021-07-22

Dobra lekcja!

5/5

Danielpolsk,

2021-07-22

5/5

sgrabberg,

2021-07-20

Good lekcja.

5/5

sgrabberg,

2021-07-15

Very good lesson.

5/5

RedPoppy,

2021-07-13

Excellent class despite the internet problems we were having.

4/5

Danielpolsk,

2021-07-03

5/5

sgrabberg,

2021-07-01

Difficult lesson.

5/5

RedPoppy,

2021-07-01

5/5

Urszulka_Swiest,

2021-07-01

Super!! Very good class, Julia is a great teacher :)

5/5

sgrabberg,

2021-06-29

Bardzo dobra lekcja.

5/5

sgrabberg,

2021-06-24

Very good lesson!

5/5

sgrabberg,

2021-06-22

Julia is a patient and thorough nauczycielka.

5/5

RedPoppy,

2021-06-22

5/5

sgrabberg,

2021-06-17

Bardzo dobrze lekcja! Dziękuję!

5/5

MikeDewis,

2021-06-16

Brilliant!

5/5

sgrabberg,

2021-06-15

Bardzo dobrze lekcja! Dziękuję!

5/5

RedPoppy,

2021-06-15

5/5

Valentinaj,

2021-06-11

5/5

sgrabberg,

2021-06-10

Bardzo dobrze lekcja! Dziękuję!

5/5

sgrabberg,

2021-06-08

Bardzo dobrze lekcja! Dziękuję!

5/5

RedPoppy,

2021-06-08

5/5

sgrabberg,

2021-06-04

Julia is a patient and thoughtful tutor. I enjoy my lessons very much!

5/5

Valentinaj,

2021-06-02

5/5

MikeDewis,

2021-06-02

Brilliant!

5/5

sgrabberg,

2021-06-01

Bardzo dobrze lekcja! Dziękuję!

5/5

sgrabberg,

2021-05-28

Rozdział Osiem to jedzenie i zabawa!

5/5

sgrabberg,

2021-05-25

Julia jest bardzo dobrą nauczycielką.

5/5

sgrabberg,

2021-05-21

Great lesson! Dziękuję!

5/5

Valentinaj,

2021-05-21

5/5

sgrabberg,

2021-05-18

A very good lesson! I am looking forward to having more lessons with Julia. I am enjoying learning Polish with Julia.

5/5

Valentinaj,

2021-05-12

Iść, chodzić, jechać, jeździć sa trudne. Lets practice more :)

5/5

sgrabberg,

2021-05-11

Bardzo dobra lekcja! Dziękuję!

5/5

sgrabberg,

2021-05-07

I enjoyed the lesson and I always learn from Julia.

5/5

sgrabberg,

2021-05-04

Julia is a very patient tutor. I learn alot during our lessons.

5/5

sgrabberg,

2021-04-30

I am very pleased with Julia's tutoring. It is very valuable.

5/5

Valentinaj,

2021-04-28

It was a hard lesson but I liked it. I feel that I understand a lot more although it still takes me time to think what I want to say.

5/5

sgrabberg,

2021-04-27

A very good lesson.

5/5

sgrabberg,

2021-04-23

Great lesson. Dziękuję

5/5

Danielpolsk,

2021-04-23

5/5

Valentinaj,

2021-04-21

Good lesson :)

5/5

Danielpolsk,

2021-04-20

5/5

sgrabberg,

2021-04-16

good, thorough lesson.
Dzieńkuję

5/5

sgrabberg,

2021-04-13

Very insteresting lesson.

5/5

dmitrolazeb,

2021-04-08

5/5

Danielpolsk,

2021-03-31

5/5

Valentinaj,

2021-03-24

Good class!

5/5

Danielpolsk,

2021-03-23

5/5

Valentinaj,

2021-03-19

5/5

Danielpolsk,

2021-03-16

5/5

Danielpolsk,

2021-03-11

5/5

Valentinaj,

2021-03-10

Julia is amazing and I think I have learned a lot. However, I am kind of tired of food..... I know I still get things wrong but I am wondering if we can change food for something else for a while....

4/5

Valentinaj,

2021-03-03

5/5

Danielpolsk,

2021-03-03

5/5

Danielpolsk,

2021-02-26

5/5

Danielpolsk,

2021-02-18

5/5

Danielpolsk,

2021-02-16

5/5

Danielpolsk,

2021-02-04

5/5

Valentinaj,

2021-02-03

Very good reminder of mianownik, narzędnik and biernik.
Thank you!

5/5

Danielpolsk,

2021-02-02

5/5

Danielpolsk,

2021-01-30

5/5

Danielpolsk,

2021-01-26

5/5

Danielpolsk,

2021-01-22

5/5

Valentinaj,

2021-01-20

I liked the lesson. Very engaging. It was good to remember all the basis.

5/5

Danielpolsk,

2021-01-20

5/5

Danielpolsk,

2021-01-15

5/5

Danielpolsk,

2021-01-13

5/5

Danielpolsk,

2021-01-11

5/5

liriam,

2020-12-08

4/5

rudy.van.westrop,

2020-12-04

Droga Julio,

Bardzo dziękuję za cierpliwość i zrozumienie.

Z poważaniem,
Rudy

5/5

rudy.van.westrop,

2020-12-03

Śniadania i kolacje po polsku to nie problem, bo często jem w hotelu czy restauracji w Polsce.

Kiedy mieszkałem w Katowicach, robiłem zakupy w supermarkecie lub w Żabce i płaciłem telefonem ;-)

5/5

rudy.van.westrop,

2020-12-02

Jestem "głuchy" na polskie numery ... i płacę za wszystko moją komórkę ;-)
Nie wiem co to jest, ale zapominam o polskich numerach i polskich nazwach dni i miesięcy.

5/5

rudy.van.westrop,

2020-12-01

5/5

solatium,

2020-11-30

I recommend it, very prepared and friendly lessons!

5/5

Uladzimir_T,

2020-11-30

5/5

rudy.van.westrop,

2020-11-30

5/5

nstddkn,

2020-11-27

5/5

KarinaSkvarnik,

2020-11-27

5/5

rudy.van.westrop,

2020-11-26

5/5

nstddkn,

2020-11-25

5/5

aptixe,

2020-11-25

5/5

rudy.van.westrop,

2020-11-25

Your teacher hasn't assigned you any homework.

5/5

rudy.van.westrop,

2020-11-24

"Your teacher hasn't assigned you any homework."

5/5

rudy.van.westrop,

2020-11-23

5/5

maisiegreen,

2020-11-21

Thank you very much!

5/5

nstddkn,

2020-11-20

5/5

KarinaSkvarnik,

2020-11-20

5/5

aptixe,

2020-11-20

5/5

nstddkn,

2020-11-18

5/5

KarinaSkvarnik,

2020-11-18

5/5

aptixe,

2020-11-18

5/5

rafael.tsulaya,

2020-11-13

5/5

nstddkn,

2020-11-13

5/5

aptixe,

2020-11-13

5/5

elizaveta.koste,

2020-11-13

5/5

alex.lazarew,

2020-11-13

5/5

_bliss_wind_,

2020-11-13

5/5

Mirrowel,

2020-11-13

5/5

Polina91,

2020-11-13

5/5

Akaliada,

2020-11-13

5/5

vk81092,

2020-11-13

5/5

Kuzmina_mariya,

2020-11-13

5/5

Nata_Kostina_1,

2020-11-12

Nice lesson with a nice teacher :)

5/5

Mirrowel,

2020-11-06

5/5

Kuzmina_mariya,

2020-11-06

5/5

Polina91,

2020-11-06

5/5

vk81092,

2020-11-06

5/5

_bliss_wind_,

2020-11-06

5/5

Akaliada,

2020-11-06

5/5

nayazhdan,

2020-11-05

5/5

Kosmolow,

2020-11-05

5/5

nayazhdan,

2020-11-02

5/5

AlexXT,

2020-09-08

5/5

Kirush4,

2020-09-08

5/5

AlexXT,

2020-09-03

5/5

AlexXT,

2020-09-01

5/5

alinamulik,

2020-08-27

5/5

AlexXT,

2020-08-27

5/5

alinamulik,

2020-08-25

5/5

AlexXT,

2020-08-25

5/5

solatium,

2020-08-21

5/5

yves_sempoux,

2020-08-21

5/5

oleksandratul,

2020-08-21

5/5

chmoritz,

2020-08-21

4/5

deltaskull1997,

2020-08-21

We learned a lot of new vocabulary but it's a bit too hard for beginners. Anyway, we get a lot of knowledge from this class.

4/5

paulinahelena,

2020-08-21

5/5

nuraininovianty,

2020-08-21

Excellent :))

5/5

kathryncassidy,

2020-08-21

5/5

6449054,

2020-08-21

4/5

akesari,

2020-08-21

5/5

rudy.van.westrop,

2020-08-21

5/5

jk.andrew,

2020-05-26

Thank you for another great lesson!

5/5

steven73,

2020-05-26

very inspiring Polish lesson thanks

5/5