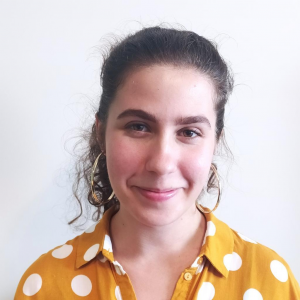 Julia Stempek
Completed online classes:
440
Author of exercises at e-polish.eu:
yes (19)
Issues invoices:
no
Price:
1 Class — 12 EUR/50 PLN

i


10 Lessons — 102 EUR/425 PLN

i


20 Lessons — 192 EUR/800 PLN

i


30 Lessons — 360 EUR/1500 PLN

i



About me:
Although I'm not a Polish language teacher by profession, I have grown surrounded by "POLSKI krok po kroku" books. When younger, I just watched them being written, after I tried to participate by testing the first versions of the exercises. While the "Junior" book was written, I helped as a teen slang expert. Apart from studying neuropsychology, a year ago I began to prepare for teaching Polish. Since that time, I regularly run after class workshops for foreigners, I conducted my first classes, both in class and online. And what's most important, I have a lot of enthusiasm and energy 😊
Qualifications and experience:
I'm a neuropsychology student who is passionate about teaching Polish. Although I chose a different path of education, I still want to progress my teaching skills. I try to get my own experience by observing other teachers, running after class workshops and conducting individual lessons. I use the knowledge and experience of others, to find my path and create my private database of language materials. So far, I have taught classes at the "beginner", A1 and A2 levels, but I would also like to undertake higher level conversations.
Methods of teaching
Although I speak English and Spanish, I teach only in Polish, as this method was taught to me by the introductory teachers. I am a believer in the communication method. Grammar has to comply with the real situations of everyday life. I care about the variety of materials - apart from textbooks, I use songs, film fragments, various language games, and my own materials.
Availability
Teacher is available on the dates listed below. They are already in your time zone which is: .
| | | | | | | | |
| --- | --- | --- | --- | --- | --- | --- | --- |
| | | | | | | | |
| 00:00–00:50 | | | | | | | |
| 01:00–01:50 | | | | | | | |
| 02:00–02:50 | | | | | | | |
| 03:00–03:50 | | | | | | | |
| 04:00–04:50 | | | | | | | |
| 05:00–05:50 | | | | | | | |
| 06:00–06:50 | | | | | | | |
| 07:00–07:50 | | | | | | | |
| 08:00–08:50 | | | | | | | |
| 09:00–09:50 | | | | | | | |
| 10:00–10:50 | | | | | | | |
| 11:00–11:50 | | | | | | | |
| 12:00–12:50 | | | | | | | |
| 13:00–13:50 | | | | | | | |
| 14:00–14:50 | | | | | | | |
| 15:00–15:50 | | | | | | | |
| 16:00–16:50 | | | | | | | |
| 17:00–17:50 | | | | | | | |
| 18:00–18:50 | | | | | | | |
| 19:00–19:50 | | | | | | | |
| 20:00–20:50 | | | | | | | |
| 21:00–21:50 | | | | | | | |
| 22:00–22:50 | | | | | | | |
| 23:00–23:50 | | | | | | | |

Available tutor - on this date you can arrange your class

1 lekcja = 50 minut
Valentinaj,

2021-09-22

5/5

Danielpolsk,

2021-09-20

5/5

Danielpolsk,

2021-09-16

5/5

sgrabberg,

2021-09-15

Zabawa!

5/5

Valentinaj,

2021-09-15

5/5

Danielpolsk,

2021-09-14

5/5

sgrabberg,

2021-09-13

Dziękuję za wspaniała lekcje.

5/5

Danielpolsk,

2021-09-13

5/5

xixchen1993,

2021-09-11

Super lekcja

5/5

Urszulka_Swiest,

2021-09-10

Excellent lesson!

5/5

sgrabberg,

2021-09-09

Fajne lekcje!

5/5

Valentinaj,

2021-09-08

5/5

Danielpolsk,

2021-09-08

5/5

Danielpolsk,

2021-09-06

5/5

xixchen1993,

2021-09-04

Ssuper lekcja

5/5

sgrabberg,

2021-09-03

Good revision.

5/5

Danielpolsk,

2021-09-03

5/5

sgrabberg,

2021-09-02

Good revision!

5/5

sgrabberg,

2021-07-29

Świetna lekcja

5/5

Danielpolsk,

2021-07-28

5/5

sgrabberg,

2021-07-27

Bardzo dobra lekcja.

5/5

Danielpolsk,

2021-07-26

5/5

Danielpolsk,

2021-07-24

5/5

xixchen1993,

2021-07-24

Super!

5/5

sgrabberg,

2021-07-22

Dobra lekcja!

5/5

Danielpolsk,

2021-07-22

5/5

sgrabberg,

2021-07-20

Good lekcja.

5/5

sgrabberg,

2021-07-15

Very good lesson.

5/5

RedPoppy,

2021-07-13

Excellent class despite the internet problems we were having.

4/5

Danielpolsk,

2021-07-03

5/5

sgrabberg,

2021-07-01

Difficult lesson.

5/5

RedPoppy,

2021-07-01

5/5

Urszulka_Swiest,

2021-07-01

Super!! Very good class, Julia is a great teacher :)

5/5

sgrabberg,

2021-06-29

Bardzo dobra lekcja.

5/5

sgrabberg,

2021-06-24

Very good lesson!

5/5

sgrabberg,

2021-06-22

Julia is a patient and thorough nauczycielka.

5/5

RedPoppy,

2021-06-22

5/5

sgrabberg,

2021-06-17

Bardzo dobrze lekcja! Dziękuję!

5/5

MikeDewis,

2021-06-16

Brilliant!

5/5

sgrabberg,

2021-06-15

Bardzo dobrze lekcja! Dziękuję!

5/5

RedPoppy,

2021-06-15

5/5

Valentinaj,

2021-06-11

5/5

sgrabberg,

2021-06-10

Bardzo dobrze lekcja! Dziękuję!

5/5

sgrabberg,

2021-06-08

Bardzo dobrze lekcja! Dziękuję!

5/5

RedPoppy,

2021-06-08

5/5

sgrabberg,

2021-06-04

Julia is a patient and thoughtful tutor. I enjoy my lessons very much!

5/5

Valentinaj,

2021-06-02

5/5

MikeDewis,

2021-06-02

Brilliant!

5/5

sgrabberg,

2021-06-01

Bardzo dobrze lekcja! Dziękuję!

5/5

sgrabberg,

2021-05-28

Rozdział Osiem to jedzenie i zabawa!

5/5

sgrabberg,

2021-05-25

Julia jest bardzo dobrą nauczycielką.

5/5

sgrabberg,

2021-05-21

Great lesson! Dziękuję!

5/5

Valentinaj,

2021-05-21

5/5

sgrabberg,

2021-05-18

A very good lesson! I am looking forward to having more lessons with Julia. I am enjoying learning Polish with Julia.

5/5

Valentinaj,

2021-05-12

Iść, chodzić, jechać, jeździć sa trudne. Lets practice more :)

5/5

sgrabberg,

2021-05-11

Bardzo dobra lekcja! Dziękuję!

5/5

sgrabberg,

2021-05-07

I enjoyed the lesson and I always learn from Julia.

5/5

sgrabberg,

2021-05-04

Julia is a very patient tutor. I learn alot during our lessons.

5/5

sgrabberg,

2021-04-30

I am very pleased with Julia's tutoring. It is very valuable.

5/5

Valentinaj,

2021-04-28

It was a hard lesson but I liked it. I feel that I understand a lot more although it still takes me time to think what I want to say.

5/5

sgrabberg,

2021-04-27

A very good lesson.

5/5

sgrabberg,

2021-04-23

Great lesson. Dziękuję

5/5

Danielpolsk,

2021-04-23

5/5

Valentinaj,

2021-04-21

Good lesson :)

5/5

Danielpolsk,

2021-04-20

5/5

sgrabberg,

2021-04-16

good, thorough lesson.
Dzieńkuję

5/5

sgrabberg,

2021-04-13

Very insteresting lesson.

5/5

dmitrolazeb,

2021-04-08

5/5

Danielpolsk,

2021-03-31

5/5

Valentinaj,

2021-03-24

Good class!

5/5

Danielpolsk,

2021-03-23

5/5

Valentinaj,

2021-03-19

5/5

Danielpolsk,

2021-03-16

5/5

Danielpolsk,

2021-03-11

5/5

Valentinaj,

2021-03-10

Julia is amazing and I think I have learned a lot. However, I am kind of tired of food..... I know I still get things wrong but I am wondering if we can change food for something else for a while....

4/5

Valentinaj,

2021-03-03

5/5

Danielpolsk,

2021-03-03

5/5

Danielpolsk,

2021-02-26

5/5

Danielpolsk,

2021-02-18

5/5

Danielpolsk,

2021-02-16

5/5

Danielpolsk,

2021-02-04

5/5

Valentinaj,

2021-02-03

Very good reminder of mianownik, narzędnik and biernik.
Thank you!

5/5

Danielpolsk,

2021-02-02

5/5

Danielpolsk,

2021-01-30

5/5

Danielpolsk,

2021-01-26

5/5

Danielpolsk,

2021-01-22

5/5

Valentinaj,

2021-01-20

I liked the lesson. Very engaging. It was good to remember all the basis.

5/5

Danielpolsk,

2021-01-20

5/5

Danielpolsk,

2021-01-15

5/5

Danielpolsk,

2021-01-13

5/5

Danielpolsk,

2021-01-11

5/5

liriam,

2020-12-08

4/5

rudy.van.westrop,

2020-12-04

Droga Julio,

Bardzo dziękuję za cierpliwość i zrozumienie.

Z poważaniem,
Rudy

5/5

rudy.van.westrop,

2020-12-03

Śniadania i kolacje po polsku to nie problem, bo często jem w hotelu czy restauracji w Polsce.

Kiedy mieszkałem w Katowicach, robiłem zakupy w supermarkecie lub w Żabce i płaciłem telefonem ;-)

5/5

rudy.van.westrop,

2020-12-02

Jestem "głuchy" na polskie numery ... i płacę za wszystko moją komórkę ;-)
Nie wiem co to jest, ale zapominam o polskich numerach i polskich nazwach dni i miesięcy.

5/5

rudy.van.westrop,

2020-12-01

5/5

solatium,

2020-11-30

I recommend it, very prepared and friendly lessons!

5/5

Uladzimir_T,

2020-11-30

5/5

rudy.van.westrop,

2020-11-30

5/5

nstddkn,

2020-11-27

5/5

KarinaSkvarnik,

2020-11-27

5/5

rudy.van.westrop,

2020-11-26

5/5

nstddkn,

2020-11-25

5/5

aptixe,

2020-11-25

5/5

rudy.van.westrop,

2020-11-25

Your teacher hasn't assigned you any homework.

5/5

rudy.van.westrop,

2020-11-24

"Your teacher hasn't assigned you any homework."

5/5

rudy.van.westrop,

2020-11-23

5/5

maisiegreen,

2020-11-21

Thank you very much!

5/5

nstddkn,

2020-11-20

5/5

KarinaSkvarnik,

2020-11-20

5/5

aptixe,

2020-11-20

5/5

nstddkn,

2020-11-18

5/5

KarinaSkvarnik,

2020-11-18

5/5

aptixe,

2020-11-18

5/5

rafael.tsulaya,

2020-11-13

5/5

nstddkn,

2020-11-13

5/5

aptixe,

2020-11-13

5/5

elizaveta.koste,

2020-11-13

5/5

alex.lazarew,

2020-11-13

5/5

_bliss_wind_,

2020-11-13

5/5

Mirrowel,

2020-11-13

5/5

Polina91,

2020-11-13

5/5

Akaliada,

2020-11-13

5/5

vk81092,

2020-11-13

5/5

Kuzmina_mariya,

2020-11-13

5/5

Nata_Kostina_1,

2020-11-12

Nice lesson with a nice teacher :)

5/5

Mirrowel,

2020-11-06

5/5

Kuzmina_mariya,

2020-11-06

5/5

Polina91,

2020-11-06

5/5

vk81092,

2020-11-06

5/5

_bliss_wind_,

2020-11-06

5/5

Akaliada,

2020-11-06

5/5

nayazhdan,

2020-11-05

5/5

Kosmolow,

2020-11-05

5/5

nayazhdan,

2020-11-02

5/5

AlexXT,

2020-09-08

5/5

Kirush4,

2020-09-08

5/5

AlexXT,

2020-09-03

5/5

AlexXT,

2020-09-01

5/5

alinamulik,

2020-08-27

5/5

AlexXT,

2020-08-27

5/5

alinamulik,

2020-08-25

5/5

AlexXT,

2020-08-25

5/5

solatium,

2020-08-21

5/5

yves_sempoux,

2020-08-21

5/5

oleksandratul,

2020-08-21

5/5

chmoritz,

2020-08-21

4/5

deltaskull1997,

2020-08-21

We learned a lot of new vocabulary but it's a bit too hard for beginners. Anyway, we get a lot of knowledge from this class.

4/5

paulinahelena,

2020-08-21

5/5

nuraininovianty,

2020-08-21

Excellent :))

5/5

kathryncassidy,

2020-08-21

5/5

6449054,

2020-08-21

4/5

akesari,

2020-08-21

5/5

rudy.van.westrop,

2020-08-21

5/5

jk.andrew,

2020-05-26

Thank you for another great lesson!

5/5

steven73,

2020-05-26

very inspiring Polish lesson thanks

5/5