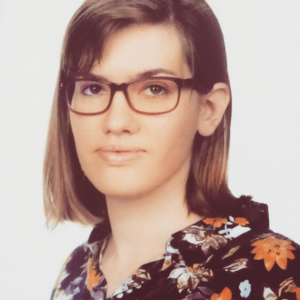 Klaudia Raflik
Przeprowadzone lekcje online:
0
Autor ćwiczeń w e-polish.eu:
NIE
Wystawia rachunki:
nie
Ціна:
1 lekcja — 10 EUR/50 PLN
10 lekcji — 98 EUR/490 PLN
20 lekcji — 194 EUR/970 PLN
30 lekcji — 285 EUR/1425 PLN

O mnie
I'm Klaudia. I'm 24 and last year loved teaching Polish. Why? I found a great language school where I wanted to learn Spanish. By the way I became the Polish teacher for Erasmus students. I spent with them almost one year, teaching them, talking to them (not only during classes) and meeting them after work. It was really amazing, international and multicultural time which I miss a lot. I love my students. I love Polish. Just be my student to found out for yourself :)
Kwalifikacje i doświadczenie
I'm a Polish teacher who graduated from Adam Mickiewicz University in Poznan.
I studied the Polish philology and finished some courses of Polish for foreigners.

I teach at two language schools and have some online students who like my classes.
Metody nauczania
I try to conduct lessons as the students want. If you prefer teaching by your programme (what you want to learn, which topics you are interested in) – just let me know. I'm open to suggests. Remember to smile talking to me, because smile is the best way to communicate online :)

My general methodology is to teach vocabulary, grammar and communication. These three filars are the most important issues during learning a new language. If you don't know vocabulary, you can't build any statement; without grammar you can't understand the sense of many different forms and how to use them to reach higher level and communicate fluently. Please note that before every class you are expected to revise material from last week to practise it properly during next class.

Apart from being a teacher, I'm primarily learner, so don't worry – classes with me aren't full of boring rules, because I teach the way I'd like to be taught. I use different materials (include these created by myself) to make lessons more interesting and funny.
Dyspozycyjność
Lektor dostępny jest w podanych poniżej terminach, które zostały wyświetlone dla Twojej strefy czasowej tj. .
| | | | | | | | |
| --- | --- | --- | --- | --- | --- | --- | --- |
| | | | | | | | |
| 0:00–0:50 | | | | | | | |
| 1:00–1:50 | | | | | | | |
| 2:00–2:50 | | | | | | | |
| 3:00–3:50 | | | | | | | |
| 4:00–4:50 | | | | | | | |
| 5:00–5:50 | | | | | | | |
| 6:00–6:50 | | | | | | | |
| 7:00–7:50 | | | | | | | |
| 8:00–8:50 | | | | | | | |
| 9:00–9:50 | | | | | | | |
| 10:00–10:50 | | | | | | | |
| 11:00–11:50 | | | | | | | |
| 12:00–12:50 | | | | | | | |
| 13:00–13:50 | | | | | | | |
| 14:00–14:50 | | | | | | | |
| 15:00–15:50 | | | | | | | |
| 16:00–16:50 | | | | | | | |
| 17:00–17:50 | | | | | | | |
| 18:00–18:50 | | | | | | | |
| 19:00–19:50 | | | | | | | |
| 20:00–20:50 | | | | | | | |
| 21:00–21:50 | | | | | | | |
| 22:00–22:50 | | | | | | | |
| 23:00–23:50 | | | | | | | |

Lektor dostępny — w tym terminie możesz umówić się na lekcje

1 lekcja = 50 minut