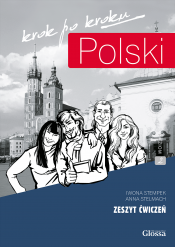 Authors: Iwona Stempek, Anna Stelmach
Type: CD, Exercise book
Target group: adults
Language: general
Level: A2, B1
Skills: listening comprehension, writing, vocabulary practice, speaking, reading, grammar practice, pronunciation practice
Publishing house: polish-courses.com
"Zeszyt ćwiczeń 2" is the next book from our coursebook and resource series on teaching and learning Polish as a foreign language. Each of 23 chapters consists of carefully chosen exercises which extend the material introduced in the coursebook ,,Polski, krok po kroku 2.'' The tasks help students to revise and/or refresh the grammar and lexis as well as facilitate further developing of all the language skills. Apart from grammatical exercises, there is a variety of new texts and dialogues based on the lexis already taught. The accompanying CD includes 127 recordings in the mp3 format. It is worth mentioning that the language on the CD is natural and contemporary as used by native speakers of Polish. The recordings could be an inspiring resource for any teacher of Polish as a foreign language who could design their own materials on the basis of the CD.

"Zeszyt ćwiczeń 2" is an extremely useful tool for teachers who could prepare interesting and coherent lessons, classroom tasks as well as could be use it for homework. All the tasks could be easily adapted to different levels and used with a mixed ability class in order to meet all the students' expectations. The tasks are varied according to the level of difficulty: crossword puzzles, diagrams, illustrations, simplified exercises, tapescripts and coursebook texts. Further practice will motivate both weaker and stronger learners who have the opportunity to extend lexis and gain the greater confidence to use Polish in everyday situations.

The purchase of workbook guarantees the access to the Internet platform e-polish.eu containing 300 online exercises. Teachers will appreciate a six-month access to the platform and its impressive plethora of exercises and tasks plus audio materials, teacher's book with practical tips, language games, grammar commentary and many tests.

Zobacz przykładową treść.
Customer opinions

milena24 (2014-02-07)

leader (2014-02-08)

eliza.grendel (2014-01-20)

marc.delaey (2014-11-06)

gref (2015-02-15)

mostnadziei@rambler.ru (2015-06-18)

hadel (2015-12-02)
Your opinion about the "Zeszyt ćwiczeń 2" coursebook