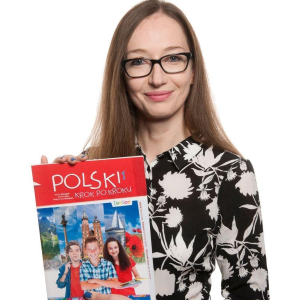 Paulina Kuc
Completed online classes:
1655
Author of exercises at e-polish.eu:
yes (1572)
School:
Tomasz Stempek GLOSSA
Issues invoices:
yes
Price:
1 Class — 130 PLN/28 EUR

i


10 Lessons — 1300 PLN/280 EUR

i


20 Lessons — 2600 PLN/560 EUR

i


30 Lessons — 3900 PLN/840 EUR

i



About me:
I have been a teacher of Polish as a foreign language for thirteen years now and I still like my job. ;) What I like most about being a teacher is the chance to have contact with people from all over the world. In the lesson I can meet them but I can also learn a lot about myself, my own language, Poland and Poles :-) After work I spend a lot of time with my family. I enjoy reading, watching movies and Netflix, eating, delicious things and relaxing :-)
Qualifications and experience:
I graduated from the Jagiellonian University in Polish Philology with specialisation in teaching Polish as a foreign language. I have been teaching Polish as a foreign language for thirteen years. I used to work in many private language schools, now I'm working in GLOSSA School of Foreign Languages. I am the author of "Polski krok po kroku. Junior" and also, I work as a trainer for Polish teachers.
Methods of teaching
I try to make my lessons interesting, funny and enjoyable but above all effective. The key thing is communication and that's why in the lesson we talk a lot! Obviously I don't forget about listening, reading and writing :-) The lessons always match student's needs!
Availability
Teacher is available on the dates listed below. They are already in your time zone which is: .
| | | | | | | | |
| --- | --- | --- | --- | --- | --- | --- | --- |
| | | | | | | | |
| 00:00–00:50 | | | | | | | |
| 01:00–01:50 | | | | | | | |
| 02:00–02:50 | | | | | | | |
| 03:00–03:50 | | | | | | | |
| 04:00–04:50 | | | | | | | |
| 05:00–05:50 | | | | | | | |
| 06:00–06:50 | | | | | | | |
| 07:00–07:50 | | | | | | | |
| 08:00–08:50 | | | | | | | |
| 09:00–09:50 | | | | | | | |
| 10:00–10:50 | | | | | | | |
| 11:00–11:50 | | | | | | | |
| 12:00–12:50 | | | | | | | |
| 13:00–13:50 | | | | | | | |
| 14:00–14:50 | | | | | | | |
| 15:00–15:50 | | | | | | | |
| 16:00–16:50 | | | | | | | |
| 17:00–17:50 | | | | | | | |
| 18:00–18:50 | | | | | | | |
| 19:00–19:50 | | | | | | | |
| 20:00–20:50 | | | | | | | |
| 21:00–21:50 | | | | | | | |
| 22:00–22:50 | | | | | | | |
| 23:00–23:50 | | | | | | | |

Available tutor - on this date you can arrange your class

1 lekcja = 50 minut
yves_sempoux,

2023-01-20

5/5

ayhankanal,

2023-01-17

5/5

yves_sempoux,

2023-01-13

5/5

ayhankanal,

2023-01-05

5/5

ayhankanal,

2023-01-03

5/5

ayhankanal,

2022-12-30

5/5

yves_sempoux,

2022-12-30

5/5

ayhankanal,

2022-12-28

5/5

ayhankanal,

2022-12-19

5/5

ayhankanal,

2022-12-16

5/5

yves_sempoux,

2022-12-16

5/5

ayhankanal,

2022-12-14

5/5

ayhankanal,

2022-12-08

5/5

Michael_MUC,

2022-12-08

bardzo dobze!!! :-)

5/5

ayhankanal,

2022-12-05

5/5

guing,

2022-11-22

5/5

vencenso,

2022-11-15

5/5

vencenso,

2022-11-08

5/5

ayhankanal,

2022-11-04

5/5

vencenso,

2022-11-03

5/5

ayhankanal,

2022-11-02

5/5

ayhankanal,

2022-10-31

5/5

vencenso,

2022-10-25

5/5

vencenso,

2022-10-18

5/5

ayhankanal,

2022-10-10

5/5

fcullinan,

2022-09-29

4/5

marina_yassenko,

2022-09-29

bardzo milo

5/5

ruediger,

2022-09-29

Paulina jak zawsze była wyjątkowa

5/5

Justin04,

2022-09-29

We were with A LOT of people to try this class.
In smaller groups it will be more engaging.
Paulina was a VERY nice, clear, not to fast speaking teacher who was super enthousiastic!

4/5

vencenso,

2022-09-27

5/5

ayhankanal,

2022-09-26

5/5

yves_sempoux,

2022-09-21

5/5

vencenso,

2022-09-20

5/5

ayhankanal,

2022-09-19

5/5

yves_sempoux,

2022-09-14

5/5

vencenso,

2022-09-13

5/5

yves_sempoux,

2022-09-07

5/5

vencenso,

2022-09-06

5/5

ayhankanal,

2022-09-05

5/5

ruediger,

2022-08-30

5/5

pwyp44,

2022-08-30

Cours très vivant.
Je me suis senti très rapidement à l'aise!
J'ai apprécié car nous avons évoqué des sujets de la vie de tous les jours.
Merci Paulina

5/5

vencenso,

2022-08-29

5/5

ayhankanal,

2022-08-29

5/5

ruediger,

2022-08-25

5/5

ayhankanal,

2022-08-22

5/5

ruediger,

2022-08-18

Podobało mi się.

5/5

ayhankanal,

2022-08-17

5/5

jianmengli,

2022-08-16

5/5

ayhankanal,

2022-08-12

5/5

vencenso,

2022-08-11

5/5

Michael_MUC,

2022-08-05

5/5

vencenso,

2022-08-03

5/5

vencenso,

2022-07-21

5/5

julia_paranic,

2022-07-08

5/5

julienlemee,

2022-07-07

Jest najlepsza!

5/5

julia_paranic,

2022-07-07

5/5

julia_paranic,

2022-07-04

5/5

Michael_MUC,

2022-07-01

5/5

julia_paranic,

2022-07-01

I deeply enjoy lessons with Paulina. She is a happy woman knowing and enjoying her subject. I could not have had a better teacher of Polish.

5/5

vencenso,

2022-06-30

5/5

yves_sempoux,

2022-06-30

5/5

vencenso,

2022-06-23

5/5

yves_sempoux,

2022-06-23

5/5

yves_sempoux,

2022-06-15

5/5

vencenso,

2022-06-02

5/5

yves_sempoux,

2022-06-02

5/5

yves_sempoux,

2022-06-02

5/5

ayhankanal,

2022-05-27

5/5

Michael_MUC,

2022-05-27

5/5

vencenso,

2022-05-26

5/5

yves_sempoux,

2022-05-25

5/5

yves_sempoux,

2022-05-25

5/5

ayhankanal,

2022-05-23

5/5

ayhankanal,

2022-05-20

5/5

Michael_MUC,

2022-05-20

Barzdo Dobze !

5/5

vencenso,

2022-05-19

5/5

yves_sempoux,

2022-05-18

5/5

yves_sempoux,

2022-05-18

5/5

ayhankanal,

2022-05-16

5/5

yves_sempoux,

2022-05-11

5/5

yves_sempoux,

2022-05-11

5/5

ayhankanal,

2022-05-09

5/5

ayhankanal,

2022-05-06

5/5

vencenso,

2022-05-05

5/5

yves_sempoux,

2022-05-04

5/5

yves_sempoux,

2022-05-04

5/5

ayhankanal,

2022-05-04

5/5

ayhankanal,

2022-04-29

5/5

yves_sempoux,

2022-04-27

5/5

yves_sempoux,

2022-04-27

5/5

ayhankanal,

2022-04-25

5/5

ayhankanal,

2022-04-22

5/5

vencenso,

2022-04-21

5/5

ayhankanal,

2022-04-19

5/5

ayhankanal,

2022-04-15

5/5

Michael_MUC,

2022-04-15

5/5

vencenso,

2022-04-14

5/5

ayhankanal,

2022-04-11

5/5

Michael_MUC,

2022-04-08

5/5

ayhankanal,

2022-04-08

5/5

vencenso,

2022-04-07

5/5

ayhankanal,

2022-04-06

5/5

ayhankanal,

2022-04-04

5/5

vencenso,

2022-03-31

5/5

frezehack2006,

2022-03-31

5/5

frezehack2006,

2022-03-30

5/5

letoleto737,

2022-03-30

5/5

frezehack2006,

2022-03-25

4/5

rusana.korotkih,

2022-03-25

cute and helpful : )

5/5

vencenso,

2022-03-23

5/5

ayhankanal,

2022-03-18

5/5

Michael_MUC,

2022-03-18

5/5

vencenso,

2022-03-17

5/5

ayhankanal,

2022-03-16

5/5

Michael_MUC,

2022-03-11

5/5

ayhankanal,

2022-03-10

5/5

BrigitteKat,

2022-03-04

5/5

vencenso,

2022-03-03

5/5

Michael_MUC,

2022-02-28

super :-)

5/5

vencenso,

2022-02-24

5/5

yves_sempoux,

2022-02-23

5/5

yves_sempoux,

2022-02-23

5/5

Michael_MUC,

2022-02-18

5/5

yves_sempoux,

2022-02-18

5/5

yves_sempoux,

2022-02-18

5/5

vencenso,

2022-02-17

5/5

Melusine,

2022-02-16

5/5

chmoritz,

2022-02-16

5/5

Michael_MUC,

2022-02-04

5/5

vencenso,

2022-02-03

5/5

julienlemee,

2022-02-03

jest najlepsza!

5/5

yves_sempoux,

2022-02-02

5/5

yves_sempoux,

2022-02-02

5/5

Gvidoro,

2022-02-01

Trzymajcie kciuki )

5/5

Michael_MUC,

2022-01-28

5/5

vencenso,

2022-01-27

5/5

Gvidoro,

2022-01-27

Bombowo )

5/5

Gvidoro,

2022-01-25

Bosko )

5/5

vencenso,

2022-01-20

5/5

yves_sempoux,

2022-01-19

5/5

yves_sempoux,

2022-01-19

5/5

vencenso,

2022-01-13

5/5

yves_sempoux,

2022-01-12

5/5

yves_sempoux,

2022-01-12

5/5

vencenso,

2022-01-03

5/5

vencenso,

2021-12-22

5/5

yves_sempoux,

2021-12-22

5/5

yves_sempoux,

2021-12-22

5/5

Michael_MUC,

2021-12-22

5/5

Michael_MUC,

2021-12-17

5/5

vencenso,

2021-12-16

5/5

yves_sempoux,

2021-12-15

5/5

yves_sempoux,

2021-12-15

5/5

JavierKetrzyn,

2021-12-13

5/5

Volodymyr1974,

2021-12-13

5/5

vencenso,

2021-12-09

5/5

Michael_MUC,

2021-12-03

5/5

vencenso,

2021-12-01

5/5

Michael_MUC,

2021-11-26

5/5

vencenso,

2021-11-25

5/5

julienlemee,

2021-11-25

zawsze idealne!

5/5

yves_sempoux,

2021-11-24

5/5

yves_sempoux,

2021-11-24

5/5

BrigitteKat,

2021-11-19

5/5

vencenso,

2021-11-18

5/5

Michael_MUC,

2021-11-12

5/5

vencenso,

2021-11-09

5/5

mtvinyuales,

2021-11-09

5/5

mtvinyuales,

2021-11-05

5/5

vencenso,

2021-11-04

5/5

mtvinyuales,

2021-10-29

5/5

vencenso,

2021-10-28

5/5

Michael_MUC,

2021-10-28

5/5

Michael_MUC,

2021-10-26

5/5

yves_sempoux,

2021-10-25

5/5

yves_sempoux,

2021-10-25

5/5

vencenso,

2021-10-21

Paulina jest fantastyczną nauczycielką, dzięki niej też trochę mówię po polsku, to prawdziwy cud!

5/5

mtvinyuales,

2021-10-21

5/5

yves_sempoux,

2021-10-18

5/5

yves_sempoux,

2021-10-18

5/5

BrigitteKat,

2021-10-18

5/5

vencenso,

2021-10-14

5/5

mtvinyuales,

2021-10-14

5/5

Viktar.Minsk,

2021-10-14

5/5

yves_sempoux,

2021-10-13

5/5

yves_sempoux,

2021-10-13

5/5

ClaraJoergens,

2021-10-12

5/5

Viktar.Minsk,

2021-10-08

5/5

vencenso,

2021-10-07

5/5

Michael_MUC,

2021-10-07

5/5

yves_sempoux,

2021-10-04

5/5

yves_sempoux,

2021-10-04

5/5

vencenso,

2021-09-30

5/5

yves_sempoux,

2021-09-27

5/5

yves_sempoux,

2021-09-27

5/5

vencenso,

2021-09-23

5/5

BrigitteKat,

2021-09-20

5/5

Gvidoro,

2021-09-17

Super )

5/5

vencenso,

2021-09-15

5/5

Gvidoro,

2021-09-14

5/5

awerkun,

2021-08-26

5/5

julienlemee,

2021-08-25

zawsze idealny

5/5

awerkun,

2021-08-24

5/5

BrigitteKat,

2021-08-23

5/5

awerkun,

2021-08-19

5/5

awerkun,

2021-08-18

5/5

julienlemee,

2021-08-17

idealny!

5/5

awerkun,

2021-08-17

5/5

julienlemee,

2021-08-09

super super!

5/5

julienlemee,

2021-08-03

super!

5/5

mtvinyuales,

2021-07-22

5/5

mtvinyuales,

2021-07-15

5/5

peterfriend,

2021-07-15

5/5

julienlemee,

2021-07-13

idealny!

5/5

mtvinyuales,

2021-07-08

5/5

julienlemee,

2021-07-06

idealny!

5/5

mtvinyuales,

2021-07-02

4/5

julienlemee,

2021-06-29

zawszy super!

5/5

mtvinyuales,

2021-06-25

5/5

awerkun,

2021-06-23

5/5

julienlemee,

2021-06-21

swietnie!

5/5

mtvinyuales,

2021-06-18

5/5

awerkun,

2021-06-18

5/5

awerkun,

2021-06-16

5/5

julienlemee,

2021-06-15

idealna !

5/5

awerkun,

2021-06-15

5/5

mtvinyuales,

2021-06-11

5/5

awerkun,

2021-06-10

5/5

BrigitteKat,

2021-06-09

5/5

julienlemee,

2021-06-08

idealny!

5/5

ClaraJoergens,

2021-06-02

5/5

mtvinyuales,

2021-05-31

5/5

julienlemee,

2021-05-31

jest najlepsza!

5/5

ClaraJoergens,

2021-05-27

5/5

mtvinyuales,

2021-05-27

5/5

julienlemee,

2021-05-24

idealny!

5/5

BrigitteKat,

2021-05-24

5/5

sonnms,

2021-05-21

5/5

sonnms,

2021-05-19

5/5

sonnms,

2021-05-18

5/5

sonnms,

2021-05-17

5/5

julienlemee,

2021-05-17

super!

5/5

ClaraJoergens,

2021-05-17

5/5

sonnms,

2021-05-14

5/5

ClaraJoergens,

2021-05-14

5/5

sonnms,

2021-05-13

5/5

sonnms,

2021-05-12

5/5

ClaraJoergens,

2021-05-11

5/5

sonnms,

2021-05-11

4/5

sonnms,

2021-05-10

5/5

julienlemee,

2021-05-10

idealny!

5/5

mtvinyuales,

2021-05-06

5/5

julienlemee,

2021-05-06

zawsze doskonały

5/5

ClaraJoergens,

2021-05-04

5/5

ClaraJoergens,

2021-04-30

5/5

mtvinyuales,

2021-04-29

5/5

ClaraJoergens,

2021-04-29

5/5

ClaraJoergens,

2021-04-28

5/5

ClaraJoergens,

2021-04-27

5/5

julienlemee,

2021-04-26

idealny!

5/5

mtvinyuales,

2021-04-22

5/5

ClaraJoergens,

2021-04-20

5/5

mtvinyuales,

2021-04-19

5/5

julienlemee,

2021-04-19

idealna lekcja

5/5

ClaraJoergens,

2021-04-12

5/5

julienlemee,

2021-04-12

zawsze idealny

5/5

mtvinyuales,

2021-04-09

5/5

ClaraJoergens,

2021-04-08

5/5

BrigitteKat,

2021-04-06

The lessons I've had from Paulina are educational and also fun. She takes time explaining the material and corrects you if, for example, you don't use the grammar properly. Because she's calm and patient, I dare to talk and make mistakes. I recommend taking lessons from her!

5/5

ClaraJoergens,

2021-04-01

5/5

mtvinyuales,

2021-03-26

5/5

bodo.zboralski,

2021-03-26

pory dnia

5/5

awerkun,

2021-03-25

5/5

bodo.zboralski,

2021-03-25

Ich bin nicht so sicher, ob ich alles richtig verstanden habe. Aber sie macht es sehr gut

5/5

bodo.zboralski,

2021-03-24

This is the first time we had some homework, and a very interesting one

5/5

bodo.zboralski,

2021-03-23

Ich habe sogar alles verstanden

4/5

awerkun,

2021-03-22

5/5

bodo.zboralski,

2021-03-22

I was a little surprized at first to find only two other people so we where all together 3 plus teacher and secondly that I was the only to speak English, the others spoke allready Polish. I am not so sure if this is good for me, I am still a little bit confused.

5/5

awerkun,

2021-03-18

4/5

mtvinyuales,

2021-03-18

5/5

awerkun,

2021-03-17

5/5

julienlemee,

2021-03-16

idealny jak zawsze!

5/5

ClaraJoergens,

2021-03-12

5/5

mtvinyuales,

2021-03-11

5/5

awerkun,

2021-03-10

5/5

awerkun,

2021-03-08

5/5

ClaraJoergens,

2021-03-08

5/5

ClaraJoergens,

2021-03-05

5/5

julienlemee,

2021-03-04

jest najlepsza!

5/5

mtvinyuales,

2021-03-04

5/5

giacomo.madrass,

2021-03-03

5/5

ClaraJoergens,

2021-03-02

5/5

ClaraJoergens,

2021-02-25

5/5

mtvinyuales,

2021-02-25

5/5

giacomo.madrass,

2021-02-24

5/5

ClaraJoergens,

2021-02-22

5/5

mtvinyuales,

2021-02-18

5/5

ClaraJoergens,

2021-02-18

5/5

giacomo.madrass,

2021-02-17

5/5

mtvinyuales,

2021-02-16

5/5

ClaraJoergens,

2021-02-15

5/5

ruediger,

2021-02-03

5/5

mtvinyuales,

2021-02-01

5/5

mtvinyuales,

2021-01-28

5/5

giacomo.madrass,

2021-01-28

5/5

mtvinyuales,

2021-01-26

5/5

mtvinyuales,

2021-01-21

5/5

giacomo.madrass,

2021-01-21

5/5

abomuelias2,

2021-01-20

Wonderful

5/5

mtvinyuales,

2021-01-19

5/5

julienlemee,

2021-01-18

swietnie, jak zawsze!

5/5

mtvinyuales,

2021-01-15

5/5

giacomo.madrass,

2021-01-14

5/5

awerkun,

2021-01-13

5/5

mtvinyuales,

2021-01-12

5/5

mtvinyuales,

2021-01-07

5/5

julienlemee,

2021-01-05

idealny!

5/5

awerkun,

2020-12-22

5/5

mtvinyuales,

2020-12-21

5/5

awerkun,

2020-12-17

5/5

giacomo.madrass,

2020-12-17

5/5

rskraska,

2020-12-17

Beste Lehrerin ...

5/5

julienlemee,

2020-12-16

zawsze swietnie!

5/5

rskraska,

2020-12-16

Spannender Unterricht.

5/5

mtvinyuales,

2020-12-15

5/5

rskraska,

2020-12-15

Immer wieder schön

5/5

rskraska,

2020-12-14

Das beste am ganzen Tag

5/5

julienlemee,

2020-12-11

zawsze idealne!

5/5

mtvinyuales,

2020-12-10

5/5

giacomo.madrass,

2020-12-10

5/5

rskraska,

2020-12-09

5/5

rskraska,

2020-12-08

5/5

mtvinyuales,

2020-12-07

5/5

mtvinyuales,

2020-12-04

5/5

giacomo.madrass,

2020-12-03

5/5

ClaraJoergens,

2020-12-01

5/5

mtvinyuales,

2020-11-30

Wszysłko dobrze!

5/5

Olga_Kitel,

2020-11-27

Bardzo dziękuję za to zajęcie i za wszystkie lekcje. Za całą wiedzę i doskonały nastrój na każdej lekcji!

5/5

mtvinyuales,

2020-11-26

Paulina is very patient, I'am able to keep pace with the class

5/5

giacomo.madrass,

2020-11-26

5/5

Olga_Kitel,

2020-11-25

Dziękuję bardzo!

5/5

ClaraJoergens,

2020-11-24

5/5

julienlemee,

2020-11-24

Wszystko super!

5/5

Olga_Kitel,

2020-11-23

Bardzo interesująca lekcja!

5/5

Olga_Kitel,

2020-11-20

Dziękuję bardzo!!!

5/5

mtvinyuales,

2020-11-19

Muy bien

5/5

giacomo.madrass,

2020-11-19

5/5

Olga_Kitel,

2020-11-18

Dziękuję! :)

5/5

julienlemee,

2020-11-17

Wszystko świetnie!

5/5

mtvinyuales,

2020-11-17

Todo muy bien adaptandose a mi ritmo de aprendizaje

5/5

Olga_Kitel,

2020-11-16

Dziękuję!!!

5/5

Olga_Kitel,

2020-11-13

Dziękuje bardzo!

5/5

Patty,

2020-11-12

The lessons are very good for me. It only makes me feel nervous, because there are so many words that i don't know. I want to talk and communicate, but i don't know enough words.
One hour is very intensive, because i don't know how to express myself, but at the same time i wonder sometimes if one hour of lessons is enough.

We don't only talk, but i also need to listen and write. There is a good mix of everything.

4/5

giacomo.madrass,

2020-11-12

5/5

vk81092,

2020-11-12

5/5

ClaraJoergens,

2020-11-11

5/5

Olga_Kitel,

2020-11-11

Wszystko świetnie!

5/5

Arsenij00,

2020-11-11

5/5

vk81092,

2020-11-10

5/5

vk81092,

2020-11-09

5/5

Arsenij00,

2020-11-06

5/5

Aleksander98,

2020-11-05

5/5

Katekireeva,

2020-11-05

5/5

anna.ksenevich,

2020-11-05

5/5

nastya_parmon,

2020-11-05

5/5

liza_karpovich,

2020-11-05

5/5

giacomo.madrass,

2020-11-05

5/5

ClaraJoergens,

2020-11-05

5/5

vk81092,

2020-11-05

5/5

nikitaspb93,

2020-11-05

5/5

Olga_Kitel,

2020-11-04

Dziękyję bardzo!

5/5

Alexandr350,

2020-11-04

5/5

Arsenij00,

2020-11-04

I really appreciate how our teacher keeps us connected even though it is hard in online classes.

Dziękuję bardzo, pani Paulina za lekcje)

5/5

vk81092,

2020-11-03

5/5

Viyaleta_Drahun,

2020-11-03

5/5

ClaraJoergens,

2020-10-27

5/5

ClaraJoergens,

2020-10-20

5/5

Patty,

2020-10-15

Very good lesson. We talked a lot and i learned much new words.

5/5

ClaraJoergens,

2020-10-13

5/5

ClaraJoergens,

2020-09-29

5/5

awerkun,

2020-09-27

5/5

ClaraJoergens,

2020-09-25

5/5

ClaraJoergens,

2020-09-22

5/5

awerkun,

2020-08-27

5/5

mvasko,

2020-08-13

5/5

awerkun,

2020-08-10

5/5

mvasko,

2020-08-07

5/5

awerkun,

2020-08-06

5/5

awerkun,

2020-08-04

5/5

mvasko,

2020-07-30

5/5

awerkun,

2020-07-27

5/5

mvasko,

2020-07-23

5/5

mvasko,

2020-07-21

5/5

mvasko,

2020-07-17

5/5

ClaraJoergens,

2020-07-15

5/5

mvasko,

2020-07-14

5/5

sylwia.student,

2020-07-14

4/5

mvasko,

2020-07-10

5/5

ClaraJoergens,

2020-07-10

5/5

veachaj,

2020-07-10

I am learning so much - Thank you, Paulina!

5/5

veachaj,

2020-07-09

Paulina is amazing!

5/5

skylar20dec,

2020-07-08

5/5

ClaraJoergens,

2020-07-07

5/5

skylar20dec,

2020-07-02

Great first lesson!

5/5

veachaj,

2020-07-01

Paulina is very patient and makes sure I am able to understand the lesson. Thank you so much!

5/5

ClaraJoergens,

2020-07-01

5/5

mvasko,

2020-06-30

Paulina jest bardzo dobrą nauczycielką!

5/5

veachaj,

2020-06-30

Paulina is a wonderful teacher!

5/5

ClaraJoergens,

2020-06-26

5/5

ClaraJoergens,

2020-06-23

5/5

ClaraJoergens,

2020-06-18

5/5

ClaraJoergens,

2020-06-11

5/5

ClaraJoergens,

2020-05-27

super!!!

5/5

Jo.kiefer,

2019-08-02

5/5

Jo.kiefer,

2019-08-02

5/5

Jo.kiefer,

2019-08-01

5/5

Tal.Kogman,

2019-06-08

Paulina is a great teacher!
I enjoy her lesson very much!

5/5