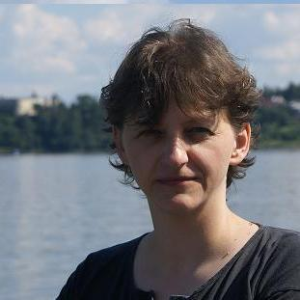 Dorota Dziewońska
Completed online classes:
1374
Author of exercises at e-polish.eu:
NO
School:
Tomasz Stempek GLOSSA
Issues invoices:
yes
Price:
1 Class — 32 AUD/20 EUR/16 GBP/80 PLN/22 USD/6500 HUF

i


10 Lessons — 320 AUD/200 EUR/160 GBP/800 PLN/220 USD/65000 HUF

i


20 Lessons — 608 AUD/380 EUR/304 GBP/1520 PLN/418 USD/123500 HUF

i


30 Lessons — 864 AUD/540 EUR/432 GBP/2160 PLN/594 USD/175500 HUF

i



About me:
My name is Dorota Dziewońska. I live with my husband and children in Cracow – a beautiful old city in the south of Poland. I like learning foreign languages as well as sharing this experience with others – comparing, how similar things are seen by different cultures and described with different languagues. I speak English, Russian, French (not too well), now I'm learning German and Hungarian.
Qualifications and experience:
I graduated from Warsaw University, where I studied Applied Linguistics. I have been teaching Polish as a foreign language since the beginnig of the nineties, first at the Jagiellonian University Summer School, later at "Glossa" language school. As I have studied several languages myself, I know how difficult it can be and can understand the problems that language-learners encounter. I have taught students from different countries, at various levels and used a wide range of materials. Until recently, the choice of Polish coursebooks was quite limited and I had to prepare lessons from scratch, which significantly enriched my experience.
Methods of teaching
Everybody learns in a different way, pays attention to different things, and as a teacher I try to respect this diversity and adapt to my student's personality, using varius materials: films, texts, songs or the student's own experiences. During lessons, we practise all four language skills: speaking, listening, reading, writing. I think language, like life, is unpredictable and changeable, shaped by our experiences. At the same time there are strict, logical laws that help us get around in this spontaneous chaos. That is why from the start I treat grammar as a teaching/learning aid, and not a hardship.
Availability
Teacher is available on the dates listed below. They are already in your time zone which is: .
| | | | | | | | |
| --- | --- | --- | --- | --- | --- | --- | --- |
| | | | | | | | |
| 00:00–00:50 | | | | | | | |
| 01:00–01:50 | | | | | | | |
| 02:00–02:50 | | | | | | | |
| 03:00–03:50 | | | | | | | |
| 04:00–04:50 | | | | | | | |
| 05:00–05:50 | | | | | | | |
| 06:00–06:50 | | | | | | | |
| 07:00–07:50 | | | | | | | |
| 08:00–08:50 | | | | | | | |
| 09:00–09:50 | | | | | | | |
| 10:00–10:50 | | | | | | | |
| 11:00–11:50 | | | | | | | |
| 12:00–12:50 | | | | | | | |
| 13:00–13:50 | | | | | | | |
| 14:00–14:50 | | | | | | | |
| 15:00–15:50 | | | | | | | |
| 16:00–16:50 | | | | | | | |
| 17:00–17:50 | | | | | | | |
| 18:00–18:50 | | | | | | | |
| 19:00–19:50 | | | | | | | |
| 20:00–20:50 | | | | | | | |
| 21:00–21:50 | | | | | | | |
| 22:00–22:50 | | | | | | | |
| 23:00–23:50 | | | | | | | |

Available tutor - on this date you can arrange your class

1 lekcja = 50 minut
khazleignacio,

2022-09-26

5/5

jenn.h.rose,

2022-09-24

5/5

khazleignacio,

2022-09-23

5/5

khazleignacio,

2022-09-21

5/5

khazleignacio,

2022-09-19

5/5

khazleignacio,

2022-09-08

5/5

khazleignacio,

2022-09-06

5/5

khazleignacio,

2022-09-01

5/5

khazleignacio,

2022-08-30

5/5

khazleignacio,

2022-08-26

5/5

khazleignacio,

2022-08-24

5/5

khazleignacio,

2022-08-06

5/5

khazleignacio,

2022-08-04

5/5

khazleignacio,

2022-08-02

5/5

khazleignacio,

2022-07-22

5/5

khazleignacio,

2022-07-20

5/5

khazleignacio,

2022-07-18

5/5

khazleignacio,

2022-07-15

5/5

khazleignacio,

2022-07-13

5/5

khazleignacio,

2022-07-11

5/5

khazleignacio,

2022-07-09

5/5

khazleignacio,

2022-07-07

5/5

khazleignacio,

2022-07-05

5/5

khazleignacio,

2022-07-02

5/5

khazleignacio,

2022-06-30

5/5

floydgg22,

2022-06-29

5/5

khazleignacio,

2022-06-28

5/5

khazleignacio,

2022-06-24

5/5

khazleignacio,

2022-06-22

5/5

floydgg22,

2022-06-21

5/5

khazleignacio,

2022-06-20

5/5

noemie_monteyne,

2022-06-16

5/5

khazleignacio,

2022-06-16

5/5

floydgg22,

2022-06-15

5/5

khazleignacio,

2022-06-13

5/5

khazleignacio,

2022-06-10

5/5

khazleignacio,

2022-06-08

5/5

floydgg22,

2022-06-07

5/5

khazleignacio,

2022-06-06

5/5

khazleignacio,

2022-06-03

5/5

khazleignacio,

2022-06-01

5/5

floydgg22,

2022-05-31

5/5

khazleignacio,

2022-05-30

5/5

khazleignacio,

2022-05-27

5/5

khazleignacio,

2022-05-25

5/5

floydgg22,

2022-05-24

5/5

khazleignacio,

2022-05-23

5/5

khazleignacio,

2022-05-20

5/5

floydgg22,

2022-05-18

5/5

khazleignacio,

2022-05-18

5/5

khazleignacio,

2022-05-16

5/5

jenn.h.rose,

2022-05-14

5/5

khazleignacio,

2022-05-13

5/5

floydgg22,

2022-05-11

5/5

khazleignacio,

2022-05-11

5/5

khazleignacio,

2022-05-09

5/5

jenn.h.rose,

2022-05-07

5/5

khazleignacio,

2022-05-06

5/5

khazleignacio,

2022-05-04

5/5

floydgg22,

2022-05-02

5/5

khazleignacio,

2022-05-02

5/5

jenn.h.rose,

2022-04-30

5/5

khazleignacio,

2022-04-29

5/5

khazleignacio,

2022-04-27

5/5

floydgg22,

2022-04-27

5/5

jenn.h.rose,

2022-04-23

5/5

khazleignacio,

2022-04-23

5/5

khazleignacio,

2022-04-21

5/5

floydgg22,

2022-04-20

5/5

khazleignacio,

2022-04-19

5/5

khazleignacio,

2022-04-14

5/5

khazleignacio,

2022-04-12

5/5

jenn.h.rose,

2022-04-09

5/5

khazleignacio,

2022-04-06

5/5

khazleignacio,

2022-04-05

5/5

khazleignacio,

2022-04-04

5/5

leocg2002,

2022-03-31

5/5

floydgg22,

2022-03-30

5/5

nataliamaxham,

2022-03-29

5/5

leocg2002,

2022-03-29

5/5

floydgg22,

2022-03-23

5/5

jenn.h.rose,

2022-03-19

5/5

Franzi,

2022-03-16

5/5

floydgg22,

2022-03-16

5/5

floydgg22,

2022-03-08

5/5

jenn.h.rose,

2022-02-26

5/5

floydgg22,

2022-02-25

5/5

floydgg22,

2022-02-18

5/5

nataliamaxham,

2022-02-14

5/5

floydgg22,

2022-02-09

5/5

eamanelin,

2022-02-07

Had fun and enjoyed it very much!

5/5

Franzi,

2022-02-07

5/5

Franzi,

2022-02-02

5/5

floydgg22,

2022-02-02

5/5

nataliamaxham,

2022-01-31

5/5

Franzi,

2022-01-26

5/5

floydgg22,

2022-01-26

5/5

nataliamaxham,

2022-01-24

5/5

Franzi,

2022-01-19

5/5

floydgg22,

2022-01-19

5/5

moscayano,

2022-01-18

5/5

benedicte_langrand,

2022-01-17

5/5

nataliamaxham,

2022-01-17

5/5

Franzi,

2022-01-12

5/5

floydgg22,

2022-01-12

5/5

floydgg22,

2022-01-07

5/5

kerstin,

2021-12-27

5/5

kerstin,

2021-12-20

5/5

kerstin,

2021-12-16

5/5

Franzi,

2021-12-15

5/5

floydgg22,

2021-12-13

5/5

kerstin,

2021-12-13

5/5

Franzi,

2021-12-13

5/5

Franzi,

2021-12-09

5/5

floydgg22,

2021-12-08

5/5

Franzi,

2021-12-08

5/5

Franzi,

2021-12-07

5/5

rowinggolfer,

2021-12-06

5/5

Franzi,

2021-12-06

5/5

Franzi,

2021-12-03

5/5

kerstin,

2021-12-02

5/5

Franzi,

2021-12-01

5/5

floydgg22,

2021-11-30

5/5

rowinggolfer,

2021-11-29

5/5

benedicte_langrand,

2021-11-29

5/5

kerstin,

2021-11-29

5/5

Franzi,

2021-11-25

5/5

kerstin,

2021-11-25

5/5

floydgg22,

2021-11-24

5/5

kerstin,

2021-11-22

5/5

kerstin,

2021-11-19

5/5

Franzi,

2021-11-18

5/5

rowinggolfer,

2021-11-18

5/5

kerstin,

2021-11-15

5/5

floydgg22,

2021-11-12

5/5

rowinggolfer,

2021-11-08

5/5

benedicte_langrand,

2021-11-08

4/5

Franzi,

2021-11-08

5/5

rowinggolfer,

2021-11-06

5/5

Franzi,

2021-11-04

Sehr viele zusätzliche Erklärungen!

5/5

rowinggolfer,

2021-11-04

Najlepsza Lekcja.

5/5

floydgg22,

2021-11-03

5/5

rowinggolfer,

2021-11-02

5/5

benedicte_langrand,

2021-10-29

5/5

rowinggolfer,

2021-10-28

5/5

floydgg22,

2021-10-27

5/5

rowinggolfer,

2021-10-27

5/5

rowinggolfer,

2021-10-25

Bardzo lubię moją nauczyczielkę. Pani jest najlepsza!

5/5

floydgg22,

2021-10-22

5/5

chiara_elisabetta_cotroneo,

2021-10-22

5/5

rowinggolfer,

2021-10-21

I had connectivity problems. Once again Pani Dorota was very accomodating. Bardzo Dziękuje!

5/5

rowinggolfer,

2021-10-20

Dziękuję Pani Dorocie za cierpliwość i zrozumienie.

5/5

floydgg22,

2021-10-19

5/5

rowinggolfer,

2021-10-16

Bardzo sympatyczna nauczycielka.

5/5

chiara_elisabetta_cotroneo,

2021-10-15

5/5

floydgg22,

2021-10-11

5/5

chiara_elisabetta_cotroneo,

2021-10-08

5/5

floydgg22,

2021-10-05

5/5

chiara_elisabetta_cotroneo,

2021-10-01

5/5

kerstin,

2021-09-30

5/5

floydgg22,

2021-09-28

5/5

kerstin,

2021-09-28

5/5

chiara_elisabetta_cotroneo,

2021-09-25

5/5

kerstin,

2021-09-23

5/5

floydgg22,

2021-09-22

5/5

floydgg22,

2021-09-16

5/5

floydgg22,

2021-09-08

5/5

chiara_elisabetta_cotroneo,

2021-09-02

5/5

floydgg22,

2021-09-01

5/5

floydgg22,

2021-08-27

5/5

chiara_elisabetta_cotroneo,

2021-08-26

5/5

linda_forrest,

2021-08-23

5/5

chiara_elisabetta_cotroneo,

2021-08-21

5/5

floydgg22,

2021-08-17

5/5

floydgg22,

2021-08-11

5/5

linda_forrest,

2021-08-11

5/5

chiara_elisabetta_cotroneo,

2021-08-06

5/5

floydgg22,

2021-08-04

5/5

linda_forrest,

2021-08-04

5/5

floydgg22,

2021-07-27

5/5

chiara_elisabetta_cotroneo,

2021-07-27

5/5

kerstin,

2021-07-22

5/5

floydgg22,

2021-07-21

5/5

linda_forrest,

2021-07-21

5/5

chiara_elisabetta_cotroneo,

2021-07-16

5/5

kerstin,

2021-07-15

5/5

floydgg22,

2021-07-13

5/5

linda_forrest,

2021-07-12

5/5

chiara_elisabetta_cotroneo,

2021-07-09

5/5

kerstin,

2021-07-08

5/5

floydgg22,

2021-07-06

5/5

linda_forrest,

2021-07-05

5/5

linda_forrest,

2021-06-30

5/5

floydgg22,

2021-06-29

5/5

MGallagher,

2021-06-28

5/5

floydgg22,

2021-06-22

5/5

linda_forrest,

2021-06-22

5/5

floydgg22,

2021-06-16

5/5

linda_forrest,

2021-06-14

5/5

nataliamaxham,

2021-06-10

5/5

nataliamaxham,

2021-06-04

5/5

linda_forrest,

2021-05-31

5/5

nataliamaxham,

2021-05-28

5/5

MGallagher,

2021-05-28

5/5

floydgg22,

2021-05-25

5/5

linda_forrest,

2021-05-24

5/5

MGallagher,

2021-05-21

5/5

SDuzynski,

2021-05-21

5/5

floydgg22,

2021-05-18

5/5

SDuzynski,

2021-05-14

5/5

floydgg22,

2021-05-11

5/5

floydgg22,

2021-05-04

5/5

SDuzynski,

2021-05-01

5/5

kerstin,

2021-04-29

5/5

nataliamaxham,

2021-04-26

5/5

kerstin,

2021-04-26

5/5

floydgg22,

2021-04-26

5/5

SDuzynski,

2021-04-24

5/5

linda_forrest,

2021-04-23

5/5

kerstin,

2021-04-22

5/5

floydgg22,

2021-04-20

5/5

kerstin,

2021-04-19

5/5

SDuzynski,

2021-04-17

5/5

linda_forrest,

2021-04-16

5/5

nataliamaxham,

2021-04-15

5/5

chiara_elisabetta_cotroneo,

2021-04-14

5/5

kerstin,

2021-04-12

5/5

chiara_elisabetta_cotroneo,

2021-04-10

5/5

SDuzynski,

2021-04-10

5/5

linda_forrest,

2021-04-09

5/5

floydgg22,

2021-04-06

Very good teacher and engaging lesson.

5/5

linda_forrest,

2021-04-02

5/5

chiara_elisabetta_cotroneo,

2021-04-01

5/5

floydgg22,

2021-03-30

5/5

nataliamaxham,

2021-03-29

5/5

chiara_elisabetta_cotroneo,

2021-03-29

5/5

chiara_elisabetta_cotroneo,

2021-03-27

5/5

SDuzynski,

2021-03-27

5/5

linda_forrest,

2021-03-26

5/5

kerstin,

2021-03-25

5/5

floydgg22,

2021-03-23

5/5

kerstin,

2021-03-22

5/5

SDuzynski,

2021-03-20

5/5

linda_forrest,

2021-03-19

5/5

nataliamaxham,

2021-03-18

5/5

floydgg22,

2021-03-16

Very experienced teacher. I enjoyed the class very much.

5/5

kerstin,

2021-03-15

5/5

SDuzynski,

2021-03-13

5/5

linda_forrest,

2021-03-12

5/5

floydgg22,

2021-03-11

Enjoyed the lesson very much

5/5

kerstin,

2021-03-08

5/5

SDuzynski,

2021-03-08

5/5

linda_forrest,

2021-03-05

5/5

nataliamaxham,

2021-03-04

5/5

leocg2002,

2021-03-02

5/5

kerstin,

2021-03-01

5/5

SDuzynski,

2021-02-27

5/5

linda_forrest,

2021-02-26

5/5

nataliamaxham,

2021-02-25

5/5

kerstin,

2021-02-25

5/5

kerstin,

2021-02-22

5/5

SDuzynski,

2021-02-20

5/5

katushkal,

2021-02-19

5/5

linda_forrest,

2021-02-19

5/5

nataliamaxham,

2021-02-18

5/5

katushkal,

2021-02-18

5/5

kerstin,

2021-02-18

5/5

katushkal,

2021-02-17

5/5

katushkal,

2021-02-16

5/5

katushkal,

2021-02-15

5/5

kerstin,

2021-02-15

5/5

nataliamaxham,

2021-02-13

5/5

SDuzynski,

2021-02-13

5/5

katushkal,

2021-02-12

5/5

linda_forrest,

2021-02-12

Dziękuję bardzo!

5/5

katushkal,

2021-02-11

5/5

kerstin,

2021-02-11

5/5

katushkal,

2021-02-10

5/5

katushkal,

2021-02-09

5/5

katushkal,

2021-02-08

5/5

kerstin,

2021-02-08

Nauczycielka jest bardzo sympathiczna! :-)

5/5

SDuzynski,

2021-02-06

5/5

linda_forrest,

2021-02-05

Dziękuję bardzo

5/5

nataliamaxham,

2021-02-04

5/5

SDuzynski,

2021-01-30

5/5

nataliamaxham,

2021-01-28

5/5

SDuzynski,

2021-01-23

5/5

linda_forrest,

2021-01-22

Dziękuję!

5/5

nataliamaxham,

2021-01-21

5/5

SDuzynski,

2021-01-16

5/5

linda_forrest,

2021-01-15

Dziękuję bardzo :)

5/5

artem_erofeev,

2021-01-13

5/5

artem_erofeev,

2021-01-09

5/5

SDuzynski,

2021-01-09

5/5

linda_forrest,

2021-01-08

Dziękuję bardzo!

5/5

SDuzynski,

2021-01-06

5/5

SDuzynski,

2020-12-28

5/5

artem_erofeev,

2020-12-23

5/5

artem_erofeev,

2020-12-19

5/5

SDuzynski,

2020-12-18

5/5

linda_forrest,

2020-12-18

Dziękuję :) Wesołych Świąt!

5/5

artem_erofeev,

2020-12-16

5/5

artem_erofeev,

2020-12-12

5/5

SDuzynski,

2020-12-11

5/5

linda_forrest,

2020-12-11

Dziękuję bardzo!

5/5

artem_erofeev,

2020-12-09

5/5

artem_erofeev,

2020-12-05

5/5

SDuzynski,

2020-12-04

5/5

linda_forrest,

2020-12-04

Dziękuję :)

5/5

artem_erofeev,

2020-12-02

5/5

artem_erofeev,

2020-11-28

5/5

SDuzynski,

2020-11-27

5/5

linda_forrest,

2020-11-27

Dziękuję :)

5/5

artem_erofeev,

2020-11-25

5/5

nataliamaxham,

2020-11-24

5/5

artem_erofeev,

2020-11-21

5/5

SDuzynski,

2020-11-20

5/5

linda_forrest,

2020-11-20

Dziękuję bardzo!

5/5

nataliamaxham,

2020-11-16

5/5

SDuzynski,

2020-11-16

5/5

artem_erofeev,

2020-11-14

5/5

linda_forrest,

2020-11-13

Dziękuję!

5/5

artem_erofeev,

2020-11-11

5/5

artem_erofeev,

2020-11-07

5/5

linda_forrest,

2020-11-06

Dziękuję bardzo

5/5

SDuzynski,

2020-11-05

5/5

artem_erofeev,

2020-11-04

5/5

MGallagher,

2020-11-03

:-)

5/5

artem_erofeev,

2020-10-31

5/5

SDuzynski,

2020-10-30

5/5

linda_forrest,

2020-10-30

Dziękuję bardzo!

5/5

nataliamaxham,

2020-10-29

5/5

artem_erofeev,

2020-10-28

5/5

artem_erofeev,

2020-10-24

5/5

SDuzynski,

2020-10-23

5/5

linda_forrest,

2020-10-23

Dziękuję bardzo!

5/5

artem_erofeev,

2020-10-21

5/5

nataliamaxham,

2020-10-20

5/5

sandra_prater57,

2020-10-20

A very difficult lesson. The Glossa link did not work and after much delay the lesson was done using Skype. The sound was not good and there was echoing when I was talking.

4/5

SDuzynski,

2020-10-16

5/5

MGallagher,

2020-10-16

5/5

linda_forrest,

2020-10-16

Dziękuję!

5/5

MGallagher,

2020-10-13

5/5

SDuzynski,

2020-10-09

5/5

linda_forrest,

2020-10-09

Dziękuję!

5/5

sandra_prater57,

2020-10-06

5/5

SDuzynski,

2020-10-02

5/5

linda_forrest,

2020-10-02

Dziękuję bardzo.

5/5

sandra_prater57,

2020-09-29

5/5

SDuzynski,

2020-09-25

5/5

linda_forrest,

2020-09-25

Dziękuję!

5/5

sandra_prater57,

2020-09-22

Please could I have a little more listening to dialog and repeating to help my pronunciation. I enjoy our little chats at the beginning which help improve my conversation skills. Today the sound quality was not good at times making it hard for me to hear clearly.

4/5

SDuzynski,

2020-09-18

5/5

sandra_prater57,

2020-09-15

5/5

nataliamaxham,

2020-09-14

5/5

SDuzynski,

2020-09-11

5/5

linda_forrest,

2020-09-11

5/5

sandra_prater57,

2020-09-08

5/5

nataliamaxham,

2020-09-05

5/5

SDuzynski,

2020-09-04

5/5

linda_forrest,

2020-09-04

Dziękuję!

5/5

SDuzynski,

2020-08-28

5/5

mharis,

2020-08-25

5/5

mharis,

2020-08-24

5/5

SDuzynski,

2020-08-21

5/5

mharis,

2020-08-21

5/5

linda_forrest,

2020-08-21

Dziękuję!

5/5

mharis,

2020-08-19

5/5

artiom.gherman,

2020-08-18

5/5

mharis,

2020-08-18

5/5

mharis,

2020-08-17

5/5

SDuzynski,

2020-08-14

5/5

nataliamaxham,

2020-08-14

5/5

artiom.gherman,

2020-08-11

5/5

SDuzynski,

2020-08-08

5/5

artiom.gherman,

2020-08-06

5/5

artiom.gherman,

2020-08-04

5/5

JavierKetrzyn,

2020-08-04

5/5

nataliamaxham,

2020-08-03

5/5

dasha_grigorenco,

2020-08-03

5/5

dasha_grigorenco,

2020-07-31

5/5

SDuzynski,

2020-07-31

5/5

artiom.gherman,

2020-07-30

5/5

JavierKetrzyn,

2020-07-30

5/5

dasha_grigorenco,

2020-07-29

5/5

artiom.gherman,

2020-07-28

5/5

sandra_prater57,

2020-07-28

It was a difficult lesson because it was hard for me to hear Dorota clearly. There seemed a lot of background interference and echoing.

4/5

JavierKetrzyn,

2020-07-28

5/5

dasha_grigorenco,

2020-07-24

5/5

SDuzynski,

2020-07-24

5/5

artiom.gherman,

2020-07-23

5/5

JavierKetrzyn,

2020-07-23

5/5

dasha_grigorenco,

2020-07-22

5/5

artiom.gherman,

2020-07-21

5/5

sandra_prater57,

2020-07-21

5/5

dasha_grigorenco,

2020-07-20

5/5

SDuzynski,

2020-07-17

5/5

nataliamaxham,

2020-07-17

5/5

linda_forrest,

2020-07-17

Dziękuję bardzo!

5/5

artiom.gherman,

2020-07-16

5/5

JavierKetrzyn,

2020-07-16

5/5

dasha_grigorenco,

2020-07-15

5/5

artiom.gherman,

2020-07-14

5/5

sandra_prater57,

2020-07-14

It was hard to hear Dorota this week. The connection was not good and the sound kept breaking up making the lesson slow and more difficult than usual.

4/5

JavierKetrzyn,

2020-07-14

5/5

dasha_grigorenco,

2020-07-13

5/5

nataliamaxham,

2020-07-13

5/5

SDuzynski,

2020-07-10

5/5

linda_forrest,

2020-07-10

Dziękuję bardzo!

5/5

artiom.gherman,

2020-07-09

5/5

nataliamaxham,

2020-07-09

5/5

JavierKetrzyn,

2020-07-09

5/5

artiom.gherman,

2020-07-07

5/5

sandra_prater57,

2020-07-07

Another enjoyable lesson. Dorota is very encouraging and helpful with my pronunciation and understanding and encouraging me to speak only in Polish. I will try this next week!

5/5

JavierKetrzyn,

2020-07-07

5/5

nataliamaxham,

2020-07-06

5/5

linda_forrest,

2020-07-03

Bardzo dziękuję za lekcję.

5/5

malinamaxham,

2020-07-03

5/5

SDuzynski,

2020-07-02

5/5

artiom.gherman,

2020-07-02

5/5

JavierKetrzyn,

2020-07-02

5/5

artiom.gherman,

2020-06-30

5/5

sandra_prater57,

2020-06-30

5/5

JavierKetrzyn,

2020-06-30

5/5

nataliamaxham,

2020-06-29

5/5

dasha_grigorenco,

2020-06-26

5/5

SDuzynski,

2020-06-26

5/5

chiara_elisabetta_cotroneo,

2020-06-26

5/5

artiom.gherman,

2020-06-25

5/5

nataliamaxham,

2020-06-25

5/5

JavierKetrzyn,

2020-06-25

5/5

dasha_grigorenco,

2020-06-24

5/5

artiom.gherman,

2020-06-23

5/5

dasha_grigorenco,

2020-06-22

5/5

SDuzynski,

2020-06-22

5/5

nataliamaxham,

2020-06-22

5/5

dasha_grigorenco,

2020-06-19

4/5

linda_forrest,

2020-06-19

I really enjoyed this lesson, especially speaking in Polish with Dorota. Dziękuję!

5/5

artiom.gherman,

2020-06-18

5/5

nataliamaxham,

2020-06-18

5/5

JavierKetrzyn,

2020-06-18

5/5

dasha_grigorenco,

2020-06-17

5/5

artiom.gherman,

2020-06-16

5/5

sandra_prater57,

2020-06-16

I find the numbering the dialogues difficult because I can't see the whole text on the screen and where I am in the numbering. I like the way Dorota asks me questions about the text so that I have to think about the correct way to answer, verb ending to use etc. Our chats at the beginning about the weather, how we're doing etc are nice too.

5/5

dasha_grigorenco,

2020-06-15

5/5

nataliamaxham,

2020-06-15

5/5

malinamaxham,

2020-06-13

5/5

dasha_grigorenco,

2020-06-12

5/5

SDuzynski,

2020-06-12

5/5

artiom.gherman,

2020-06-12

5/5

linda_forrest,

2020-06-12

A very enjoyable first lesson. I especially liked Dorota speaking to me in Polish as much as possible during the lesson. Thank you!

5/5

sandra_prater57,

2020-06-11

5/5

dasha_grigorenco,

2020-06-10

5/5

artiom.gherman,

2020-06-09

5/5

sandra_prater57,

2020-06-09

Dorota is very patient with me! Learning lots

5/5

JavierKetrzyn,

2020-06-09

5/5

dasha_grigorenco,

2020-06-08

5/5

nataliamaxham,

2020-06-08

5/5

dasha_grigorenco,

2020-06-05

5/5

SDuzynski,

2020-06-05

5/5

artiom.gherman,

2020-06-04

5/5

nataliamaxham,

2020-06-04

5/5

JavierKetrzyn,

2020-06-04

5/5

artiom.gherman,

2020-06-02

5/5

sandra_prater57,

2020-06-02

Very good lesson, thank you Dorota

5/5

JavierKetrzyn,

2020-06-02

5/5

dasha_grigorenco,

2020-06-01

5/5

nataliamaxham,

2020-06-01

5/5

malinamaxham,

2020-05-30

5/5

dasha_grigorenco,

2020-05-29

5/5

SDuzynski,

2020-05-29

5/5

artiom.gherman,

2020-05-28

5/5

nataliamaxham,

2020-05-28

5/5

dasha_grigorenco,

2020-05-27

5/5

artiom.gherman,

2020-05-26

5/5

JavierKetrzyn,

2020-05-26

5/5

dasha_grigorenco,

2020-05-25

5/5

nataliamaxham,

2020-05-25

5/5

malinamaxham,

2020-05-23

5/5

SDuzynski,

2020-05-22

5/5

artiom.gherman,

2020-05-21

5/5

nataliamaxham,

2020-05-21

5/5

JavierKetrzyn,

2020-05-21

5/5

artiom.gherman,

2020-05-19

5/5

JavierKetrzyn,

2020-05-19

5/5

nataliamaxham,

2020-05-18

5/5

SDuzynski,

2020-05-15

5/5

nataliamaxham,

2020-05-14

5/5

JavierKetrzyn,

2020-05-14

5/5

dasha_grigorenco,

2020-05-13

5/5

JavierKetrzyn,

2020-05-12

Perfect!

5/5

dasha_grigorenco,

2020-05-11

5/5

nataliamaxham,

2020-05-11

5/5

dasha_grigorenco,

2020-05-08

5/5

SDuzynski,

2020-05-08

5/5

nataliamaxham,

2020-05-07

5/5

dasha_grigorenco,

2020-05-06

5/5

nataliamaxham,

2020-05-04

5/5

SDuzynski,

2020-05-01

5/5

nataliamaxham,

2020-04-30

5/5

dasha_grigorenco,

2020-04-29

5/5

dasha_grigorenco,

2020-04-27

5/5

nataliamaxham,

2020-04-27

5/5

malinamaxham,

2020-04-25

5/5

dasha_grigorenco,

2020-04-24

5/5

SDuzynski,

2020-04-24

5/5

nataliamaxham,

2020-04-23

5/5

dasha_grigorenco,

2020-04-22

5/5

malinamaxham,

2020-04-21

5/5

dasha_grigorenco,

2020-04-20

5/5

SDuzynski,

2020-04-17

5/5

dasha_grigorenco,

2020-04-15

5/5

dasha_grigorenco,

2020-04-14

5/5

dasha_grigorenco,

2020-04-10

5/5

SDuzynski,

2020-04-10

5/5

chiara_elisabetta_cotroneo,

2020-04-10

5/5

dasha_grigorenco,

2020-04-08

5/5

SDuzynski,

2020-04-03

5/5

dasha_grigorenco,

2020-04-02

5/5

dasha_grigorenco,

2020-03-31

5/5

dasha_grigorenco,

2020-03-30

5/5

dasha_grigorenco,

2020-03-27

5/5

SDuzynski,

2020-03-27

5/5

dasha_grigorenco,

2020-03-25

5/5

Chornenka2001,

2020-03-22

5/5

SDuzynski,

2020-03-20

5/5

chiara_elisabetta_cotroneo,

2020-03-19

5/5

chiara_elisabetta_cotroneo,

2020-03-17

5/5

SDuzynski,

2020-03-13

5/5

chiara_elisabetta_cotroneo,

2020-03-12

5/5

dasha_grigorenco,

2020-03-11

5/5

dasha_grigorenco,

2020-03-09

5/5

dasha_grigorenco,

2020-03-06

5/5

SDuzynski,

2020-03-06

5/5

dasha_grigorenco,

2020-03-04

5/5

dasha_grigorenco,

2020-02-28

5/5

SDuzynski,

2020-02-28

5/5

dasha_grigorenco,

2020-02-26

5/5

dasha_grigorenco,

2020-02-24

5/5

SDuzynski,

2020-02-21

5/5

chiara_elisabetta_cotroneo,

2020-02-21

5/5

dasha_grigorenco,

2020-02-20

5/5

chiara_elisabetta_cotroneo,

2020-02-18

5/5

dasha_grigorenco,

2020-02-17

5/5

SDuzynski,

2020-02-14

5/5

chiara_elisabetta_cotroneo,

2020-02-14

5/5

dasha_grigorenco,

2020-02-12

5/5

dasha_grigorenco,

2020-02-10

5/5

chiara_elisabetta_cotroneo,

2020-02-10

5/5

SDuzynski,

2020-02-07

5/5

chiara_elisabetta_cotroneo,

2020-02-06

5/5

dasha_grigorenco,

2020-02-06

5/5

dasha_grigorenco,

2020-02-05

5/5

chiara_elisabetta_cotroneo,

2020-02-04

5/5

dasha_grigorenco,

2020-02-03

5/5

dasha_grigorenco,

2020-01-31

5/5

SDuzynski,

2020-01-31

5/5

chiara_elisabetta_cotroneo,

2020-01-31

5/5

dasha_grigorenco,

2020-01-27

5/5

chiara_elisabetta_cotroneo,

2020-01-27

5/5

dasha_grigorenco,

2020-01-24

5/5

SDuzynski,

2020-01-24

5/5

chiara_elisabetta_cotroneo,

2020-01-24

5/5

dasha_grigorenco,

2020-01-22

5/5

chiara_elisabetta_cotroneo,

2020-01-21

5/5

dasha_grigorenco,

2020-01-20

5/5

dasha_grigorenco,

2020-01-17

5/5

SDuzynski,

2020-01-17

5/5

chiara_elisabetta_cotroneo,

2020-01-17

5/5

dasha_grigorenco,

2020-01-15

5/5

dasha_grigorenco,

2020-01-13

5/5

dasha_grigorenco,

2020-01-10

5/5

dasha_grigorenco,

2020-01-06

5/5

dasha_grigorenco,

2020-01-03

5/5

dasha_grigorenco,

2019-12-30

5/5

dasha_grigorenco,

2019-12-27

5/5

dasha_grigorenco,

2019-12-16

5/5

dasha_grigorenco,

2019-12-13

5/5

dasha_grigorenco,

2019-12-11

5/5

dasha_grigorenco,

2019-12-09

5/5

dasha_grigorenco,

2019-12-06

5/5

dasha_grigorenco,

2019-12-04

5/5

dasha_grigorenco,

2019-12-02

5/5

dasha_grigorenco,

2019-11-27

5/5

dasha_grigorenco,

2019-11-25

5/5

dasha_grigorenco,

2019-11-22

5/5

dasha_grigorenco,

2019-11-20

5/5

dasha_grigorenco,

2019-11-18

5/5

dasha_grigorenco,

2019-11-15

5/5

dasha_grigorenco,

2019-11-13

5/5

dasha_grigorenco,

2019-11-11

5/5

dasha_grigorenco,

2019-11-09

5/5

RenateL,

2019-11-07

I will keep practicing

5/5

dasha_grigorenco,

2019-11-06

5/5

dasha_grigorenco,

2019-11-04

5/5

dasha_grigorenco,

2019-10-30

5/5

dasha_grigorenco,

2019-10-28

5/5

dasha_grigorenco,

2019-10-23

5/5

dasha_grigorenco,

2019-10-21

5/5

RenateL,

2019-10-19

I appreciate Dorota took into consideration what I wished to focus on learning.

5/5

dasha_grigorenco,

2019-10-18

5/5

dasha_grigorenco,

2019-10-16

5/5

dasha_grigorenco,

2019-10-14

5/5

dasha_grigorenco,

2019-10-09

5/5

noemie_monteyne,

2019-10-09

5/5

dasha_grigorenco,

2019-10-07

5/5

RenateL,

2019-10-05

Very happy with the lesson and very excited to continue soon

5/5

dasha_grigorenco,

2019-10-04

5/5

dasha_grigorenco,

2019-10-02

5/5

dasha_grigorenco,

2019-09-30

5/5

dasha_grigorenco,

2019-09-27

5/5

dasha_grigorenco,

2019-09-25

5/5

dasha_grigorenco,

2019-09-23

5/5

dasha_grigorenco,

2019-09-20

5/5

dasha_grigorenco,

2019-09-18

5/5

meararoach,

2019-09-11

5/5

noemie_monteyne,

2019-07-16

5/5

noemie_monteyne,

2019-07-13

5/5

noemie_monteyne,

2019-07-08

5/5

noemie_monteyne,

2019-07-05

5/5

noemie_monteyne,

2019-07-01

5/5

noemie_monteyne,

2019-06-28

5/5

noemie_monteyne,

2019-06-24

5/5

noemie_monteyne,

2019-06-14

5/5