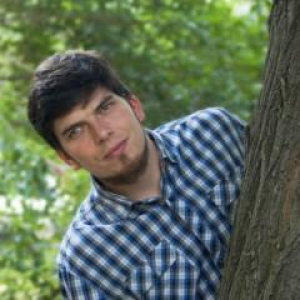 Jerzy Terka
Completed online classes:
2249
Author of exercises at e-polish.eu:
NO
School:
Tomasz Stempek GLOSSA
Issues invoices:
yes
Price:
1 Class — 22 EUR/99 PLN

i


10 Lessons — 220 EUR/990 PLN

i


20 Lessons — 440 EUR/1980 PLN

i


30 Lessons — 660 EUR/2970 PLN

i



About me:
Being a teacher combines lots of my interests in a way inaccessible in any other profession. It seems that Polish grammar is sometimes like a complex crime story but when you find the right key everything becomes clear like in the epilogue of a good book. Discussions about various things and listening to opinions is like discovering new lands or travelling to foreign countries. Composing different elements into a lesson and giving lessons to students gives satisfaction like after winning a board game. Looking for inspirations and materials lets you see the world from a different perspective. But I guess the most important thing is that you can become a guide who helps others reach their goals.
Qualifications and experience:
I graduated in teaching Polish as a foreign language from one of the best Polish universities – the Jagiellonian University. During my degree course I had a professional training at the University of Udine in Italy and my thesis focused on grammar issues of the Polish language (in particular perfective and imperfective aspects of the verb) and the analysis of methods of teaching them suggested by different books. As a professional I have been teaching foreigners since 2008 in both individual and group lessons. I try to extend my knowledge and skills during professional courses but I also look for new useful techniques on my own. At present I'm working at GLOSSA School of Foreign Languages. I also deal with editing and proofreading of texts.
Methods of teaching
When working with students I use elements from different methods, I integrate skills but I apply most the communicative approach. Teaching Polish with games, dialogues and role-plays gives very good and long-lasting results. At the same time I don't neglect grammar which – together with an extensive vocabulary – is a basis of fluent and effective communication. I always adapt materials and techniques to students' individual needs, goals, motivation, ambition and skills.
Availability
Teacher Jerzy Terka is available on the dates listed below. They are already in your time zone which is: GMT.
| | | | | | | | |
| --- | --- | --- | --- | --- | --- | --- | --- |
| | | | | | | | |
| 00:00–00:50 | | | | | | | |
| 01:00–01:50 | | | | | | | |
| 02:00–02:50 | | | | | | | |
| 03:00–03:50 | | | | | | | |
| 04:00–04:50 | | | | | | | |
| 05:00–05:50 | | | | | | | |
| 06:00–06:50 | | | | | | | |
| 07:00–07:50 | | | | | | | |
| 08:00–08:50 | | | | | | | |
| 09:00–09:50 | | | | | | | |
| 10:00–10:50 | | | | | | | |
| 11:00–11:50 | | | | | | | |
| 12:00–12:50 | | | | | | | |
| 13:00–13:50 | | | | | | | |
| 14:00–14:50 | | | | | | | |
| 15:00–15:50 | | | | | | | |
| 16:00–16:50 | | | | | | | |
| 17:00–17:50 | | | | | | | |
| 18:00–18:50 | | | | | | | |
| 19:00–19:50 | | | | | | | |
| 20:00–20:50 | | | | | | | |
| 21:00–21:50 | | | | | | | |
| 22:00–22:50 | | | | | | | |
| 23:00–23:50 | | | | | | | |

Available tutor - on this date you can arrange your class

1 lekcja = 50 minut
kerstin,

2023-07-13

5/5

Istvan,

2023-07-11

5/5

kerstin,

2023-07-11

5/5

AndreasBo,

2023-01-25

Znakomite ,spokojne i zarazem profesjonalne podejscie do zagadnienia.

5/5

megan.duda749,

2022-12-15

5/5

Melusine,

2022-02-17

5/5

Melusine,

2022-02-15

5/5

Melusine,

2022-02-14

5/5

Melusine,

2022-02-10

5/5

Melusine,

2022-02-08

5/5

Melusine,

2022-02-07

I couldn´t follow the lesson because of problems with my computer.

5/5

Jonas,

2021-12-22

5/5

Jonas,

2021-12-15

5/5

Jonas,

2021-12-08

Really good start up

5/5

MrRogers,

2021-11-15

5/5

charodddey92,

2021-06-11

5/5

charodddey92,

2021-06-10

5/5

charodddey92,

2021-06-09

5/5

charodddey92,

2021-06-08

5/5

charodddey92,

2021-06-07

5/5

charodddey92,

2021-06-04

5/5

charodddey92,

2021-06-02

5/5

charodddey92,

2021-06-01

5/5

charodddey92,

2021-05-31

5/5

cathare,

2021-05-10

Doskonały!

5/5

bodo.zboralski,

2021-04-16

szkoda

5/5

bodo.zboralski,

2021-04-14

He is a very good teacher

5/5

bodo.zboralski,

2021-04-01

warum macht er die Hausaufgaben immer so spät. Ich sitze doch nicht den ganzen Tag am Computer und schaue ob wieder eine Mail da ist.

5/5

bodo.zboralski,

2021-03-31

4/5

bodo.zboralski,

2021-03-30

manchmal gabe es technische Probleme

5/5

bodo.zboralski,

2021-03-29

der Lehrer kann offensichtlich etwas deutsch.

5/5

Potoczny,

2021-03-18

5/5

Potoczny,

2021-03-17

5/5

laurarocchietta,

2021-03-16

Wyśmienita lekcja

5/5

Potoczny,

2021-03-16

5/5

Potoczny,

2021-03-15

5/5

Potoczny,

2021-03-12

5/5

Potoczny,

2021-03-11

5/5

Potoczny,

2021-03-10

5/5

laurarocchietta,

2021-03-09

Zawsze bardzo dobre

5/5

Potoczny,

2021-03-09

5/5

Potoczny,

2021-03-08

5/5

laurarocchietta,

2021-03-02

Zawsze bardzo dobre

5/5

laurarocchietta,

2021-02-16

wszystko dobrze!

5/5

laurarocchietta,

2021-02-09

Jestem bardzo zadowolona w sprawie tych lekcji

5/5

laurarocchietta,

2021-02-04

Bardzo dobrze

5/5

laurarocchietta,

2021-01-26

Wszystko bardzo dobrze!

5/5

laurarocchietta,

2021-01-19

Bardzo korzystna lekcja, mądre zadanie domowe

5/5

laurarocchietta,

2021-01-12

Lektor jest bardzo kompetetny i odpowiedzialny

5/5

442Alex,

2020-12-23

5/5

chmoritz,

2020-12-18

5/5

chmoritz,

2020-12-17

5/5

chmoritz,

2020-12-16

5/5

laurarocchietta,

2020-12-15

Wzsystko bylo bardzo interesujące, dobrze zorganizowane

5/5

chmoritz,

2020-12-15

5/5

karenkrusz,

2020-12-15

5/5

chmoritz,

2020-12-14

5/5

chmoritz,

2020-12-11

5/5

442Alex,

2020-12-10

5/5

chmoritz,

2020-12-10

to bardzo dobrze, interesujace, uczie sie duzo!!!

5/5

karenkrusz,

2020-12-09

5/5

liriam,

2020-12-08

5/5

chmoritz,

2020-12-08

To bylo bardzo fajne!!! Ciecze sie na nastepnie lekciji.

5/5

karenkrusz,

2020-12-08

5/5

karenkrusz,

2020-12-07

Good first lesson and nice class size

5/5

442Alex,

2020-12-03

5/5

Faina_N,

2020-11-30

5/5

Faina_N,

2020-11-27

Bardzo podobało mi się, że nauczyciel daje wiele zadań z wymowy i uczy poprawnie mówić w ciekawych rozmowach z uczniami

5/5

442Alex,

2020-11-26

5/5

Faina_N,

2020-11-25

5/5

Faina_N,

2020-11-23

5/5

Faina_N,

2020-11-20

5/5

Faina_N,

2020-11-20

5/5

Faina_N,

2020-11-18

5/5

442Alex,

2020-11-17

5/5

Faina_N,

2020-11-16

5/5

Faina_N,

2020-11-12

5/5

442Alex,

2020-11-10

5/5

Faina_N,

2020-11-09

5/5

Faina_N,

2020-11-06

5/5

442Alex,

2020-11-05

5/5

Faina_N,

2020-11-04

5/5

Faina_N,

2020-11-02

5/5

442Alex,

2020-10-28

5/5

442Alex,

2020-10-21

5/5

442Alex,

2020-10-05

5/5

442Alex,

2020-09-23

5/5

442Alex,

2020-09-17

5/5

Wiedzminka,

2020-09-15

5/5

AWIWATPATARAKUL,

2020-09-14

5/5

442Alex,

2020-09-09

5/5

tkujml3,

2020-09-08

5/5

Wiedzminka,

2020-09-08

5/5

Wiedzminka,

2020-09-01

5/5

Kasandra,

2020-08-31

His class is dynamic, I learn very well.

3/5

nuraininovianty,

2020-08-31

very good :P

5/5

oleksandratul,

2020-08-31

Dziękuję bardzo lektorowi Jerzy Terka! Zajęcia były bardzo interesujące, fajne. Na waszych zajęciach nauczyłam się wielu nowych rzeczy. Podobała mi się wasza metoda nauczania. Dzięki waszym zajęciom zaczęłam mówić trochę po polsku. Dziękuję!

5/5

442Alex,

2020-08-26

5/5

Wiedzminka,

2020-08-25

5/5

tkujml3,

2020-08-25

5/5

oleksandratul,

2020-08-24

5/5

Murphy9410,

2020-08-24

5/5

nuraininovianty,

2020-08-24

very good :))

5/5

442Alex,

2020-08-18

5/5

tkujml3,

2020-08-18

The lesson was very helpful.

5/5

Wiedzminka,

2020-08-18

5/5

oleksandratul,

2020-08-17

5/5

nuraininovianty,

2020-08-17

Excellent :))

5/5

anna.phan,

2020-08-17

As usual the teacher was really encouraging.

5/5

CzarekCYYeh,

2020-08-11

Często nie widzę ćwiczenia.

5/5

kvyhouskaya,

2020-08-11

Dzień dobry. Mieszkam w Białorusi, a tutaj wyłączyli internet na 3 dni, więc nie mogłem dołączyć do lekcji. A może znowu się wyłączy. Przepraszam(

5/5

tkujml3,

2020-08-11

5/5

ematt786,

2020-08-11

We often made mistakes and misunderstood but Jerzy was incredibly patient and kept the lesson really engaging!

5/5

Wiedzminka,

2020-08-11

5/5

oleksandratul,

2020-08-10

5/5

anna.phan,

2020-08-10

Less technical problems than last time. The teacher has patience with us which is good!

5/5

antonia.pielok,

2020-08-10

Niestety miałam problemy z internetem.

5/5

nuraininovianty,

2020-08-10

Excellent :))

5/5

oleksandratul,

2020-08-07

5/5

nuraininovianty,

2020-08-07

Excellent :))

5/5

442Alex,

2020-08-05

5/5

swelham1,

2020-08-04

5/5

Wiedzminka,

2020-08-04

5/5

tkujml3,

2020-08-04

It was perfect and very helpful.

5/5

vprosenc,

2020-08-03

5/5

oleksandratul,

2020-08-03

5/5

smile12356,

2020-08-03

5/5

anna.phan,

2020-08-03

It was a pity that we had some technical problems and not everyone could join. Also the background noise (from the students' maybe?) was sometimes rather disturbing. Should we keep the microphones on only when speaking?

It was easy to understand the teacher! :)

5/5

antonia.pielok,

2020-08-03

Unfortunately not every student could enter the chat room due to technical problems!

5/5

nuraininovianty,

2020-08-03

Excellent :)). He is teaching so good :)) I can understand very much for the materials :))

5/5

kibrom,

2020-07-27

:-)

5/5

442Alex,

2020-07-14

5/5

442Alex,

2020-07-08

5/5

442Alex,

2020-07-01

5/5

442Alex,

2020-06-24

5/5

442Alex,

2020-06-11

5/5

442Alex,

2020-06-03

5/5

442Alex,

2020-05-27

5/5

442Alex,

2020-05-20

5/5

442Alex,

2020-05-13

5/5

Kouchakaden,

2020-05-12

5/5

kibrom,

2020-05-11

bardzo ciekawy temat

5/5

442Alex,

2020-05-06

5/5

Kouchakaden,

2020-05-05

5/5

442Alex,

2020-04-29

5/5

Kouchakaden,

2020-04-28

5/5

442Alex,

2020-04-22

5/5

Kouchakaden,

2020-04-21

5/5

442Alex,

2020-04-20

5/5

442Alex,

2020-04-17

bardzo dobry nauczyciel

5/5

kibrom,

2020-03-05

5/5

kibrom,

2019-12-30

Ciekawy temat i przyjemna lekcja jak zawsze

5/5

Markoalip01,

2019-11-15

5/5

kibrom,

2019-10-01

Jak zawsze: bardzo przyjemna lekjca

5/5

kibrom,

2019-07-08

Ta lekcja sprawiła przyjemność

5/5

Markoalip01,

2019-07-02

4/5

Markoalip01,

2019-06-06

Top gun

5/5

Markoalip01,

2019-06-03

5/5

Markoalip01,

2019-05-30

5/5

Markoalip01,

2019-05-15

Jurek number one

5/5

kibrom,

2019-05-13

mimo to egzaminu przjemna lekcja

5/5