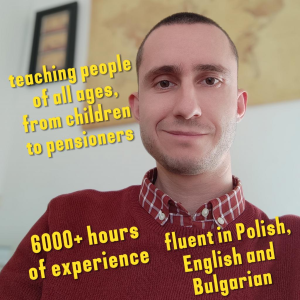 Janusz Rudzki
Completed online classes:
409
Author of exercises at e-polish.eu:
NO
Issues invoices:
no
Price:
1 Class — 12 EUR/10 GBP/50 PLN/13 USD
10 Lessons — 120 EUR/100 GBP/500 PLN/130 USD
20 Lessons — 240 EUR/200 GBP/1000 PLN/260 USD
30 Lessons — 360 EUR/300 GBP/1500 PLN/390 USD

About me:
Hello guys!
Book a FREE lesson with me and see how online learning works.
My name is Janusz and I am 33 years old.
I speak Polish, Bulgarian and English fluently. I also understand and speak some Russian and Ukrainian.
I teach languages online and I am ready to start teaching you even if you are a beginner.

My aim is to help everyone progress in their lives through language learning. I believe in every kind of learning, for all kinds of people, wherever they are in the world.
As a teacher, I need and want not only to motivate my learners, I want them to know how to keep their motivation throughout the entire process of learning.

Motivation. This is what you need and this is what you get from me and my e-book.

I am going to be not only your language teacher; I am going to be your Language Learning Motivator! My second role will sometimes be more important than the first one.

I have written an e-book called " 7 Tips On How To Learn a Foreign Language". I describe how you can learn a foreign language in a way that will be pleasant and effective at the same time!

When you get in touch with me, I will send you a FREE copy of my e-book.

To get the e-book or try a free lesson feel free to contact me on Skype/ WhatsApp.
My phone number is +447753936213.
You can also send me an email: rudzkijanusz@gmail.com

Apart from that, I'm interested in ancient civilizations, AI, history and I like fishing.
Qualifications and experience:
- High school (Bulgaria)
- Bachelor's degree in management (Poland)
- Certificate in teaching Polish as a second language (Poland)
- Functional Skills English Level 2 Certificate (England)
- Functional Skills Mathematics Level 2 Certificate (England)
- Teaching English Online course (England)
- Level 3 Award in Education and Training (England)
Methods of teaching
- Community Language Learning
- The Direct Method
- Grammar -translation
- Online teaching

I use different methods depending on the student's needs. On our lessons, we are going to to talk about different topics in order to practise different vocabulary.
Some of our lessons will not be based on a book but on your interests and hobbies. This will make the lessons more engaging and enjoyable, therefore you will learn better and faster.
Availability
Teacher is available on the dates listed below. They are already in your time zone which is: .
| | | | | | | | |
| --- | --- | --- | --- | --- | --- | --- | --- |
| | | | | | | | |
| 0:00–0:50 | | | | | | | |
| 1:00–1:50 | | | | | | | |
| 2:00–2:50 | | | | | | | |
| 3:00–3:50 | | | | | | | |
| 4:00–4:50 | | | | | | | |
| 5:00–5:50 | | | | | | | |
| 6:00–6:50 | | | | | | | |
| 7:00–7:50 | | | | | | | |
| 8:00–8:50 | | | | | | | |
| 9:00–9:50 | | | | | | | |
| 10:00–10:50 | | | | | | | |
| 11:00–11:50 | | | | | | | |
| 12:00–12:50 | | | | | | | |
| 13:00–13:50 | | | | | | | |
| 14:00–14:50 | | | | | | | |
| 15:00–15:50 | | | | | | | |
| 16:00–16:50 | | | | | | | |
| 17:00–17:50 | | | | | | | |
| 18:00–18:50 | | | | | | | |
| 19:00–19:50 | | | | | | | |
| 20:00–20:50 | | | | | | | |
| 21:00–21:50 | | | | | | | |
| 22:00–22:50 | | | | | | | |
| 23:00–23:50 | | | | | | | |

Available tutor - on this date you can arrange your class

1 lekcja = 50 minut
FrankHerbert,

2020-07-30

We covered quite a lot today and Janusz explained a complicated grammatical point really well. Thank you!

5/5

FrankHerbert,

2020-07-28

Janusz makes sure I work hard and he gives me constant encouragement. I'm really glad I chose him to help me learn Polish.

5/5

robert_mclauchlan,

2020-07-28

Fantastic lesson yet again. Thanks.

5/5

Alexander17,

2020-07-27

Very engaging, good pace and very enjoyable. Thanks Janusz for making what seems impossible, possible !!!!

5/5

FrankHerbert,

2020-07-23

Janusz is helping me to understand the grammar, learn the vocabulary and improve my pronunciation. I feel like I'm learning a lot.

5/5

marylou,

2020-07-22

Moja nauczycielem jest Świetnie! Janusz encourages me and inspires me to reach further within myself and to make an enthusiastic effort to reach my goals. I am very grateful to him for helping me know the Polish language. He has helped me to recognize and remember the language and customs I grew up with. Bardzo Dziękuję Janusz!

5/5

FrankHerbert,

2020-07-21

Janusz makes sure that I continue to learn and review new vocabulary, he continually checks that I understand new concepts, and he gives pronunciation feedback in a very supportive way. His use of praise also motivates me in every lesson. I feel like I am making good progress.

5/5

cedipedi,

2020-07-21

It was again a very cool lesson:) Thanks to Janusz i can see my progress!

5/5

robert_mclauchlan,

2020-07-21

Janusz will often return to previous lessons to reinforce concepts, vocabulary, and consolidate previous learning.

5/5

FrankHerbert,

2020-07-16

Janusz always tests me to make sure that I have done my homework and learned and remembered new vocabulary. He encourages me and gives me supportive feedback when I make mistakes of grammar or pronunciation. He's an excellent teacher and I'm really learning a lot.

5/5

robert_mclauchlan,

2020-07-14

Yet another excellent lesson. Thanks Janusz.

5/5

FrankHerbert,

2020-07-09

Janusz tested my recall of vocabulary from previous lessons and encouraged me to use the words in sentences. He also explained the new structures in lesson 4 and set me enough homework to keep me busy. I'm really enjoying our lessons, he's a really good teacher.

5/5

FrankHerbert,

2020-07-07

Janusz is making me speak more, which is great. He explains ideas and concepts really well.

5/5

robert_mclauchlan,

2020-07-07

Very patient, Thanks Janusz!

5/5

Alexander17,

2020-07-03

Very good !!!!

5/5

FrankHerbert,

2020-07-02

Excellent lesson, Janusz is really patient with me :)

5/5

FrankHerbert,

2020-06-30

Janusz is an excellent teacher. I'm really looking forward to learning Polish with him.

5/5

robert_mclauchlan,

2020-06-30

Janusz somehow manages to find interesting and entertaining material at the right level for every lesson.

5/5

merry.faucheux,

2020-06-26

I had forgotten a lot and had not had time to study lately. Janusz got me back on track.

5/5

Alexander17,

2020-06-26

Excellent !!!!

5/5

BushinO,

2020-06-25

Great teaching! Thank you Janusz!

5/5

cedipedi,

2020-06-24

Lekcja była bardzo interesująca :-)

5/5

Alexander17,

2020-06-24

Good support from Janusz !

5/5

robert_mclauchlan,

2020-06-23

Highly entertaining and educational at the same time. Great lesson.

5/5

Alexander17,

2020-06-19

Very engaging, good pace. Thank you Janusz !!

5/5

Richard2020,

2020-06-19

Great teacher, flexible and iteractive.

5/5

marylou,

2020-06-17

I've noticed that with Janusz's help my pronunciation of the Polish language has been improving. The lessons Janusz sends me have helped me to expand my knowledge of the Polish language. He is very experienced in teaching not only the articulation of the language, but also the grammatical concepts that are important in gaining knowledge of any language.

5/5

Alexander17,

2020-06-17

Great lesson. Thank you !

5/5

robert_mclauchlan,

2020-06-16

Janusz spends a lot of his own time preparing your lessons and correcting your homework. With Janusz, you get a lot more than just a simple on-line chat.

5/5

charrier.amandi,

2020-06-15

Good lesson as usual :D

5/5

Richard2020,

2020-06-15

Great teaching with lots of repetition and practice to drill in the concepts.

5/5

Alexander17,

2020-06-12

Engaging, relaxed and very enjoyable. Thank you Janusz !!!!

5/5

Alexander17,

2020-06-10

Excellent !!

5/5

Richard2020,

2020-06-10

Lots of extra effort, great teacher

5/5

robert_mclauchlan,

2020-06-09

Great lesson with lots of new useful vocabulary.

5/5

merry.faucheux,

2020-06-05

Today we tried a new method. I really appreciated that Janusz had asked me before if I was interested in the new learning material. I also had been given the opportunity to choose the content, so that the vocabulary would be relevant for my needs. Very good class, as usual.

5/5

Alexander17,

2020-06-05

świetna lekca. Dobre tempo !!

5/5

robert_mclauchlan,

2020-06-02

Great lesson. Thanks.

5/5

Alexander17,

2020-06-01

Great lesson. Thank you Janusz!!!

5/5

merry.faucheux,

2020-05-29

Excellent lesson. We went through "old" vocabulary again and repeated some very useful exercises. I really appreciated this repetition since it helped me to consolidate what I've studied and not just rush through to the next thing. Very good teaching methods!

5/5

Alexander17,

2020-05-29

Excellent !

5/5

Richard2020,

2020-05-29

Great teaching methods

5/5

charrier.amandi,

2020-05-27

Good lesson as usual :)

5/5

Alexander17,

2020-05-27

Another great lesson.

5/5

robert_mclauchlan,

2020-05-26

Another packed, very well planned lesson. Thanks!

5/5

marylou,

2020-05-25

Janusz always encourages me and keeps me posted as to how I am doing. I'm so grateful to him. With every lesson I am reminded of my past and the life style and conversations I heard as a child between my parents, my grandparents and my aunts and uncles. It is very important to me that I am able to recapture my Polish Heritage and be proud that I am Polish!

5/5

Alexander17,

2020-05-25

I'm very happy with my first lesson and have decided to take further lessons with Janusz

5/5

merry.faucheux,

2020-05-24

Very intense and very efficient as usual. Janusz pays attention to every detail in order to get it all right!

5/5

lauramchinn,

2020-05-23

My Polish improves with each lesson!

5/5

lauramchinn,

2020-05-19

Another great lesson! Janusz always prepares effective and engaging lessons.

5/5

robert_mclauchlan,

2020-05-19

Another great lesson, with a lot of very useful vocabulary.

5/5

Richard2020,

2020-05-18

Great teaching methods

5/5

cedipedi,

2020-05-17

To było super:)

5/5

Jason_Osborne7,

2020-05-17

Another excellent lesson. I come away with the rare feeling that I've learned a lot.

5/5

akari,

2020-05-16

The lesson was very informative and the atmosphere was positive.
The exercises were engaging and focused to work with my problems areas.
Additional blackboard and notes were useful to fill the lexical gaps.

Thank you very much for the lesson!

5/5

robert_mclauchlan,

2020-05-12

Thanks Janusz. Another lesson perfectly tailored to my interests and abilities.

5/5

Jason_Osborne7,

2020-05-10

Very engaging first lesson

5/5

merry.faucheux,

2020-05-09

Very good lesson, as usual. Janusz always makes sure that I work hard during each class, and that I make progress. He's very attentive and patient. When I ask a grammatical question, I always get an accurate and clear answer, which I really appreciate.

5/5

marylou,

2020-05-06

Janusz has been very helpful and encouraging me when I'm not sure about my progress. I am so glad I chose him for my instructor. My pronunciation is improving and I look forward to each lesson with Janusz.

5/5

cedipedi,

2020-05-05

To było super, dzięki!

5/5

robert_mclauchlan,

2020-05-05

Janusz is able to explain things more clearly than any other teacher I've had.

5/5

charrier.amandi,

2020-05-02

I had a great lesson with Janusz, the method he uses to teach Polish is very beneficial to me and I can already see great progress.

5/5

lauramchinn,

2020-04-29

Very engaging lesson! My Polish improves more and more each time!

5/5

robert_mclauchlan,

2020-04-28

Thanks for the lesson. Learnt a lot and had fun as usual !

5/5

Richard2020,

2020-04-27

Great teacher

5/5

cedipedi,

2020-04-25

motivating as always:)

5/5

merry.faucheux,

2020-04-25

I felt tired today, and hadn't managed to study a lot, but once the lesson started I got my motivation back and spent a nice moment. I did interesting and useful grammar exercises, got new insights about pronunciation and learned some very crucial vocabulary.

5/5

merry.faucheux,

2020-04-22

I always learn a lot and get answers to my questions.

5/5

cedipedi,

2020-04-21

fun as always:)

5/5

robert_mclauchlan,

2020-04-21

Fantastic lesson, Thanks Janusz. Great teacher, great sense of humour, what more can you ask for?

5/5

merry.faucheux,

2020-04-19

Excellent class, as usual.

5/5

cedipedi,

2020-04-18

really cool again!

5/5

Richard2020,

2020-04-17

Great teacher. Lots of materials and initiative.

5/5

lauramchinn,

2020-04-16

Great lesson!

5/5

marylou,

2020-04-15

I look forward to my Polish lessons with Janusz Rudzki. He encourages me and supports my efforts, which helps me to be more enthusiastic and optimistic concerning my abilities to learn the Polish language.

5/5

cedipedi,

2020-04-15

learned a lot:) i'm looking forward to the next lesson

5/5

lauramchinn,

2020-04-14

Excellent lesson as always!

5/5

robert_mclauchlan,

2020-04-14

Great lesson, Thanks Janusz. I find it amazing that you can always figure out what I'm trying to say !

5/5

lauramchinn,

2020-04-11

Thanks to Janusz my Polish is really improving!

5/5

robert_mclauchlan,

2020-04-07

In every lesson Janusz includes something to challenge and extend my Polish. Thanks Janusz!

5/5

Richard2020,

2020-04-03

Great teacher. lots of extra work and effort. Thank you.

5/5

lauramchinn,

2020-04-02

I learn so much each lesson!

5/5

lauramchinn,

2020-03-31

Great lesson as always!

5/5

robert_mclauchlan,

2020-03-31

Janusz puts a lot of thought into each lesson plan. Every lesson is at exactly the right level, and tailored to the students' interests. Highly recommended.

5/5

Richard2020,

2020-03-27

Great teacher, motivator, puts in a lot of extra effort into each lesson. Thank you.

5/5

lauramchinn,

2020-03-25

Lessons with Janusz are always engaging! He is very motivating and I see progress in my Polish after each lesson.

5/5

robert_mclauchlan,

2020-03-25

Thanks Janusz, great lesson. This one hour goes too fast !

5/5

cedipedi,

2020-03-18

:)

5/5

emraholgac,

2020-03-16

thank you very much janusz

5/5

cedipedi,

2020-03-15

nauczyłem się dużo:)

5/5

cedipedi,

2020-03-07

great start:)

5/5

emraholgac,

2020-03-05

I can't wait the next lesson. thanks Janusz

5/5

robert_mclauchlan,

2020-03-02

Thanks Janusz for taking so much of your own time to carefully check my homework.

5/5

emraholgac,

2020-02-26

thank you for your patience Janusz , you are the best

5/5

robert_mclauchlan,

2020-02-25

Another very well planned, entertaining lesson.

5/5

marylou,

2020-02-24

I am learning a lot. Janusz has helped me to recall some of the words I heard while growing up. I'm learning many new words. He helps me to sound them out so I can pronounce them more easily.

5/5

emraholgac,

2020-02-17

another enjoyable hour. thank you Janusz

5/5

emraholgac,

2020-02-06

Jestes najlepszy . it was another joyful class. Dzieki Janusz

5/5

emraholgac,

2020-01-30

thanks to Janusz, I almost speak Polish

5/5

emraholgac,

2020-01-27

a very productive course. I learned and had fun

5/5

pdk27,

2020-01-26

As usual Janusz provides a very relaxed environment that is key in learning any subject. He is very knowledgeable in learning languages from his own experiences and tailors his skills to help you overcome your specific problems. I highly recommend taking a class with Janusz.

5/5

andyheyser,

2020-01-23

I loved the lesson, the teacher was great, he explained everthing in a way that was easy to understand and used different resources, he helped me with my pronunciation and gave me tips to learn the vocabulary. I highly recommend to take a class with Janusz.

5/5

beki_ickle1,

2020-01-20

Janusz is a brilliant teacher, he always makes sure you understand what you are learning, and keeps you interested and inspired. He continues to encourage you outside the lesson too with different goals and interesting work to practise. I know with Janusz I can achieve the level of Polish that I have always wanted to.

5/5

mr_orfe,

2020-01-18

he is so motivational teacher and soo funny come on. I think he is the best teacher in the world i ve ever seen. He always care about you. For example what should you study or how many hour do you need ...

5/5

berkeleychick31,

2020-01-16

I had a great lesson with Janusz! He always explains things really clearly and in a way I can understand. He comes up with fun ways to learn Polish and takes my interests into consideration. He's a great teacher!

5/5

marylou,

2020-01-15

The lessons with Janusz are helping me to remember words that were spoken at home while I was growing up. I'm glad that I have this opportunity to study and learn to use the polish language. Janusz is very helpful and I'm thankful for his help.

5/5

emraholgac,

2020-01-14

great

5/5

lauramchinn,

2020-01-10

Excellent, as always.

5/5

emraholgac,

2020-01-09

Janusz is a great teacher. everything is so clear. he explains everything very good. not only during the lesson also he is helpful after lessons.

5/5

lauramchinn,

2020-01-07

Another great lesson - I feel like I learn more each lesson and my Polish is really improving!

5/5

lauramchinn,

2020-01-02

Great lesson! His english is perfect and he is very thorough in explanations while being committed to helping me understand the topics for our lesson.

5/5