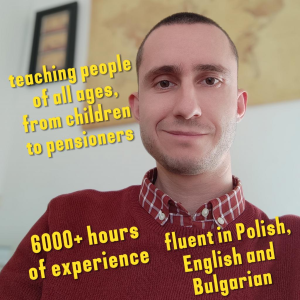 Janusz Rudzki
Przeprowadzone lekcje online:
273
Autor ćwiczeń w e-polish.eu:
NIE
Wystawia rachunki:
nie
Cena:
1 lekcja — 12 EUR/10 GBP/50 PLN/13 USD
10 lekcji — 120 EUR/100 GBP/500 PLN/130 USD
20 lekcji — 240 EUR/200 GBP/1000 PLN/260 USD
30 lekcji — 360 EUR/300 GBP/1500 PLN/390 USD

O mnie
Cześć studenci!
Zarezerwuj DARMOWĄ lekcję ze mną i sprawdź jak działa nauka online.
Mam na imię Janusz i mam 33 lata.
Mówię biegle po polsku, bułgarsku i angielsku. Mówię również po rosyjsku i ukraińsku - nie mówię płynnie, ale potrafię się komunikować.
Zajmuję sie nauczaniem języków online. Chętnie zacznę uczyć Cię polskiego, nawet jeśli nigdy wcześniej się tego języka nie uczyłeś.

Moim celem jest pomóc w rozwoju indywidualnym poprzez naukę języków. Wierzę w każdy rodzaj nauki, dla wszystkich ludzi, gdziekolwiek oni są na świecie.
Jako nauczyciel potrzebuję i chcę nie tylko motywować moich uczniów, ale chcę, aby wiedzieli, jak zachować motywację podczas całego procesu uczenia się.

Motywacja. To jest to czego potrzebujesz i to właśnie otrzymujesz ode mnie i mojego e-booka.

Będę nie tylko twoim nauczycielem ; Będę twoim Motywatorem do nauki języków! Moja druga rola będzie czasem ważniejsza niż pierwsza.

Napisałem e-book zatytułowany "7 porad jak uczyć się języka obcego", w którym opisuję jak możesz się nauczyć języka obcego w sposób przyjemny i skuteczny!

Kiedy się ze mną skontaktujesz, wyślę Ci DARMOWĄ kopię mojego e-booka.

Aby otrzymać e-booka lub wypróbować bezpłatną lekcję, skontaktuj się ze mną poprzez Skype / WhatsAPP.
Mój numer telefonu to +447753936213.
Napisz do mnie na maila, jeśli masz pytania odnośnie online lekcji: rudzkijanusz@gmail.com.

Poza tym, interesuję się starożytnymi cywilizacjami, sztuczną inteligencją, historią i lubię łowić ryby.
Kwalifikacje i doświadczenie
- Szkoła średnia (Bułgaria)
- Licencjat z zarządzania (Polska)
- Certyfikat z nauczania języka polskiego jako obcego (Polska)
- Kurs nauczania języka angielskiego online (Anglia)
- Poziom 2 w zakresie umiejętności funkcjonalnych w języku angielskim (Anglia)
- Poziom 2 w w zakresie umiejętności funkcjonalnych w matematyce( w języku angielskim- Anglia)
- Certyfikat uprawniający do bycia nauczycielem - Nagroda poziomu trzeciego w edukacji i szkoleniach (Anglia)
Metody nauczania
- Metoda komunikacyjna
- Metoda bezpośrednia
- Lekcje on-line

Używam różnych metod w zależności od potrzeb studenta.
Na naszych lekcjach będziemy rozmawiać na różne tematy, żeby ćwiczyć różne słownictwo.
Niektóre z naszych lekcji nie będą z podręcznika, a o twoich zainteresowaniach i hobby. Dzięki temu, lekcje będą bardziej interesujące i przyjemne. W ten sposób będziesz się uczyć lepiej i szybciej.
Dyspozycyjność
Lektor dostępny jest w podanych poniżej terminach, które zostały wyświetlone dla Twojej strefy czasowej tj. .
| | | | | | | | |
| --- | --- | --- | --- | --- | --- | --- | --- |
| | | | | | | | |
| 0:00–0:50 | | | | | | | |
| 1:00–1:50 | | | | | | | |
| 2:00–2:50 | | | | | | | |
| 3:00–3:50 | | | | | | | |
| 4:00–4:50 | | | | | | | |
| 5:00–5:50 | | | | | | | |
| 6:00–6:50 | | | | | | | |
| 7:00–7:50 | | | | | | | |
| 8:00–8:50 | | | | | | | |
| 9:00–9:50 | | | | | | | |
| 10:00–10:50 | | | | | | | |
| 11:00–11:50 | | | | | | | |
| 12:00–12:50 | | | | | | | |
| 13:00–13:50 | | | | | | | |
| 14:00–14:50 | | | | | | | |
| 15:00–15:50 | | | | | | | |
| 16:00–16:50 | | | | | | | |
| 17:00–17:50 | | | | | | | |
| 18:00–18:50 | | | | | | | |
| 19:00–19:50 | | | | | | | |
| 20:00–20:50 | | | | | | | |
| 21:00–21:50 | | | | | | | |
| 22:00–22:50 | | | | | | | |
| 23:00–23:50 | | | | | | | |

Lektor dostępny — w tym terminie możesz umówić się na lekcje

1 lekcja = 50 minut
robert_mclauchlan,

2020-06-02

Great lesson. Thanks.

5/5

Alexander17,

2020-06-01

Great lesson. Thank you Janusz!!!

5/5

merry.faucheux,

2020-05-29

Excellent lesson. We went through "old" vocabulary again and repeated some very useful exercises. I really appreciated this repetition since it helped me to consolidate what I've studied and not just rush through to the next thing. Very good teaching methods!

5/5

Alexander17,

2020-05-29

Excellent !

5/5

Richard2020,

2020-05-29

Great teaching methods

5/5

charrier.amandi,

2020-05-27

Good lesson as usual :)

5/5

Alexander17,

2020-05-27

Another great lesson.

5/5

robert_mclauchlan,

2020-05-26

Another packed, very well planned lesson. Thanks!

5/5

marylou,

2020-05-25

Janusz always encourages me and keeps me posted as to how I am doing. I'm so grateful to him. With every lesson I am reminded of my past and the life style and conversations I heard as a child between my parents, my grandparents and my aunts and uncles. It is very important to me that I am able to recapture my Polish Heritage and be proud that I am Polish!

5/5

Alexander17,

2020-05-25

I'm very happy with my first lesson and have decided to take further lessons with Janusz

5/5

merry.faucheux,

2020-05-24

Very intense and very efficient as usual. Janusz pays attention to every detail in order to get it all right!

5/5

lauramchinn,

2020-05-23

My Polish improves with each lesson!

5/5

lauramchinn,

2020-05-19

Another great lesson! Janusz always prepares effective and engaging lessons.

5/5

robert_mclauchlan,

2020-05-19

Another great lesson, with a lot of very useful vocabulary.

5/5

Richard2020,

2020-05-18

Great teaching methods

5/5

cedipedi,

2020-05-17

To było super:)

5/5

Jason_Osborne7,

2020-05-17

Another excellent lesson. I come away with the rare feeling that I've learned a lot.

5/5

akari,

2020-05-16

The lesson was very informative and the atmosphere was positive.
The exercises were engaging and focused to work with my problems areas.
Additional blackboard and notes were useful to fill the lexical gaps.

Thank you very much for the lesson!

5/5

robert_mclauchlan,

2020-05-12

Thanks Janusz. Another lesson perfectly tailored to my interests and abilities.

5/5

Jason_Osborne7,

2020-05-10

Very engaging first lesson

5/5

merry.faucheux,

2020-05-09

Very good lesson, as usual. Janusz always makes sure that I work hard during each class, and that I make progress. He's very attentive and patient. When I ask a grammatical question, I always get an accurate and clear answer, which I really appreciate.

5/5

marylou,

2020-05-06

Janusz has been very helpful and encouraging me when I'm not sure about my progress. I am so glad I chose him for my instructor. My pronunciation is improving and I look forward to each lesson with Janusz.

5/5

cedipedi,

2020-05-05

To było super, dzięki!

5/5

robert_mclauchlan,

2020-05-05

Janusz is able to explain things more clearly than any other teacher I've had.

5/5

charrier.amandi,

2020-05-02

I had a great lesson with Janusz, the method he uses to teach Polish is very beneficial to me and I can already see great progress.

5/5

lauramchinn,

2020-04-29

Very engaging lesson! My Polish improves more and more each time!

5/5

robert_mclauchlan,

2020-04-28

Thanks for the lesson. Learnt a lot and had fun as usual !

5/5

Richard2020,

2020-04-27

Great teacher

5/5

cedipedi,

2020-04-25

motivating as always:)

5/5

merry.faucheux,

2020-04-25

I felt tired today, and hadn't managed to study a lot, but once the lesson started I got my motivation back and spent a nice moment. I did interesting and useful grammar exercises, got new insights about pronunciation and learned some very crucial vocabulary.

5/5

merry.faucheux,

2020-04-22

I always learn a lot and get answers to my questions.

5/5

cedipedi,

2020-04-21

fun as always:)

5/5

robert_mclauchlan,

2020-04-21

Fantastic lesson, Thanks Janusz. Great teacher, great sense of humour, what more can you ask for?

5/5

merry.faucheux,

2020-04-19

Excellent class, as usual.

5/5

cedipedi,

2020-04-18

really cool again!

5/5

Richard2020,

2020-04-17

Great teacher. Lots of materials and initiative.

5/5

lauramchinn,

2020-04-16

Great lesson!

5/5

marylou,

2020-04-15

I look forward to my Polish lessons with Janusz Rudzki. He encourages me and supports my efforts, which helps me to be more enthusiastic and optimistic concerning my abilities to learn the Polish language.

5/5

cedipedi,

2020-04-15

learned a lot:) i'm looking forward to the next lesson

5/5

lauramchinn,

2020-04-14

Excellent lesson as always!

5/5

robert_mclauchlan,

2020-04-14

Great lesson, Thanks Janusz. I find it amazing that you can always figure out what I'm trying to say !

5/5

lauramchinn,

2020-04-11

Thanks to Janusz my Polish is really improving!

5/5

robert_mclauchlan,

2020-04-07

In every lesson Janusz includes something to challenge and extend my Polish. Thanks Janusz!

5/5

Richard2020,

2020-04-03

Great teacher. lots of extra work and effort. Thank you.

5/5

lauramchinn,

2020-04-02

I learn so much each lesson!

5/5

lauramchinn,

2020-03-31

Great lesson as always!

5/5

robert_mclauchlan,

2020-03-31

Janusz puts a lot of thought into each lesson plan. Every lesson is at exactly the right level, and tailored to the students' interests. Highly recommended.

5/5

Richard2020,

2020-03-27

Great teacher, motivator, puts in a lot of extra effort into each lesson. Thank you.

5/5

lauramchinn,

2020-03-25

Lessons with Janusz are always engaging! He is very motivating and I see progress in my Polish after each lesson.

5/5

robert_mclauchlan,

2020-03-25

Thanks Janusz, great lesson. This one hour goes too fast !

5/5

cedipedi,

2020-03-18

:)

5/5

emraholgac,

2020-03-16

thank you very much janusz

5/5

cedipedi,

2020-03-15

nauczyłem się dużo:)

5/5

cedipedi,

2020-03-07

great start:)

5/5

emraholgac,

2020-03-05

I can't wait the next lesson. thanks Janusz

5/5

robert_mclauchlan,

2020-03-02

Thanks Janusz for taking so much of your own time to carefully check my homework.

5/5

emraholgac,

2020-02-26

thank you for your patience Janusz , you are the best

5/5

robert_mclauchlan,

2020-02-25

Another very well planned, entertaining lesson.

5/5

marylou,

2020-02-24

I am learning a lot. Janusz has helped me to recall some of the words I heard while growing up. I'm learning many new words. He helps me to sound them out so I can pronounce them more easily.

5/5

emraholgac,

2020-02-17

another enjoyable hour. thank you Janusz

5/5

emraholgac,

2020-02-06

Jestes najlepszy . it was another joyful class. Dzieki Janusz

5/5

emraholgac,

2020-01-30

thanks to Janusz, I almost speak Polish

5/5

emraholgac,

2020-01-27

a very productive course. I learned and had fun

5/5

pdk27,

2020-01-26

As usual Janusz provides a very relaxed environment that is key in learning any subject. He is very knowledgeable in learning languages from his own experiences and tailors his skills to help you overcome your specific problems. I highly recommend taking a class with Janusz.

5/5

andyheyser,

2020-01-23

I loved the lesson, the teacher was great, he explained everthing in a way that was easy to understand and used different resources, he helped me with my pronunciation and gave me tips to learn the vocabulary. I highly recommend to take a class with Janusz.

5/5

beki_ickle1,

2020-01-20

Janusz is a brilliant teacher, he always makes sure you understand what you are learning, and keeps you interested and inspired. He continues to encourage you outside the lesson too with different goals and interesting work to practise. I know with Janusz I can achieve the level of Polish that I have always wanted to.

5/5

mr_orfe,

2020-01-18

he is so motivational teacher and soo funny come on. I think he is the best teacher in the world i ve ever seen. He always care about you. For example what should you study or how many hour do you need ...

5/5

berkeleychick31,

2020-01-16

I had a great lesson with Janusz! He always explains things really clearly and in a way I can understand. He comes up with fun ways to learn Polish and takes my interests into consideration. He's a great teacher!

5/5

marylou,

2020-01-15

The lessons with Janusz are helping me to remember words that were spoken at home while I was growing up. I'm glad that I have this opportunity to study and learn to use the polish language. Janusz is very helpful and I'm thankful for his help.

5/5

emraholgac,

2020-01-14

great

5/5

lauramchinn,

2020-01-10

Excellent, as always.

5/5

emraholgac,

2020-01-09

Janusz is a great teacher. everything is so clear. he explains everything very good. not only during the lesson also he is helpful after lessons.

5/5

lauramchinn,

2020-01-07

Another great lesson - I feel like I learn more each lesson and my Polish is really improving!

5/5

lauramchinn,

2020-01-02

Great lesson! His english is perfect and he is very thorough in explanations while being committed to helping me understand the topics for our lesson.

5/5